Pole-a-Palooza!
The Bellagio Resort in Las Vegas set up a competition for pole dancers. It's called Pole-a-Palooza and the winner takes home $10,000!
That's right! She gets ten-thousand $1 dollar bills.
The girl who rubs herself on the pole the best get $10,000 dollars. Do you realize winning the Pulitzer Prize for Literature gets you the same prize?
This is a helluva country! I love it!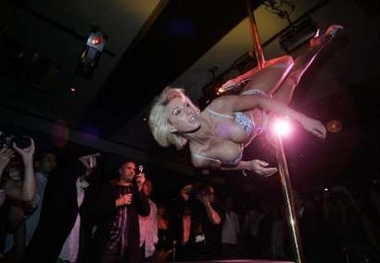 ABOVE: I don't understand the physics of this equation. But I like it.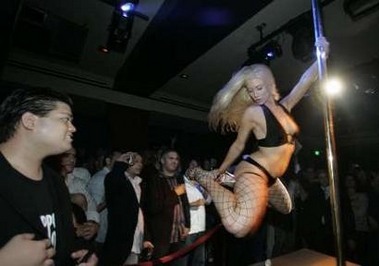 ABOVE: This girl appears to have some sort of gutski going on. I mean, if she was an ordinary citizen that would be okay, but you're a pole dancer! Those aren't even real fishnet stockings. It's what the fisherman trapped her in while looking for manatees.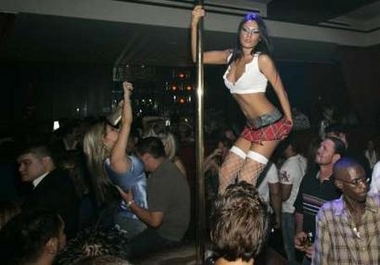 ABOVE: Total hotness. Look at that guy staring into her ass like it's a television set.
Well, I guess sports stars always get paid more. Pole Dancing is a sport, right?
Yeah, how did they score this thing? Like ice skating? Are certain moves worth more points? Like, a split earns you 25 points. And shooting ping pong balls out of your, uh, hoo-ha... that's 50 points... Or is it judged for overall creativity and beauty?
Man, it's stripping! They should judge it by boners!
After each pole dance, make every guy in the place stand up. Whoever pitches the most tents wins!
Why is this competition in Las Vegas? They see stuff like this every day. This would be more incredible if held the pole dancing competition somewhere different. Like the Vatican.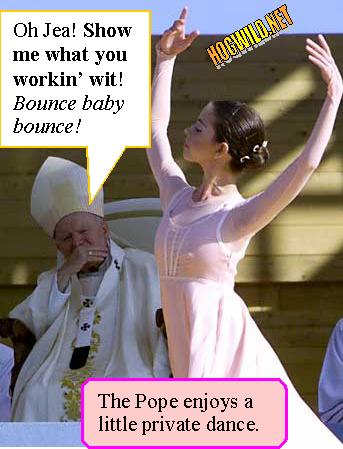 Listen to how dumb I am. The last time I went to a Strip Club (which was a very long time ago) the stripper is bending over in front of me... but instead of enjoying the view all I could think of was, "Is she going to fart on me?"
This is the stupid stuff I think about. She's shaking her booty in a thong and I'm thinking, "What if she has a doo-doo dingleberry?" These girls must check for that. They probably have special little curved mirrors on a stick like the dentists use to check out your molars.
NEW YORK CITY FACT: All NYC subway cars are equipped with stripper poles.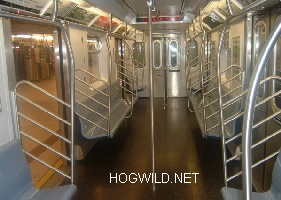 Today, riders use the poles to hold onto. But originally, the poles were installed to encourage female beggars to "work" for their money. It's true!
NOTE: No it's not.
NOTE: Eeeeeew! Who would want to see a homeless woman pole dance? First she takes off her shoes, then her socks, then everyone on the train passes out from the stench.
President Bush's crazy daughters pole dance for a Republican Party Fundraiser: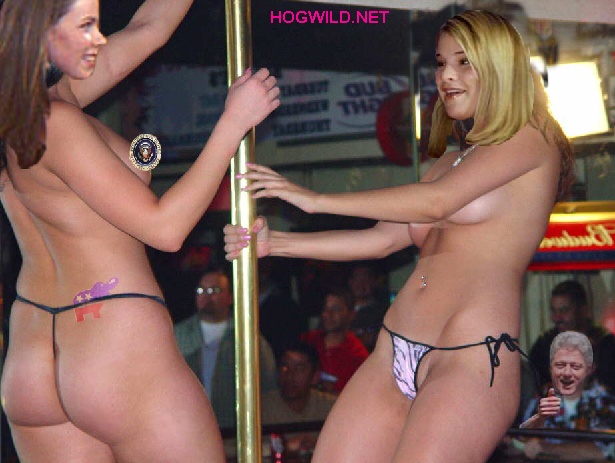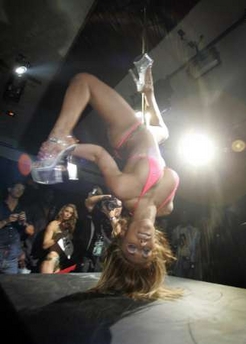 ABOVE: This chick, Talia Gilbert, came in 2nd. I like how her hair falls down with gravity but her breasts do not. That's because they're filled with helium.
NOTE: Boobs filled with helium would be awesome! Then after sucking on her n!pples I'd say, "These things are great!" in a funny high-pitched voice.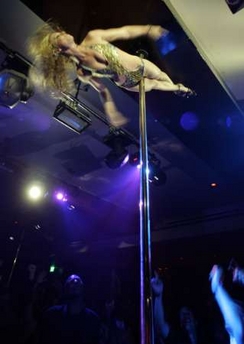 ABOVE: And here is your winner, Jenyne Wilson! That has to give her some serious chafing. After sliding down that pole, she's going to have a very well-manicured camel's toe.
Jenyne's parents must be very proud. I mean, their daughter is the BEST at what she does! I'm thinking that this girl actually went to stripper school! So while other girls strip to pay tuition... she paid tuition to strip.
DID YOU KNOW? The first stripper poles were wooden. The change to brass was motivated by complaints of one too many splinters in an area where removing splinters is extraordinarily difficult.
Whose job is it to polish the pole? Hey, that's not a bad job! I polish the pole every day for NO pay!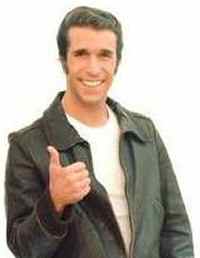 ABOVE: Carmen Electra. She would win any pole dancing competition. And she doesn't even have to move. She could just lean up against the pole while reading a book. Just kidding about that. She can't read!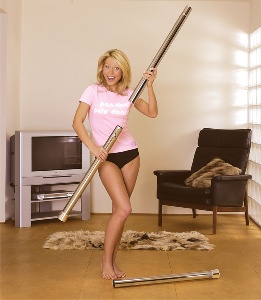 Now this is bootleg! So I love it! Peekaboopoledancing.com sells a do-it-yourself pole dancing kit. You fit together 3 brass pipes and pull out an extender-thing that reaches the ceiling.
Man, I gotta get this thing for my room!
I'll have a girl at my place. We'll be snuggled up watching a scary movie. After the movie, I'll say, "Ya know, I've got this thing I've been meaning to set up. Would you help me put it together?"
Then I pull out my bootleg Pole Dancing kit that I had hidden away under my bed. Then before you know it you hear that song "I'm in Love with a Stripper" and she's grinding against the pole.
Then I take some old school Polaroid pictures of her dancing. (Ya know, to "reminisce" to later.)
But with my luck, I'd wake up the next morning and walk right into the pole. Then the pole falls over and slams the sleeping girl in the forehead, knocking her unconscious.
Then I have to explain to the police exactly how it came to be that there is a dead stripper in my bed with 16 Polaroid pictures of her naked body while "The Silence of the Lambs" is in the DVD player.