Before I tell you about my HogWild Summer Day Camp, I want to discuss a very serious camp subject. The Big Kid.
There's always one.

I say, "Count off with your line-buddy!"
Little voices shout: 1,2,3,4,5,6,7...
Then a deep raspy voice bellows, EIGHT.
That's the Big Kid. He's too old for camp, but his parents don't trust him to be at home.
Other kids squeak, "Can I go to the baffroom?" He asks in his deep mature voice, "Can I go to the bathroom? I have to smoke a cigarette."

ME: Since you're as old as the female counselors, do you like any them?
BIG KID: Nah, I'm into girls yet... I'm still trying to get over my divorce.
ME: Daaaamn! How old ARE you, Big Kid? Hey! Is that beer in your thermos?!
BIG KID: Nah. It's scotch.
ME: Oh. Okay. Carry on then.

*** WELCOME TO HOGWILD'S SUMMER DAY CAMP! ***
Hello young camper! Here is the schedule for your fun-filled day!
7 AM Good morning! You are picked up by The HogBus driven by Screech from Saved by the Bell.
"Hey kids! I'm your bus driver! Want some candy? I'll sell you a chocolate bar for a $2 donation to the Save-my-House fund."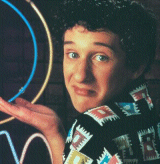 "I'm going to be a bus driver? Who knew?!"

7 AM - 8 AM On the drive up to camp, you sing the Saved by the Bell theme song over and over and over until broke-ass Screech breaks down and cries.

When I wake up in the morning
And the alarm gives out a warning
And I don't think I ever make it on time...

8 AM Arrive at Camp Wild Hog on Lake Bootlegatoga
As your Camp Director, Lone Yellow Tooth, I will lead you children in the National Anthem to begin our day.

Okay children, to the pool!

8:30 AM In the changing room, an older camper gives you a wedgie. (This is when your tighty whitey underwear is pulled up from the backside until it disappears into your buttocks.) You Native American name is now Two Moons.

8:45 - 10 AM Our 19 year old female swimming instructors, carefully chosen for their qualifications as Hooters waitresses, teach you how to swim. There is no way any one will drown with THOSE two flotation devices in the water!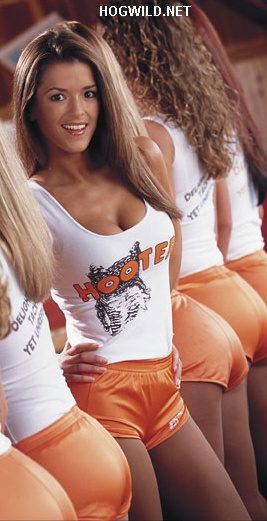 The pool is now overflowing with water. This is because the pool is now filled with the drool of the male staff.

*** DIVING INSTRUCTION! ***
The female instructor shows campers how to dive by bouncing on the diving board.

Big boobie female instructor: Does everyone understand how to do this now?

Every boy nods his head. But not because you heard the question, because your eyes are following her bouncing snuggle-bubbles.

My Native American name is now Big Wood.

NOTE FROM MY GIRLFRIEND: Um, let's not get carried away with yourself. Your Native American name should be Little Tree with Sap that Shoots too Fast.

NOTE FROM ME TO MY GIRLFRIEND: Hey!!!

10:02 AM Ewwww! You made pee-pee in the pool! Your Native American name is now Warm Yellow Running Rain.

Everybody out of the pool!

Time for sports!

10:30 AM You participate in archery. The arrows you will shoot are tipped with hamburgers. Your bulls eye is the mouth of Nicole Richie. That bitch needs a burger, bad!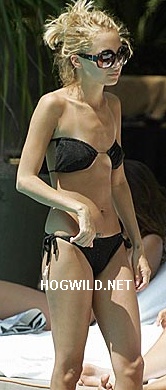 11:00 AM Kick ball! Uh-oh! You got hurt while down on your knees praying they wouldn't kick the ball to you. To the nurse!

11:15 AM Your counselor takes you to Nurse Cougar. She patches you up with a band-aid, gives you a lollipop and sends you on your way. Then she lets out a grrrrrrrowl, arches her eyebrow and jumps on your counselor!



With her huge foobies (Fake Boobies) she is renamed Nurse John Cougar Biggest-Melons-at-Camp.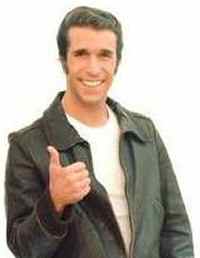 11:30 AM - NOON Skills Practice

You learn to tie different types of knots:

The Square Knot
The Thumb Knot
The Balloon Knot AKA The Ryan Seacrest
NOTE: Balloon Knot is slang for the Dirty Doughnut AKA the Poop Chute AKA the Brown Eye AKA the Bung Hole AKA the Hershey Highway AKA The Gas Station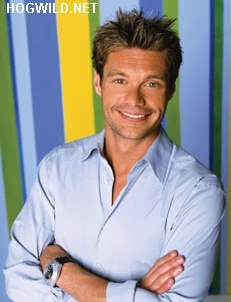 "I am not gay! Seacrest... out... of the closet."
NOTE TO RYAN SEACREST'S LAWYERS: This is satire. We all know that Ryan Spermcrust is not a homosexual. Probably.

NOON: LUNCH!!

Your choice of drinks depends on whether you've been behaving good or bad.

Choices for Good Kids:

Kinda Apple: 10% apple juice, 90% bugs

or

Sorta Citrus: 5% pineapple juice, 5% orange juice, 90% bugs

Choice for Bad Kids:

Sleepy Time Potion: a bottle of red wine.

You bad kids are driving me nuts!

What? You don't like wine? Well ONE of us will have to drink it because either you bad kids need to calm the hell down or I need to be drunk to deal with any more of your crap.

What? I sound like your father?

Your choice of sandwich:

Good Kids:

PB&J

Bad Kids:
Lots of PB & no J.

Maybe you bad kids will scream less when your tongue is glued to the roof of your mouth.

You choice of dessert treat:

Good Kids:

Delicious moist chocolate brownie

Bad Kids:

Delicious moist chocolate brownie laced with Riddlin

1 PM Lunch didn't agree with your stomach. Other campers are now calling you by your NEW Native American name: Brown Wind.

*** SCAVENGER HUNT! ***

Now here is an activity that will keep you occupied! I mean... it's fun!

To allow me to take a nap -- I mean for you to win, here is a partial list of what your team has to find:

* The Meaning of Life
* Absolute Proof that God exists
* A redeeming quality in Paris Hilton

2:45 PM You found everything except 2?! What didn't you find? You couldn't find the Weapons of Mass Destruction? Okay that's understandable. And you couldn't find 3 funny jokes on hogwild.net?!
What? No, it's not impossible!!!

Damn you kids! I mean, who wants a Riddlin Brownie?!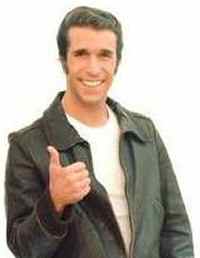 3 PM Kids still laughing about the noises the came out of your balloon-knot after lunch. Rename you Thunder Chief.

*** ARTS & CRAFTS TIME!!! ***

3:30 PM After 30 minutes of intense brainstorming, other campers ask you if you like Arts & Crafts or FARTS & Crafts.

3:30 - 3:55 PM Non-stop Giggling.
3:56 PM Uh-oh! The Fat Kid is suffering from giggle-exhaustion.
Your Arts & Crafts choice:

* Make lanyard bracelets
* Make bead necklaces
* Make Nikes

4:00 - 5 PM Show Rehearsal
Every summer camp ends with campers producing a play for the parents. This year the play will be based on a fun movie! Scarface.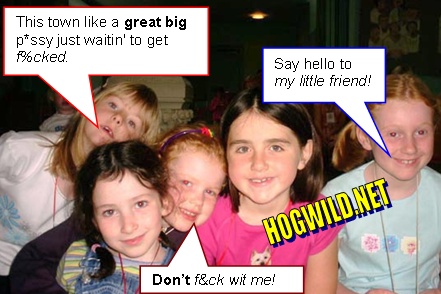 5 PM Bus ride home
Scrawny Bird AKA Screech from Saved by the Bell drives you home.

6 PM Your parents force a smile to welcome your bratty ass back.

YOUR PARENTS: What did you do at camp today?
YOU: I shot beef into some girl's mouth. Then I tied Ryan Seacrest's balloon-knot so the kids called me Brown Wind... Then I found God.
YOUR PARENTS: Great! All's well that end's well! For being so good, you get a special Riddlin brownie!