Superman Returns. So?! Who needs Superman when you have SuperHog!
"Look up on the bus... it's a bum... it's a panhandler... no... it's SuperHog!"
Superman wears a cape and tights. I ain't wearing no damn tights! SuperHog ain't gay! I can save the world while wearing jeans and sneakers... because I'm SuperHog!
Big Movie Announcer Voice Guy: Born on Planet Hooters, his father sent his only son (besides his other son) to Earth. He did this to punish the people of Earth for all those years of transmitting their horrible pop music through outer space.
*** SUPERHOG MOVIE TRAILER ***
Big Movie Announcer Voice Guy: Terrorists have trapped the Secretary-General of the U.N. (the most important person on Earth after the President of the United States, the Mayor of New York and Shakira) in a huge bucket of hot wings! He's burning up! He's going to die! He's holding onto a giant carrot stick for dear life!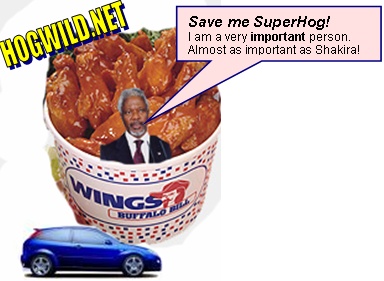 SuperHog to the rescue!
SuperHog: "I'll be there in 45 minutes... I have to wait for the crosstown bus."
2 hours and 15 minutes later...
SuperHog: Sorry I'm late. I was distracted by a set of large hooters. Hooters are my natural weakness.
SuperHog eats his way through over 1000 hot wings to rescue the Secretary-General of the U.N. SuperHog covers his burning body in a soothing moist towelette.

OH NO! MORE TROUBLE!
A huge meteor is hurtling towards Earth!
SuperHog to the rescue!
SuperHog: "I'm on my way! I'll be there in 45 minutes! Where the hell is this damn bus?"
1 hour later...
SuperHog: "Sorry I'm late. I was distracted by a B.A.R. (Big Asian Rack.) You know how rare those are!"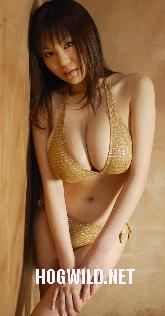 SuperHog sucks down 15 3-liter bottles of fizzy generic orange soda!
Character actor with local accent pointing to the sky: "The meteor is just 20 feet from impact!"
Burrrrrrrrrrrrrrrrrrrrrp!
SuperHog's super belching power has blown the meteor back into outer space!
Hooray!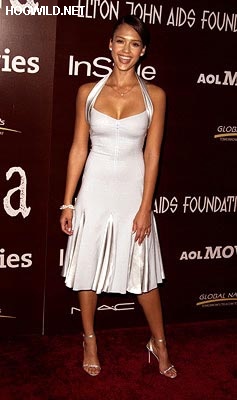 Jessica Alba: SuperHog! Wow. You need a Super Breath Mint. Hi, I'm Jessica Alba, reporter for the Daily Sun-Tribune News Time Gazette Journal Post Herald... Bugle. What do you think of your arch enemy, the evil Lez Luthor, and her plot to give all women on Earth their period at the same time? Hello? Stop staring at my hooters! Oh my God! Do you have x-ray vision?
SuperHog: No. But I have a helluva imagination!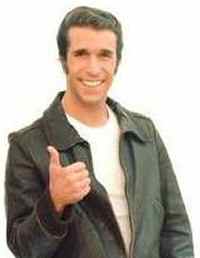 Jessica Alba: If every woman on Earth menstruates simultaneously, the resulting cramping and bloating will tip the Earth out of orbit! Every man on Earth will die!
SuperHog: Don't you mean every PERSON?
Jessica Alba: No. Just men. It has nothing to do with the orbit, but when the planet is full of 3 billion whining women, what man will be able to resist sweet, sweet suicide?
SuperHog: A world with no men -- that's just what Lez Luthor wants!
Jessica Alba: You need to stop her!
SuperHog: But how?
Jessica Alba: Lez Luthor has built a gravitational machine that will pull the moon into "full moon phase" for every time zone on Earth at nearly the same time. This will cause a mass menstruation. An omnipotent ovulation.
SuperHog: It's bad news, period. How can I prevent the machine from pulling the moon?
Jessica Alba: With your incredibly horny Super Humping powers!
SuperHog: Yes! I will go to the moon and hump it back into place! I'm leaving for the moon right now!... Do you know which bus to take?
Big Movie Announcer Voice Guy: Will SuperHog be able to hump the moon back into place with his lunar lunges? Or will the bus break down on the way there? And why can't SuperHog take a cab or something?
SuperHog: Um, that's because SuperHog is super bootleg and this movie is super low-budget, dude.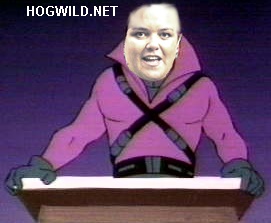 "I am the evil Lez Luthor as played by Rosie O'Donnell. Mooooo-Ha-ha! Emphasis on the mooooooo! I will rid the world of penises once and for all!"
SuperHog: Not if I can help it Lez! I will keep the world safe for people who love peace, freedom, and boobies.
Lez Luthor: Well I enjoy all of those things, too.
SuperHog: Yes, but your peace is a piece of pie, your freedom is freedom from testicles, and your boobies are hairy and saggy and very hairy.
Big Movie Announcer Voice Guy: This film is Rated R for Retarded.