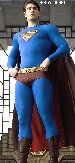 Hello, I'm Superman. And I live in a sweet bachelor pad here in Metropolis. (And ladies, I've got a summer home too. You're welcome to come out for the weekend. The Fortress of Solitude has a great view of the Arctic icecaps.)
Batman is my roommate. You gotta understand rent is outrageous here in Metropolis! And being a Newspaper Reporter isn't paying my bills. (Hey boss, I got a fresh headline for you: "Extra, Extra! Daily Planet Don't Pay Squat!")
So me and the Dark Knight split costs. And look, I love the guy, really, but that dude can leave such a freakin' mess.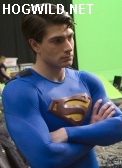 I mean, stinking bat stockings left in the living room. All sorts of chemistry crap left out in the kitchen. And you don't want to know about the bat droppings I found in the bathroom.
I gotta use the flippin' Bat Signal just to get him to wash his own dishes!
I'm like, "Dude! Keep it clean! We don't live in a bat cave, you know!"
He calls me Super-Nag, but I like things tidy. I can see dust everywhere with this darn X-ray vision and that's why I was so happy to discover the Oreck XL Ultra Vacuum!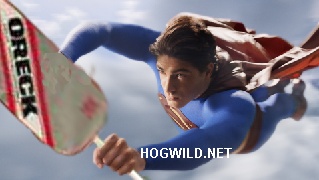 This vacuum has superhuman strength. It can pick up the worst filth and bat-odors!
This Oreck XL is literally faster than a speeding bullet, more powerful than a locomotive, and able to leap tall buildings in a single bound!*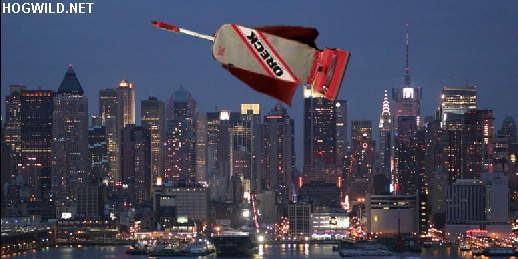 * NOTE FROM CONSUMER REPORTS: Product claims may be exaggerated. In independent tests, The Oreck XL has only ONCE been able to leap a tall building in a single bound. In 99% of testing, it took 2 or 3 bounds.
And the XL Ultra is so light! How many vacuums can you lift over your head with one arm?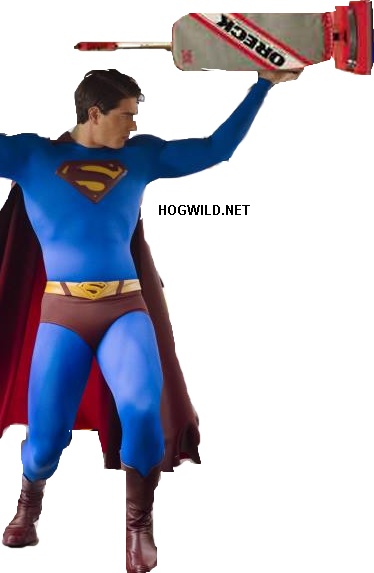 Now consider this purely hypothetical situation: you come home from a hard night of fighting crime and your roommate and Wolverine are still up playing X-Box! Spiderman is passed out on the couch and SOMEBODY spilled bong-water on your new "S" throw-rug. Don't have a super-freakout!
Just switch the Oreck XL into wet/dry mode and stains are vanquished! Even Batman was impressed, comparing the amazing suction powers of the Oreck XL Ultra to Wonder Woman on Prom Night.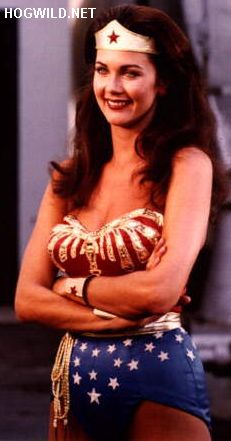 "Oh, that Batman. I don't want to call him a liar, but let's see what says when he's tied up in my Lasso of Truth!"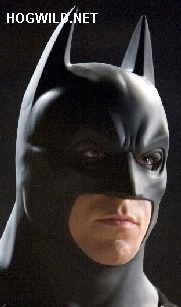 "I would say, "I've been a bad bat-boy. Spank my bat-butt, baby!"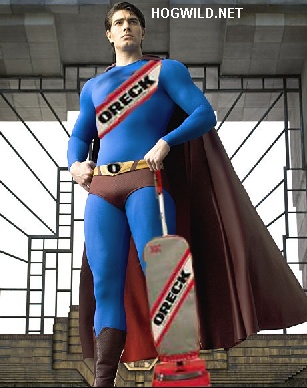 Listen, in my home, I can't tell you how many of my dates literally flew out the window covered in a super cocoon of super snot after one of my super sneezes.
That's why I purchased the Oreck XL! It's like Kryptonite to allergens! It's as if pollen and pet dander are forever banished to the Phantom Zone!
The American public loves me because I'm strong, upright and dependable. And that's why I love my Oreck!
On a more personal note, when my home planet of Krypton exploded, my first thought was sadness for losing my father Jor-El and everything I ever knew and loved. But later I wondered, "Who's going to clean up this mess?"
Thank goodness for the Oreck XL Ultra and its extra large vacuum bag!

How much is the peace of mind of knowing your home is at its cleanest... worth to you?

3? Maybe 4 hundred thousand dollars? Do you think Lex Luthor would charge you anything less than $3,995 for this state of the art cleaning system?

Well if you call within the next 3 seconds, you can have this Appliance of Steel (and polyurethane plastic) for just 12 easy payments of $39.95! Give it to that special Lois Lane in your life, and you will be the real Superman!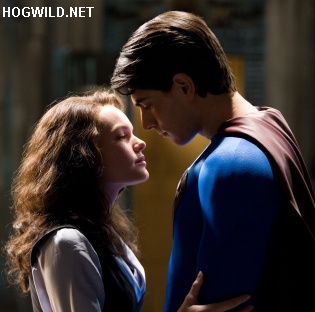 "Oh Superman, thank you for the vacuum. You're so romantic."

Just call 1-800-SUPERDEAL!!!