An outbreak of E. coli at Taco Bells across the country left at least 169 people sick. The Taco Bell President holds a press conference to attempt damage control:
[President steps to the podium.]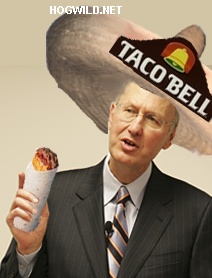 REPORTERS: Mr. President, Mr. President!

TACO BELL PRESIDENT: Yes, you in the back.

NEW YORK TIMES REPORTER: Mr. President, is it true that there have been 19 more cases of E. Coli poisoning since last night?

TACO BELL PRESIDENT: Yes, but we're winning this battle. This bacterium is in its last throes. We've driven them from the Spicy Chicken Burritos and they're confined to Chalupa territory.

USA TODAY REPORTER: Reports are indicating that the outbreak has spread to other Taco Bell locations in Delaware, South Carolina and Utah, what are you doing to prevent this expansion?

TACO BELL PRESIDENT: That's a great question. Our restaurant chain's employees are required to adhere to strict food-handling rules.

For example, every bathroom has an "Employees Must Wash Hands" sign. And we make sure ALL employees pretend to wash their hands for at least 20 seconds — no exceptions!
And we have an incentive system for employees who use soap!
FOX NEWS REPORTER: Do you think Al-Qaeda is behind this?
NY POST REPORTER: Big story! Terrorists Cause Taco Hell: Al-Qaeda E-Qoli.
HOWARD STERN REPORTER: Ever have sex with a black chick?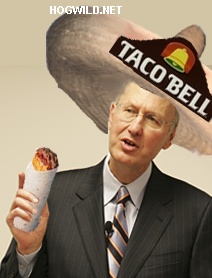 TACO BELL PRESIDENT: Any legitimate news organizations have a question?

CNN REPORTER: Do you think all this negative publicity will impact your sales?

TACO BELL PRESIDENT: Senior management had a brainstorm and rather than see this situation as a problem, we've decided to embrace it as an opportunity!
Follow me here: Americans love gambling and the chance to win big money. Now with the new Taco Bell E. Coli Game, you can win big! See, we're being sued by the families of the victims, I mean, contestants. And we're going to give away millions of dollars in settlements, er, prizes!
But it would actually cost us MORE money to close our restaurants until the problem is fixed. So now we're making it into a game. If our E. coli Focus groups are any indication, we can expect GREATER sales from this!
In fact, we're thinking of renaming everything to embrace the theme! There's the TaColi Supreme, Soft Stool Supreme, and the Fecal Fiesta Burrito which is a medley of what looks to be ground beef, real cheddar cheese, seasoned rice and all-white-meat chicken seasoned with colon residue.
NOTE: Colon residue is commonly referred to as poop.
The Fecal Fiesta! Giving new meaning to the phrase "Party Pooper."
And we've got something for the children, too. Now with every kids meal, we're including free pets! E. Coli are fun, low-maintenance and they eat what you eat! We like to think of them as the sea monkeys of the G-I tract.

That's Thinking Outside the Bun!
HOWARD STERN REPORTER: Ever have sex with an Asian lesb!an?
PBS REPORTER: So you're saying E. coli will encourage young children to eat more Taco Bell?
TACO BELL PRESIDENT: We sure hope so! And we're even seeing an increase in teenagers at Taco Bell.
See, now that teens know E. coli is dangerous, they want it even more. Rebellious teenagers are coming to Taco Bell specifically, for the E. coli. Taco Bell has now entered the same lucrative markets that hard alcohol and tobacco used to monopolize. The more you tell teenagers NOT to eat Taco Bell because it can kill you, the more they will sneak out to get it!

Listen, Taco Bell Brands is committed to recreating the real Mexican dining experience for our American customers... a dining experience that now includes authentically explosive diarrhea!
Dejarnos fart un crap grande! You'll Run for the Border all night.

Creating a lifetime of memorable dining experiences. That's the Taco Bell value-add.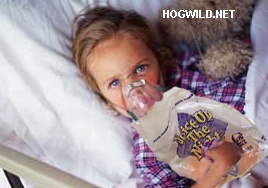 MTV NEWS: Has anyone important been harmed?
TACO BELL PRESIDENT: Excuse me?
MTV NEWS: You know, celebrities. Or that guy Eagle-Eye Cherry who sung "Save Tonight."
TACO BELL PRESIDENT: According to her Publicity people, we expect Britney Spears to be infected soon.
WASHINGTON POST REPORTER: This is all very impressive, but are you saying the food is safe to eat?

TACO BELL PRESIDENT: But of course! Now to dispel all fears, I will publicly eat this Grande Soft Taco.

[Assistant hands him a taco.]

Hmmmm…that looks good! I love this job!
[Turns to the right so the audience can only watch him in profile. Lowers taco behind his head and hides it in his shirt pocket while making chewing/swallowing noises]

Yum! <Chew, chew chew.> Thish ish delicious! That really hit the spot!
HOWARD STERN REPORTER: How 'bout @nal with a midget?