In honor of World Teacher Day, I'd like to honor me.

Before I went full-time with this comedy stuff, I was a teacher. Taught high school in the "inner-city."

No, that doesn't mean black kids.

It meant poor white kids AND poor black kids AND poor Hispanic kids. It's beautiful to see how poverty brings people together.

Every Monday morning I had metal detector duty where I kept the students safe by rummaging through their backpacks to carefully remove their cigarettes and self-esteem.

Of course, the metal detectors ensured there would be no violence in school. Unless a "bad kid" brought in a weapon after 8:45 AM when we put away the metal detectors.

So thank goodness bad kids are never late for school!

I did my part to maintain the illusion of safety. Just like the U.S. Office of Homeland Security!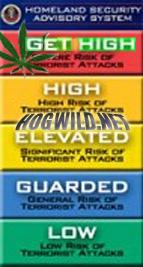 They called this place of learning The High School for Technology. I was hired as the Computer Teacher. But there were no computers.

I had to teach computers with no computers.

They were all broken.

Also, since I was a rookie, they gave me all of the "challenging" children. You know, because being a first-year teacher is so easy.

So I had a room full of tattooed teenagers wearing baggy jeans and scowls. I tried to keep one kid after school for detention but he refused because his house-arrest anklet would go off.

And I had this one kid who would literally roll around on the floor. For no reason, he would spontaneously throw himself on the floor and roll around. I was like, "Did I miss the Fire Drill Alarm?" What caused this kid to stop, drop, and roll?

So because there are no computers, I'm teaching a room full of juvenile delinquents computer THEORY.

Here's a theory: Don't offer a computer class if you don't have computers!

It wasn't until I took a peek at the school's secret Master Schedule that I understood. While the students' schedules said "Introduction to Computers" the REAL schedule said "Introduction to Social Isolation: a place to put trouble-makers to keep them from disrupting the real classes."
These kids needed love. And Jesus. I'm Jewish and I still told them to find Jesus.

BAD KID: Jesus? Where do I find Jesus?
ME: I think he's out in the hallway. Here's a pass. Go wander around for 40 days and 40 nights. Just get the hell out of here!

I really did try to connect with these kids. And some of them actually appreciated it. One kid actually came back 2 years later to tell me how much it meant to him that I actually cared about him.

I guess that tiny bit of interest in his success was more than anyone else have given to him.

So as he went on talking to me and holding back his tears, I thought to myself, "I HATED you! You gave me nightmares! Why the hell were you rolling around on the floor?!!! Every day I thank God that you are no longer in my class."

But he knew.
FORMER BAD KID: I know I gave you a hard time.
ME: And an ulcer!


*** HOW DO YOU COMFORT? ***
Had a 16 year old girl. Really sweet. Very nice. Big heart. She got pregnant. Not unusual. In fact, we had about 15-20 pregnant girls in the school.

What was hard was that she had a miscarriage. I told her that the miscarriage was actually a blessing. That this was God's way of saying this was not the right time.

I wouldn't normally have spoken about God in school. We were supposed to keep God out of school. On Metal Detector Monday I made sure to check for guns, knives, and bibles. But I felt it was okay because she believed in God.
So, what the hell do you say to a teenage girl who just had a miscarriage? "Go get 'em night time, tiger!" Um, no. I really do think the miscarriage was a blessing.
Instead of being a broke, pregnant single mom she graduated high school and went to college.

She'll be a better mom when she's ready.



*** FRESH MEAT ***
I taught high school pretty much fresh out of college.

UNDER-ACHIEVING KID: How can teach us anything? You're barely older than me!
ME: You're right. Are you sure you want to brag about that? I graduated college and you're still here.
UNDER-ACHIEVING KID: Can I go to the bathroom?


*** PARENT-TEACHER CONFERENCES ***

Had another pregnant student. She comes in with her Mom and Dad.

ME: Your daughter has really shown improvement since...
DAD: Um, she's not my daughter. She's my wife.

Okay, see, that's why you they say Dear Parents or Guardians on the permission slips. People have "unique" arrangements.

NOTE: Unique = f*cked up.

Turns out the woman was the girl's mother, but the 45 year old man was the girl's husband. And she has a baby with him and another on the way. The 16 year old girl lives with her husband and mother. Presumably in a shoe. And they don't know what to do. Ya know, I'm tired of sitcoms set in New York City. Let's make a sitcom about THAT messed up family set in a trailer park in Vinton County, Ohio.

I'm a comedian. When I see something funny, I laugh. And that's why when one of my students tipped back on her chair and fell over... I tried to hold it in. I really did. I excused myself. Went into the hallway.

And... HA HA HA HA HA!!!!

I walked back in. The entire class is looking at me shocked. So I explained, "Woooooo!" Then I went back into the hallway, "HA HA HA HA! OH MY GOD THAT WAS HILARIOUS!!!! HA HA HA HA!!!!!"

The class stares at me in disbelief. "What? It was funny. I'm sorry. I'm really sorry. I'm sorry that it was so FREAKING FUNNY!!! HA HA HA HA HA!!!!"



*** RAISE YOUR HAND FIRST... IF YOU WANT TO SAY SOMETHING STUPID ***
There was one time when I actually felt bad for laughing...

This super shy girl was up in front of the class giving her presentation. Okay, so you know how your jeans can kinda bunch up in the front with a little fold that sticks out?

So one of the ignorant kids jumps up out of his seat, points at it and yells, "SHE'S GOT A PEN!S!!!"

Wow. That was hilarious.

And you know how the more you're not SUPPOSED to laugh, the funnier it gets?

Well let's just say I was REALLY not supposed to laugh! So that sh!t became hysterical!

I thought to myself, "It DOES look like a pen!s!" and I told the bad kid just what I was thinking, "You have detention!"
"And I'm writing a referral note to the Principal just as soon as I wipe these tears of laughter out of my eyes."
I'm dying of laughter. I hold my stomach. I can't take it!
And just then the Principal walks in. She's aghast: "What is going on here?!!"
So I stand up, brush off my pants and explain "Um, I was just, uh, showing rolling-around-on-the-floor-kid how silly he looks!"
"What? You want to see me in your office after school? I can't. Because my house-arrest anklet will go off!
Those kids were a baaaaaaaaaaaaaaad influence on me!