JUSTIN: 5 Reasons to watch the Eagles vs. Cowboys:
1. Grudges... Last year Terrell Owens was upset with being a millionaire and decided to hold his team hostage until he got the money he deserved.
In doing so he blabbed to the media that the team wouldíve been undefeated with Brett Favre (of ďThereís Something About MaryĒ) as their quarterback.
HOG: Brett Favre was in Something About Mary? Really? Iím going to have to check IMDB!
JUSTIN: He was Cameron Diaz's ex-boyfriend, unfortunately for him there was no gratuitous sex scene written into the script, but on the plus side now you can put a pic of Cameron in this column!
HOG: Just because you mention the name of a hot chick, you think I'm going to automatically put her picture ...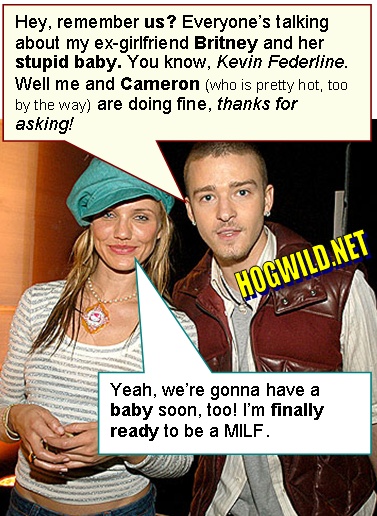 HOG: Okay. You're right.
JUSTIN: And Terrell Owens went on to say that he wasnít "the one who was tired in the Super BowlĒ referring to the botched final drive in Super Bowl XXXVIIII. Thatís 39, HogWild.
HOG: Hey! I know my Roman Numerals! And actually,
39 is written as XXXIX. Trust me. Iím a pervert. I know my XXX Xís!
JUSTIN: Sh!t!

So Terrell Owens p!ssed off the Eagles quarterback

Donavan McNabb but he kept his mouth and took the high road since he had not made a guest appearance in a romantic comedy yet.
HOG: But to his credit,

McNabb has appeared in a number of commercials where he eats soup.

JUSTIN:

2. Everyone loves to root against an a$$hole

.
Terrell Owens has made a career out of making an ass out of himself.
From the time that he body slammed former teammate Hugh Douglas on the training room table, to calling the Philadelphia Eagles a classless organization for not celebrating his 100th touchdown, to last week when he almost killed himself by accidentally over-dosing on painkillers. Seriously, he's about two stunts away from being in the WWE.
HOG: That would be awesome! Heís not really big like most wrestlers. But since heís flexible, fast, and wiry he COULD be the next Leaping Lanny Poffo!
Oh! And T.O.ís

special move would be, after he pins down his opponent, pulling out a Sharpie marker and autographing the guyís
forehead!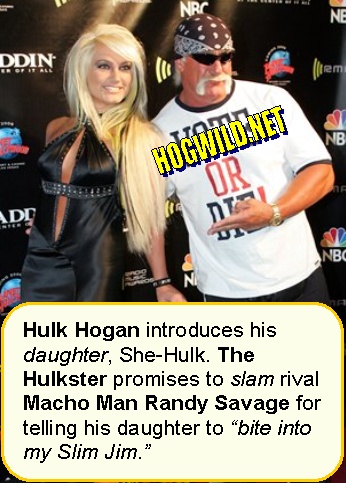 JUSTIN:

3. Philadelphia HATES Dallas and the game is being played in Philly.
Since leaving the Eagles and joining the Dallas Cowboys Owens has seemingly turned over a new leaf and had nothing but good things to say about the team, which must really p!ss off the Eaglesí fans.
These are the same fans that cheered when former Cowboy Michael Irvin was paralyzed by a hit (temporarily) and had to be carried off the field on a stretcher.
These are the same fans after getting pounded on Christmas Day last year booed a guy dressed up as Santa Claus. Who boos Santa Claus?
And these are the same fans who last week before the Packer game even ended started chanting ďO-D, O-D, O-D!Ē in preparation for when the T.O. came back to town.
HOG: Wow! I think a therapist would diagnose the entire city of Philadelphia as having anger management issues. Booing Santa? Children in Philadelphia must be really messed up from this stuff. Like, if an 8 year old kid doesnít get enough money, she kicks the Tooth Fairy in the ass.
JUSTIN: Actually I think it's call NWACS for Never Won A Championship Syndrome!
HOG: I must admit,
O-D!, O-D!, is PDF. (Pretty Damn Funny.) Almost as good as throwing syringes at Barry Bonds.
JUSTIN:

4. These two teams hate each other like HogWild hates Chi Ali.

HOG: Hey! I donít hate Chi Ali! Heís a nice man who is simply misunderstood.

NOTE: Chi Ali is prison for murder. And I donít like upsetting convicts.

Anyway, Chi Ali had a great fastball in Little League. Thatís all I know about him.

JUSTIN: The Cowboys have five Super Bowl Rings (4 more than the Jets) and the Eagles have 0.

HOG: Dude! J! E! T! S! JETS JETS JETS!!!

This is our year!!!

NOTE: No, itís really not.

This is our year!!! JETS JETS JETS!!!

JUSTIN: A former Eagle coach Buddy Ryan, once put out a hit list and gave his players bonuses for each Cowboy player they knocked out of the game.

HOG: Cool! And I thought I was evil just because I did that while playing a VIDEO GAME. He did it in real life!

JUSTIN: Remember in the old school Madden games when if you hit a player hard enough you could see the
ambulance actually come on the field? That was awesome!
So T.O. got kicked off the Eagles and then went on the next year to play for their arch rivals.
Two years ago Roy Williams knocked out the Eagles best player in a key game and almost cost them a trip to the Super Bowl by doing so. I could go on but Iíve got Chi Ali calling me from Prison on the other line.
HOG: Dude! Tell him I said I think he was framed!
JUSTIN: 5. T.O.ís known around the league for his inventive touchdown celebrations such as pulling a Sharpie marker out of his sock and signing a football, running to the middle of Texas Stadium (when he played for San Francisco) and posing on the Cowboys team logo and -- my personal favorite -- grabbing one of the cheerleaders pom poms and doing a cheer. Anytime you get a 260 pound athlete shaking his ass with a pair of pom poms, thatís high comedy.
HOG: Why does he get so much sh!t for doing cool things? T.O. catches more flak than touchdown passes.
NOTE: Wow! That was pretty clever!
I think more players should have signature moves and showboating. It makes the game more fun.
JUSTIN: And competitive. You're certainly going to play harder when you know that if the other team scores that they're going to re-enact the final scene of Footloose in the End Zone!
HOG: If a team scores a touchdown, letís see the five 400 pound guys on the entire offensive line link together and do some Rockettes-style leg kick dancing.

When dude pops a field goal, letís see the Kicker

pull off his shoe and triumphantly throw it into the crowd.

When

Coach Bill Parcells calls a great play, letís see him celebrate by pulling off his shirt, then squeeze his left mooter and lick his nipple.

Hold on. I have to throw up now.

JUSTIN: So the question is what will he do this week if he scores a touchdown in Philadelphia? Personally Iím hoping something along the lines of

Randy Moss when he fake mooned the Green Bay fans.
HOG: Fake moon? Hell no! FULL moon!
Forget that. I think T.O. should pull down his pants and d!ck slap a fan in the face.
JUSTIN:
Ummm I don't know about how excited I am to see T.O whip out his wang...
HOG: Whoa. You're right. I need to go into g@y detox.
JUSTIN: This weekend's game has the makings to be as good as the Red Sox vs. Yankees, Lakers vs. Celtics or, if we're lucky, the teams will meet at midfield and settle it like Ali vs. Frazier.
HOG: Or like Hulk Hogan vs. Leaping Lanny Poffo with a metal folding chair to the cranium!!!