JUSTIN: Tiger Woods, who is currently preparing for the Ryder Cup in Ireland, was outraged when an Irish magazine and a tabloid linked photos of his wife Erin Nordegren to various p0rnography sites.
HOG: Really? Where?! Where?!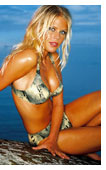 JUSTIN: Google it, because there's nothing like a little T&A to add a some spice to a boring ass golf match. I think the PGA should institute this in every tournament by either leaking topless photos of one of the player's wives or even going with topless Playmates to caddy for the golfers.
HOG: As long as it's not the male GOLFERS that go topless. Because some of those out-of-shape dudes have -– as you call them, b!tch-t!ts and as I call them, mooters (man-hooters.)
JUSTIN: Yes, I think we can all agree: Mooters are gross. No woman ever wants to hear the phrase "Honey have you seen my bra?"
HOG: This is kinda embarrassing for Elin Nordegren. Even though the pics were fake... she has to explain to her family, "Mom, no. Mom! Listen, those are NOT my boobies. Pictures DO lie! Mom, the only topless photos of me are the ones that YOU took of me as a baby in the tub!"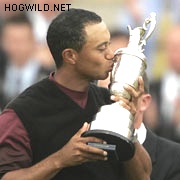 Tiger kisses his trophy.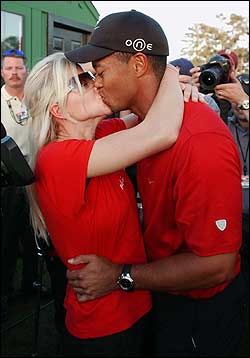 Tiger kisses his OTHER trophy.
JUSTIN: The publisher, Dubliner Media Limited, issued an apology saying it was a satire and didn't expect anyone to take it seriously.
HOG: Yes, I'm sure it was a very sincere apology:
Dear Mr. and Mrs. Woods,
We are sorry for any inconvenience our Photoshopped photos may have caused you. We also apologize for any incredible publicity and attention this has garnered for our company.
Clearly, we meant the photos to be satirical. It should be obvious to anyone coming to our site to see n@ked girls, MILF 0rgies, monster dongs, and nut-slurping sluts that a n@ked picture of a celebrity would be a joke.
JUSTIN: I'll tell you right now, if somebody published fake pictures of my wife on a p0rnography site... I'm going to be pissed because I go to p0rn sites to see OTHER women naked, not my wife!
HOG: Yeah, Tiger was probably swinging his 9-iron in his hotel and was like, "Gadzooks! Is that… my… wife?!"
JUSTIN: Gadzooks? Have you been reading Archie comic books again?
HOG: When you're trying to get horny, seeing your own wife naked is a total buzzkill.
JUSTIN: Ha Ha. Tiger Woods went on to defend his wife by saying, "My wife, yes, she has been a model prior, and she did do some bikini photos, but to link her to p0rn Web sites and such is unacceptable, and I do not accept that at all. Neither does our team."
Really Tiger? Have you seen your wife? My guess is that as soon as the pictures came out, the rest of the Ryder Cup team was white water wristing to Mrs. Tiger Woods.
HOG: White water wristing?! You Texans have some crazy colloquialisms! Yes, you're right. The Ryder Team wants to be the Ride-Her Team.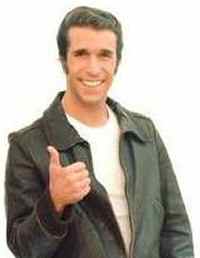 His team is totally 100% okay with it as they've all fantasized about shooting a hole-in-1 with his hot wife.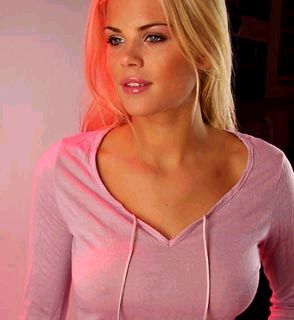 You could golf at night with those high-beams!
JUSTIN: What really upset Tiger had to be when the magazine wrote, "Most American golfers are married to women who cannot keep their clothes on in public. Is it too much to ask that they leave them at home for the Ryder Cup? Tiger Woods' wife can be found in a variety of sweaty poses on p0rn sites."
I guess the Europeans are jealous because Tiger's wife bathes on a regular basis, doesn't have yellow teeth from constant smoking and looks that much hotter because she shaves her legs and armpits.
HOG: You country bumpkin! Have you ever BEEN to Europe? Didn't you use to live in New York City? Didn't you see all the fine-ass European girls visiting? European women are NOT smelly, chain-smokers with hairy legs.
Except the French.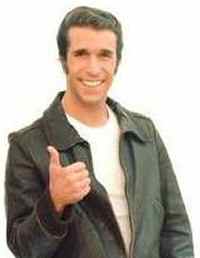 JUSTIN: I nailed a couple of Eurochicks back before I was married. One was just like American girls and the other was like a Sasquatch with boobs.
HOG: It's clear that your wife does not read this column. Because if she reads your last line, this will be your last column. Well, at least your last column with you still attached to your testicles.
And dude, although the name Elin Nordegren may SOUND American to you, she is actually from Europe herself.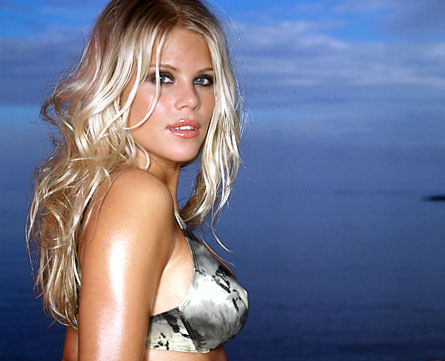 JUSTIN: Inside the tabloid, it reprinted photos of Elin Nordegren in a bikini, along with a nude photo of a woman purported to be Nordegren.
HOG: Did you just say "Purported?"
JUSTIN: I got a "Word of the day" calendar for Christmas and today's word was "purported."
HOG: This could have all been a lot worse. Some g@y site could've posted fake pictures of TIGER's wood.
JUSTIN: Quick HogWild, you better check your g@y porn site bookmarks to make sure!
Phil Mickelson was asked how the U.S. team felt about the stories. "I don't think it shows too much about your profession," Mickelson replied, pausing for effect. "Other than that, I just heard about it recently."
What? Mickelson should just keep his mouth shut and focus on keeping his own boobies off the internet because that man's got a serious case of b!tch t!ts going on underneath that golf shirt.
HOG: HA HA HA!
JUSTIN: To be honest, this whole scandal goes to show just how BORING watching Golf actually is. I mean when you have to leak nude photos of the players' wives to get people to watch one of the biggest tournaments in the game… that my friends is a boring ass sport.
HOG: You think this was some sort of conspiracy? A PGA publicity stunt?
JUSTIN: I think the American Press planted the evidence to piss Tiger off so that he'll play extra hard to make sure the trophy comes back to America.
HOG: Maybe at the US Open, Tiger will reach over and pull off Phil Mickelson's shirt to reveal a metal clamp over his nipple.
JUSTIN: That would be awesome.
HOG: Maybe the NHL will learn from the PGA… To help ratings, there will be a huge scandal involving a hockey player high sticking Paris Hilton on the rink after-hours. Then Paris' loose p*ssy lips get stuck to the cold goalie post like that scene from that stupid Christmas movie they show every year.
JUSTIN: Listen dude, there are two things Christians won't tolerate and that's taking the Lord's name in vain and talking trash about "A Christmas Story!"
HOG: Other things Christians won't tolerate:
* gays
* Jews
* Muslims
* pre-marital sex
* Ozzy Osbourne
* witches
* certain episodes of Murphy Brown, MTV Spring Break, South Park, and The Teletubbies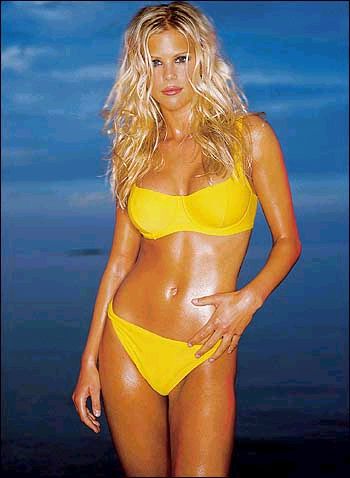 HOG: Anyway, all sports have their s*x scandals.
Basketball has Kobe in Colorado.
Baseball has Anna Benson in the parking lot.
Football has the Minnesota Vikings on a boat.
Women's Professional Bowling has Greta von Strapon wearing nothing but her red-and-green bowling shoes. And then she puts her fingers in the sweaty holes of something other than the other girl's bowling ball.