HOGWILD.NET has the 1st EXCLUSIVE photo of Suri, the Scientology Baby of Tom Cruise and Katie Holmes!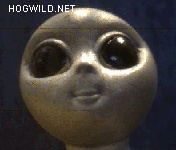 ABOVE: Scientology baby, Suri, born to unwed and totally unbrainwashed parents Tom Cruise and Katie Holmes.
So Tom Cruise and Katie Holmes finally had the baby.
Woo freakin' hoo.

* Iran is building a nuclear camel

that is walking towards America,
* Osama bin Laden is bangin' b!tches and drinkin' Cristal while hatching his next evil plot, and
* The President of the United States committed treason by okaying a plan to reveal the identity of one of his own CIA agents...

BUT A GUY WHO PLAYS MAKE-BELIEVE FOR A LIVING IMPREGNATES SOME CHICK FROM A TV SHOW AND... STOP THE PRESSES!!! IT'S BIG NEWS!!!

America is obsessed with celebrities.

My best friend called me up:

BEST FRIEND: Dude, today is Lindsay Lohan's birthday!

ME: You didn't even call me on MY birthday!

BEST FRIEND: Dude, LINDSAY LOHAN!!!


It's obvious that in our society, Entertainment is the most important field. As proof, I offer you the following list:

1 - Grammy Awards
2 - MTV Music Awards
3 - Academy Awards
4 - Emmy Awards
5 - Golden Globe Awards
6 - Country Music Awards
7 - People's Choice Awards
8 - American Music Award
9 - The S.A.G. Awards
10 - Daytime Emmy Awards
11 - Nickelodeon Kids Choice Awards
12 - Radio Music Awards
13 - Billboard Music Awards
14 - Soul Train Awards
15 - BET Awards
16 - Tony Awards

Yet, the Pulitzer Prizes go un-televised. Couldn't they at least broadcast the Nobel Prizes live on NPR?

Also, every single one of those shows has categories for music.

This just proves my theory: Science is stupid. Writing is unimportant. Music made for 13 year old girls rules! I mean, RoolZ!
**********************

Cruise gave People Magazine the 1st scoop on the birth in exchange for People Magazine promising not to print those photos of Tom tongue-kissing a boy on Fire Island.

Just kidding. It was in San Francisco.

Really, I think Tom Cruise is a great actor. Really! Look at his most recent (and most challenging role), acting like a straight guy in real life.

NOTE TO EVERYONE: This is satire. I have no idea if Tom Cruises for guys.

NOTE TO TOM CRUISE'S LAWYERS: Please don't sue me.

Remember when Tom Cruise was just a cool actor? Short guys with big noses everywhere looked to him for inspiration.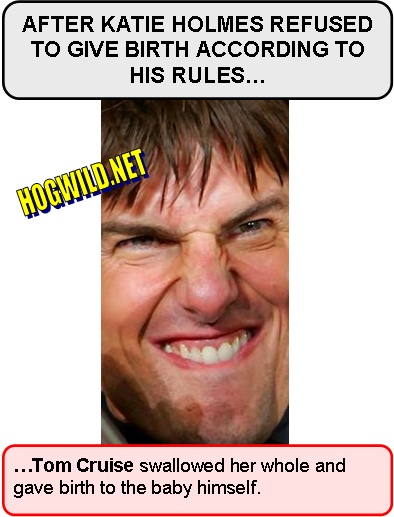 The more we know about a celebrity, the less we like them.

Just keep your mouth shut and let your work speak for you.
Nobody wants to hear about your dumb cause or your views on religion. Just say the lines written for you in the script!
* Stop changing your name to Esther or to a symbol.
* Stop running for Governor.
* Stop winning when you run for Governor.

*** SILENT BIRTH ***

Scientologists believe the baby should be born in a room of quiet with no words spoken. If only we could keep Tom Cruise forever in this room.

They believe in Silent Birth because they think the words spoken may be remembered by the baby later on in life and associated with the trauma of being ejected from the womb.

I agree!

Because I totally remember everything that went on when I born. I was paying close attention to the words spoken in that room while I was screaming and spitting fluids out of my lungs and shielding my eyes from this new thing called light and wondering why the warm feeling went away and where's my feeding tube dammit! And I'm covered in some gross ass slime.

But I remember the words spoken because, like all babies, I was born understanding English.

So to this day, whenever I hear the word, PUSH!, I crawl up in a ball and cry.

*** HOLY CRAP! DID YOU KNOW? ***

That Scientology outlaws breastfeeding! It teaches that you should feed your baby "Barley Formula!"

Just like horses!

** DID YOU ALSO KNOW? ***


Scientology was invented by Science Fiction author L. Ron Hubbard who had zero
training in the field of medicine, nutrition, and probably hated breast milk because -- look at his picture -- L. Ron Homo obviously hated breasts.

YET...

Scientology hates homosexuals calling it a sexual perversion.
Condemning gays? Hey, I guess Scientology isn't as different from most mainstream
religions as we thought!

*** IS IT A COINCIDENCE? ***

Scientology is against medication and psychiatry... the 2 things Tom Cruise needs most!

*** DID YOU KNOW? ***
Scientologists believe in Martians, evil robots, and a walrus that lived on Planet Nostra?

*** DID YOU KNOW? ***
That Jews and Christians believe in water turning into wine, the parting of seas, and that women were created from a man's rib and some dirt?

*********************
Suri the Scientology baby weighed 7 pounds, 7 ounces and was 20 inches in length, not counting her green tail.

And per Scientology law, the baby was removed from the mother at once and placed in a capsule with a monkey and pilot John Travolta.

He will fly the baby to Planet Zerf in the Theta-Triton Sector of Galaxy E4 for an advance screening of Mission Impossible 3.

"Both mother and daughter are doing well," according to news reports written by Tom Cruise.

Baby Suri has started her Scientology training and is drinking her horse-formula.

*** INFANT DEVELOPMENT FOR SCIENTOLOGY BABIES ***

1st month: Can see things about 10 inches away
2nd month: Can see into its past life as a Roman Emperor shopping on Planet Kroger in Galaxy Theta
3rd month: Smiles at faces
4th month: Begins recruiting new members
...
10th month: Begins talking
11th month: Begins telling others how they should live their lives
12th month: Begins walking
13th month: Begins jumping on couches