JUSTIN: In honor of HogWild's week long abstinence from m@sturbating I've decided to dedicate this week's column to that quest!

To not touch yourself for an entire week is rare accomplishment for a lot of men, in fact it's kind of like throwing a no hitter as Mark Buehrle threw against the hopeless Rangerettes. If only HogWild's urges are as weak as the Texas bats were, then he should have no problem breezing through the week without rubbing one out.

HOG: I'm trying here. But I'm so used to getting in my daily, uh, "batting practice." Maybe you should try this over there in the Lone Star State... can YOU go an entire week without playing Texas Hold 'em?

JUSTIN: As the famous prospect better Amarillo Slim once said, "You're on motherf*cker." I'll start on Sunday and see if I can make it until our column comes out next weekend. Just a word of warning though... next week's column could be very bitter.
Speaking of Texas teams, the NBA Playoffs have started and Dallas, Houston and San Antonio made the playoffs. I think that's a threesome, right Hog? I'm picking the Mavericks to win it all but the Miami Heat are the champs and are back to defend their title.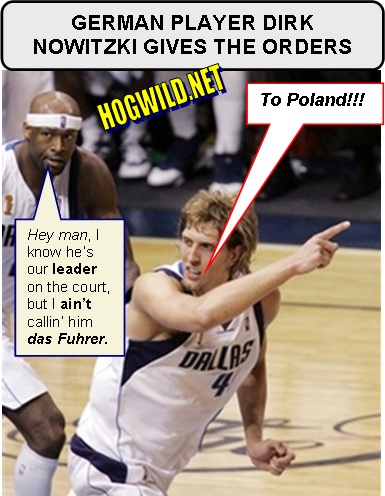 HOG: I predict that the Knicks will win the Championship.

I also predict that a certain un-kosher animal will fly and that a certain undesirable location will freeze over.

JUSTIN: The Knicks will be turned around in 2010 when Lebron James is a free agent and gets tired of playing in the Mistake on the Lake -- Cleveland Ohio. Isiah Thomas will be gone by then and the Knicks will sign LBJ to a max contract. You heard it here first folks.
HOG: Then the Knicks will screw it up somehow. Maybe they'll have no money left for any other good players. Or maybe Lebron James will be kidnapped and brainwashed into joining a cult where he gives us basketball to pursue his true passion: competitive knitting.

JUSTIN: For the Heat to repeat as champs, they are going to have to get past the rejuvenated Detroit Pistons. The Pistons picked up Chris Webber, the 13 year veteran from the Philadelphia 76ers. Webber is a great player but he also is known for dating the "Skinny" Tyra Banks, the famous swimsuit model who posed on the cover of Sports Illustrated while she pulled her bikini down ever so slightly. Look for this years playoffs to be as exciting as a full nude layout of the "Skinny" Tyra Banks.
JUSTIN: How are you doing HogWild?

HOG: Thanks a lot, man. You don't need to be so over-the-top... at this point you could make me sweat if you got a magic marker and painted a n!pple on a softball.

JUSTIN: David Beckham, one of England's most famous soccer players, recently leaped across the pond to play for the L.A. Galaxy.

HOG: Who the hell writes like that? "Leaped across the pond?" Did you just actually write that? What self-respecting Texan boy would ever utter the phrase "leaped across 'the pond?'"
JUSTIN: That's how you Yankees talk over there, now if you'll excuse me I have some pistols to fire into the air.

Beckham signed a record $50 million dollar contract to play for the Galaxy but what does money matter when your wife is Victoria Beckham (formerly known as Posh Spice from the Spice Girls.) This is the same group that sang the lyrics, "If you wanna be my lover, you gotta get with my friends." Does that mean that in order to lock down Posh Spice that Beckham had to sleep with all of the Spice Girls? And if so did he do them all at the same time?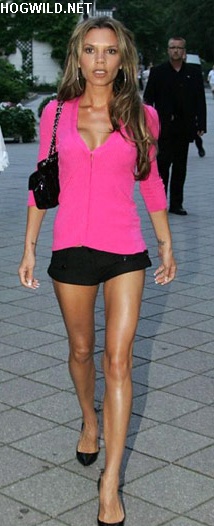 JUSTIN: It is hot in here?

HOG: I see what you're trying to do. Unfortunately Posh Spice is about as sexy as a leather suitcase full of VHS tapes.

JUSTIN: The NHL Playoffs have started and I have to admit that I'm actually following them this year. Don't get me wrong I'm not watching the games but I am keeping up with highlights on Sportscenter. This year I'm picking the Buffalo Sabres to win it all but I think everyone will agree that hockey hasn't been exciting since Alyssa Milano quit banging the star players.
Now she's moved on to Baseball players, but she's still smoking hot, so let's just hope that she goes back to her soft p*rn roots some day and makes Embrace of the Vampire II! Ahhh, Skinamax!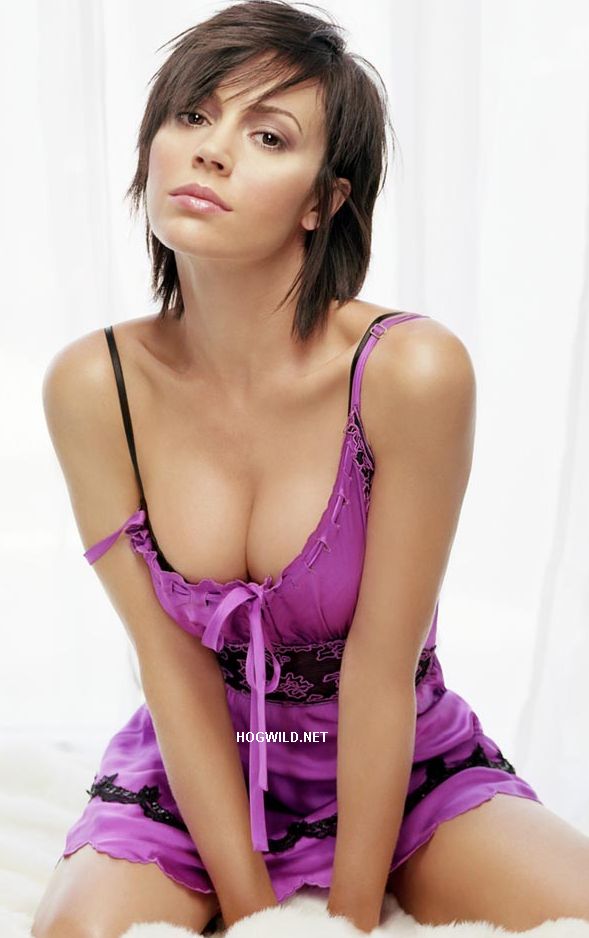 HOG: Okay, now you're getting me all worked up. Because there is not a man alive who wouldn't get sexually aroused thinking about NHL hockey.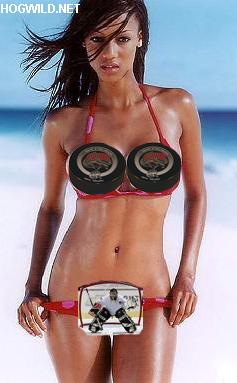 HOG: Just kidding. The Alyssa Milano talk makes me wanna do something naughty with myself, but the Hockey talk makes me want to nap.
Maybe I'll fall asleep and dream about Alyssa Milano. That would be awesome! It doesn't count as touching myself if I'm dreaming. I'll be dreaming of boinking Alyssa Milano and talking in my sleep, "Who's the boss?! Tell me who's the boss!"

JUSTIN: If you're not a hockey fan this will change your mind...
WARNING: Lots of bad words in this video!


JUSTIN: Lastly, I think it's time that we address the whole Don Imus statement where he called the Rutgers women's basketball team a bunch of "Nappy headed ho's." I think that Imus was out of line for what he said. That being said women's basketball is pretty boring. I think in order to boost ratings that they should show Girls Gone Wild videos during the time outs. Maybe have the cheerleaders make out on the sidelines and try and show as little of the actual basketball game as possible.

HOG: Not only are you very sensitive, you are a smart businessman. I think the Electoral College should apply your idea to increase voter turnout. The voting booths should be equipped with flat screen televisions showing girls dancing around in wet t-shirts. Hot girls kissing each other in wet t-shirts. Pulling up their shirts to reveal their big bouncing boobies... uh-oh... I think I need to go vote!