JUSTIN: Pardon me for daring to question the United States but after the loss in the World Baseball Classic to f*cking Canada no less -- I think itís time to analyze Americaís mentality when it comes to team sports. I mean look at the last couple of years,
USA Hockey team went 1-3-1 in the Olympics this year.
HOG: Wow! What a coincidence! 1-3-1 is also the measurements of Mary-Kate Olsen!
JUSTIN: USA Basketball barely won Bronze in the Summer Olympics.
USA Baseball is 1-1 and in danger of getting bounced from the WBC!
HOG: Yes, itís true. But itís only because, as a nation, the United States has changed its primary focus away from sports and to manufacturing high-quality automobiles. HA HA HA!
JUSTIN: Is the rest of the world catching up to the USA or is our system of sending All Star teams flawed? I think the USA Basketball team, after getting spanked in the Olympics by Argentineans with wispy mustaches, has finally caught on to the system and made the right move by picking their team 3 years in advance.
This is a great idea because it will allow them to play in games and gel together as a team long before the next Olympics. My question is why has it taken this long for the powers in charge to figure this out and why hasnít USA Hockey and USA Baseball done the same?
HOG: Why are we losing? Because this is what happens when you send in a man to do a boyís job. Pro athletes donít care as much as amateurs. Same as in porn. Look at the pure glee on the faces of amateur porn stars as they perform, as opposed to the jaded, seen-it-all veterans of countless sequels to Huge Boobs Nurses Meet Giant Black Meat with Foot Fetishes.
JUSTIN: True but if you asked Jenna Jameson to f*ck for her country Iím pretty sure sheíd pull out all the stops to please her partner! Donít get me wrong though, I realize there is a lot of money involved and a commitment to the contracts the players have with their respective teams but itís not like weíre asking these players to join the armed forces and risk their lives. I think I could forgive Tim Duncan or Rip Hamilton for being worn out in the NBA Finals if it was because they had played the entire season with a big ass gold medal hanging from their necks.
HOG: Dude, a lot of the NBA players USED to wear big ass gold medals from the necksÖ but the new dress code forbids it.
JUSTIN: Ha ha good point. I applaud any of the players that have played or are currently playing for the USA and will not criticize their effort because unlike some players they didnít bow out and hide behind some lame duck excuse. In any other country in the world itís an honor to represent your country but here in the USA it seems that more often than not itís a burden.
HOG: ♫Iíll never beÖ your beast of burdenÖ Man, The Rolling Stones still rule.
JUSTIN: In other countries a player is excused when there is a game and he is playing for his national team. Why canít the USA do that? Owners like George Steinbrenner who are pissed because their players are representing their countries instead of playing in some meaningless spring game should have their ass kicked.
HOG: Címon man, it always comes down to money. Major League Baseballís money vs. George Steinbrennerís money. Baseball, Inc. is trying to market its game to other countries. See all those people in the stands? I donít think their price of admission is going to charity.
JUSTIN: Yeah but the WBC is hosting 3 games in America so weíre still profiting from that.
HOG: George Steinbrenner is LOSING money because of this. His Spring Training is a big business in Tampa. You could argue this World Baseball Classic is bad for American business. Who is visiting TAMPA on vacation? No one. Except to see the Yankees stars in Spring Training. I calculate that because of the World Baseball Classic, Tampa employees like waitresses, hotel staff, and bar owners lost $1.5 billion dollars per hour.
JUSTIN: I mean seriously wouldnít have playing in the World Baseball Classic only have HELPED Barry Bonds reputation of being a steroid using dick?
HOG: No. Because the World Baseball Classic runs stricter tests for steroids and the like. The World Baseball Classic would only PROVE that Barry Bonds is a steroid user with no dick.
JUSTIN: In the NHL, hockey shuts down for 3 weeks so that all of the players can compete in the Olympics, which should be applauded, why canít baseball do the same?
HOG: Baseball canít do the same because baseball has more than 7 fans. Plus the NHL and its 7 viewers are also accustomed to their season lasting for 17 months.
JUSTIN: Did everyone forget about the 1972 Olympics where the USA was screwed out of a gold medal due to crappy officiating and REFUSED to accept their silver medals?
HOG: Whoa. That really happened? Cool! Because something really similar to me happened at Silbertís Day Camp in the Catskill Mountains. See, in Color War, our team should have won the Kickball Tournament, except for a highly disputed ďpeggingĒ call.
JUSTIN: Did everyone forget the Miracle on Ice, where a group of unheralded hockey players from the USA made one of the most improbable runs in history and won a gold medal? Probably not but if you have ESPN Classic or a VCR you need to see these clips because this is what itís like to represent your country in international competition.
HOG: ♫Imagine there's no countries,
It isn't hard to do,
Nothing to kill or die for,
No religion too,
Imagine all the people
living life in peace...
Woo-hoo! Hoo-dee-hoo!
I just made that up. Like it?
JUSTIN: Itís dope, you should do a duet with Yoko, Iím pretty sure sheís free.
Those players werenít just happy to be there or to simply represent their country. They were there to prove that America has the best athletes on the planet.
HOG: I think international competition is dumb. It only serves to separate people, when in fact, we should be coming together for our common love of boobies.
Itís an outdated way of thinking. Dividing people up by country is as stupid as dividing people up by religion. Why not have the Religion Olympics? Jews vs. Muslims in Bracket A. Protestants vs. Catholics in Bracket B? Oh yeah, we already have that. Itís called Jihad.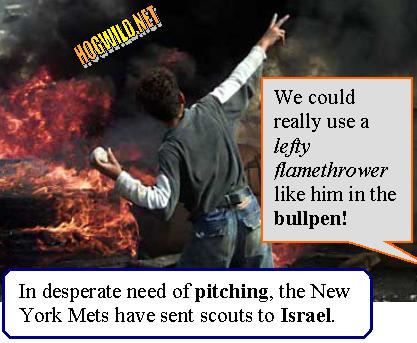 JUSTIN: Perhaps in 2016 when the Olympics are held in Palestine you will get your wish for the first ever Religion Olympics hosted by none other than Snagglepuss from the Laugh Olympics! But whether we do or we donít have the best athletes is not the point, my point is that killer instinct, that pride in ones country seems to be missing from our players and as a fan, as an American, itís just frustrating to watch.
HOG: Whatís REALLY frustrating to watch is right before the big ďmoney shotĒ when they show the guyís face wincing in pleasure. Ugh! Iím trying to time my sh!t to coordinate with the end of the video and now Iím thrown off by this ugly dudeís screw face! I hate that!
JUSTIN: From what I hear itís a Miracle on Spice that you lasted all the way to the money shot!