JUSTIN:
The World Series of Poker.
Wait a minute.
This is a
sport?
I find it hard to consider Poker a sport when
most
of the guys and gals that play the game look like they'd be more comfortable at a buffet or a NASCAR race.
HOG: Poker is NOT a sport. Why do they show this on television? Totally lame. They should televise World Series of Computer Solitaire.
JUSTIN: Meg Tilly or Shannon Elizabeth... not only can these girls play but they've got just about every guy at the table ready to go ALL IN at a moments notice.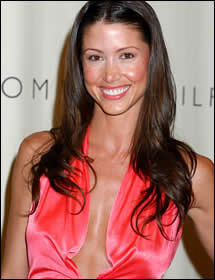 HOG: So you're saying you'd like to "Poke-her"? HA HA! I'm retarded. I can't believe you know the NAMES of the Poker players!
JUSTIN: ONLY the ones I've seen naked on TV. To be honest though, players like that are few and far between and that's why I'll never consider Poker a sport. Because sports are played by athletes and poker players are by no way athletes. Since when have you ever heard of someone like Dwayne Wade or Tom Brady complaining that their back was killing them because they had to sit at a table for four straight hours? Does that sound like a sports injury to you?
HOG: Yes! And I got some serious Nintendo thumb when playing Tecmo Bowl. I was out for the season with Carpal Tunnel. (Actually that injury had nothing to do with Tecmo Bowl. Ahem. But being too interested in video games didn't help my cause any.)
JUSTIN: And what other sport can you play drunk?
HOG: Softball, bowling, Dick Cheney's Duck Hunt.
JUSTIN: Seriously, I know you need all of your wits about you and it's probably not a good idea to get loaded when you've got 10 g's riding on a hand of poker but it's not AGAINST the rules. Then again maybe we should start encouraging more athletes to drink during competitions. I mean wouldn't the WNBA be more interesting if all the women on the court were drunk and making out?
HOG: Ewwwwwwww!!! Have you SEEN the "women" of the WNBA? I'd rather watch Star Jones swap spit with a tortoise.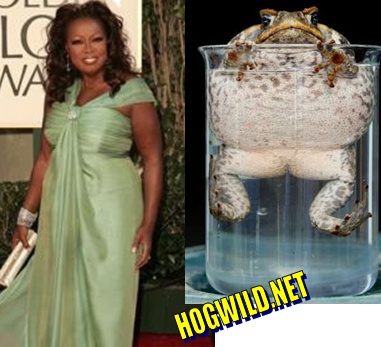 JUSTIN: I present to you Maria Stepanova of the Phoenix Mercury -- the league's only hot player.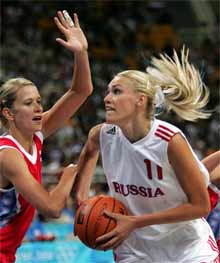 JUSTIN: I've decided to take a closer look at this year's World Series of Poker being held at the Harrah's Rio Casino. The big contest and the only one that really matters is the $10,000 buy-in No-limit Texas Hold'em Poker tournament. This year over 8,000 entrants have signed up for a shot at pokers ultimate title.
Why so many entrants? Well the money is definitely enticing with the final 873 finishers cashing in and getting at least $14,597 back but it's the grand prize of $12 million and the tacky gold bracelet that brings everyone together. We've all played poker with our buddies at one time or another and is there anything better than kicking their ass and taking all their money? It's like a Mike Tyson dinner party.
HOG: $12 million?!! Holy crap! Most "real" sports don't have that kind of prize! In tennis they don't win that much! And I think if you win the NHL Stanley Cup all you get is a Gift Certificate to Arby's.
JUSTIN: This year's tournament includes some big name celebrities like Bound's Jennifer Tilly, Everybody Loves Raymond's Brad Garrett and Girls of Treasure Islands' Ron Jeremy.
HOG: Yes. You know a sport has hit the big time when Ron Jeremy is involved.
JUSTIN: But this is what makes the World Series of Poker so great, I mean can you imagine if baseball invited p0rn stars and bad actors to play in their World Series?
HOG: Easy, man! Brad Garrett is an Emmy winner! And Ron Jeremy has won numerous awards for his work. I think he won the Silver Skeet-Skeet Award for his work in Over the Hedge Hog. Or was it for Hairy Potter Meets The Gobbler of Pen!ses? Or was it for The Shaggy Doggystyle? No, I remember. It was for his work in Charlie Sticks it in the Chocolate Factory.
JUSTIN: Imagine if sometime in the near future you heard, "Now pinch hitting for Derek Jeter, Lexington Steele."
HOG: Makes sense. Lexington swings a seriously big bat.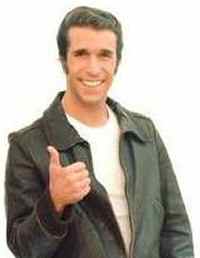 JUSTIN: Or "The Mets have taken out David Wright and decided to send in Jenna Jameson to pinch run…wait a minute is she taking off her top…my god Willie Randolph is a GENIUS!"
HOG: Jenna Jameson would be a great pinch runner because she's VERY familiar with getting to third base.
JUSTIN: Another perk in poker is that smack talk is actually encouraged. In most sports players can talk all the smack that they want and it'll never be heard by anyone but the other player. In poker everyone's mic'ed up and the whole world gets to hear them trash talk their opponents into bad moves. This way when someone folds you don't have to read anyone's lips to know that they called him a p*ssy!
Another perk is that with modern technology you can actually see what cards the players are holding so you can tell what's going through their mind and what their odds are. Can you imagine if you could actually know what Bill Parcells was thinking or what play he was going to call next?
Bill: I've really got to cut down on the fatty foods, I think I'm actually growing t!tties. Oh well it's third down and if I don't throw the ball to T.O. he's going to start crying and ruin the team. So let's go with 18 bootleg fly right and throw the ball to the big baby.
HOG: And we can hear what new coach of the NY Jets Eric Mangini is thinking: What the hell did I get myself into? Not even Bill Parcells could make a winner out of this franchise and HE's got the biggest t!tties in the NFL!
JUSTIN: On a serious note though some of the greatest mathematical minds in the country can be found at this years World Series of Poker like last years winner Joseph Hachem, Phil Ivey, Doyle Brunson and Greg Raymer. Sure none these guys will probably come up with the next E=MC2 but they'll tell you with a single glance what cards you're holding and seven different ways that they could separate you from your money. So tune in and see who will be the next mastermind of Poker.
HOG: Yeah, see Poker is about thinking. Sports are about physical ability. Poker, Chess, Sudoku… not sports. Volleyball, Swimming, P0rn… ARE sports. If thinking-activities were sports, high schools would give out Varsity Letters for being captain of the Computer Programming club. As a general rule, if you were beating up people in high school, your hobbies were sports. And if you were the one getting beat up, your hobbies were NOT sports.