JUSTIN: Chicks dig me but more often than not they just don't get me. I've been with my wife for 8 ½ years and I don't think she can even begin to understand the hell that sports have put me through this last week. I went from the ultimate high for a fan to the absolute bottom in less than a week. How you ask? Well it's a tricky recipe but I'll try and rehash it for you.
HOG: Yes, each month women suffer horrible cramps, their hormones go haywire, and they bleed from a sensitive area of their body… but they don't understand REAL suffering! The type of suffering only a SPORTS FAN feels when his team misses free throws or strikes out with the bases loaded.
JUSTIN: First you take 4 straight losses by the Dallas Mavericks to the Miami Heat, add a dash of HORRIBLE officiating, throw in the fact that no one on the entire Mavericks team could hit an open jumper and you've got the beginning of my week of misery.
HOG: Wow! Imagine if you were actually a PLAYER on the team. I bet the PLAYERS don't even get this down about it. If only they knew how much you cared…
DIRK NOWITZKI: Man, I feel awful about losing. Justin Sanders was really counting on us!
JERRY STACKHOUSE: Who?
JUSTIN: Don't get me wrong, Dwayne Wade is the man! He single handedly killed the Mavericks regardless of the officiating and I take my hat off to him and his team.
HOG: You "take your hat off to him?" What is this, 1882? Why don't you also take off your monocle and horse riding gloves for him!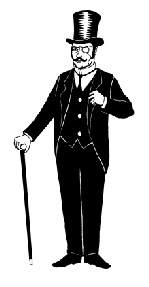 JUSTIN: The only thing that could have been worse than getting beat in the NBA Finals when you're up 2-0 would be if I was a Mets fan and had to sit through the 2000 Subway Series!
HOG: HEY!!! I am PROUD to say, that during the Yankees run of titles from 1998, 1999, and 2000 no team beat them in even one game EXCEPT the Mets. So there! LET'S GO METS!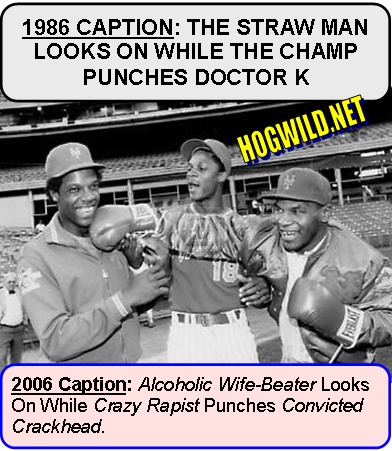 JUSTIN: I guess I should have realized that I was in trouble when the Dallas Mavericks t-shirt that I ordered turned out to be a children's large instead of an adult large. I tried it on and it was so tight that I felt like Dirk Diggler from Boogie Nights. All I needed was a cheesy mustache and a headband and I would've been ready for some raunchy 70's p0rn. Bow chicka bow bowwwww.
HOG: Um, no offense... but if you wear a shirt that is too small for you, the shirt would ride up and your belly would hang out, making you look less like a 70's porn star and more like a street walking crackwhore. Which is why you should stick to your fashionable attire of Texas ties and cowboy boots.
JUSTIN: This coming from a guy who dresses like an Eminem back up dancer...
HOG: I do not! I dress like his DJ.
JUSTIN: After you get done mixing up the first batch losses then you move on to baseball where not only did the Texas Rangers blow their first place lead, but they managed to coordinate all of their losses last week with the Dallas Mavericks.
That was nice. Not once during the entire week could I say, "Hey at least the Rangers won."
HOG: All I have to say to you is:
JUSTIN: The sports gods must've been punishing me for all of my past sins or perhaps it was karma striking back at me for killing a sports puppy in a past life.
HOG: OH MY GOD! You killed a sports puppy?!!! I don't know what that is, but I'm picturing a little wiener dog dressed in a tiny football jersey with little shoulder pads.
JUSTIN: Whatever the case, the Rangers are now a game back of the Oakland A's in the American League West. It's not the end of the world but with the way my luck is going it's only a matter of time before we're fading faster than Vince Vaughn's hairline.
HOG: Hey, you think YOU are having bad luck… Jennifer Aniston went from being married to the World's Sexiest Man to dating an only-somewhat-funny, overweight, slobby guy.
JUSTIN: Then I check out my Fantasy Baseball team to see how they're doing. To my delight I was getting spanked by the WORST TEAM in my league.
HOG: Hey man, there's always ONE team that we can ALL count on... The Swedish Bikini Team!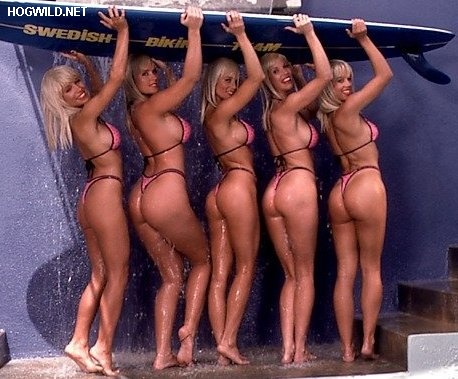 HOG: Actually, with your luck, this would be the one week that the entire Swedish Bikini Team feels bloated and has PMS.
JUSTIN: None of my teams can win and now my fantasy team is falling apart quicker than a celebrity marriage.
HOG: Some celebrity marriages work. Like um, um, hold on, um, are Miss Piggy and Kermit married? DAMMIT! Why is love in Hollywood so fleeting! (BEGIN SHAKESPEARE SOLILOQUY):
"Oh miserable fame and fortune how you curse the blessed!"
JUSTIN: I can't win. No, no literally I CAN'T WIN! The team I was playing hadn't won a game the ENTIRE SEASON…until…you guessed it…they played me. I am on fire baby!
HOG: Me too! But that may be because I just downed 2 dozen hot wings.
JUSTIN: Now that you've got all of your ingredients mixed together it's time for the icing on the cake. I know, I know, I wrote an entire column about how I could give a damn about who wins the World Cup but for some reason I just get a little more worked up when the USA is playing. It doesn't matter what sport, hell I was even cheering for the US Curling team in the Winter Olympics and I can't even begin to tell you what that game is about. All I know is that we had a couple of hot chicks nipping out and pushing discs across the ice with brooms.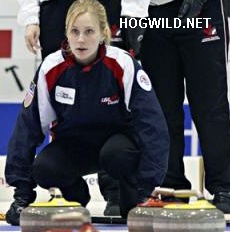 HOG: Nipping out? HA HA HA! When my girlfriend is "nipping out" she usually doesn't even realize it until I shout "NIBBLERS!" (Because, well, those things are my nibblers.)
NOTE: Never shout "NIBBLERS!" at your girlfriend's company Christmas party. I'm just saying.
JUSTIN: So anyway me and my friend decided that we would go down and watch the US's final soccer match of the first round. Do I really need to tell you how the game ended? Would you be surprised to find out that the USA lost the game 2-1 to Ghana. Ghana!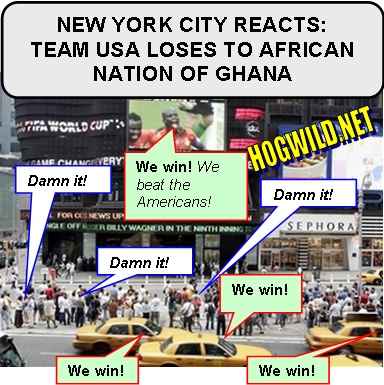 JUSTIN: We could destroy this country with a touch of a button yet when it comes to kicking a ball around a football field they whizipped our ass. That's it, game over, World Cup over, thanks for coming to Germany silly Americans.
HOG: Just because we can destroy a country with our military doesn't make us better than them. I love America but here is a short list of countries that are better than us in various areas:
ITALY: better than USA in fashion design
JAPAN: better than USA in automobile manufacturing
FRANCE: better than USA in surrendering

JUSTIN: Final tally for the week 0-4! 0 wins and -- count them -- 4 losses! I survived but I learned something in the process and that's never tell someone after a heart breaking loss that, "Hey it's just a game."
Really? You think so? This is like telling a girl who got dumped in the parking lot of her best friend's wedding , "Hey you win some you lose some, now go in there and just focus on catching the bouquet."
Because it does matter and it does hurt but it is not the end of the world. You cheer, you laugh, sometimes you even cry (but only if it's a big win) but in the end all you can do is just cheer for your team and go on with your life. That's what I'm going to do.
HOG: Wow, that was really inspiring! I'm going to use the Justin Sanders style of motivational speech for all the tough moments.
* Friend is nervous about prostate exam:
ME: "Hey, you go in there and spread those ass cheeks like a champ! And you don't quit on that doctor until you feel 3 knuckles!"
JUSTIN: What kind of doctor are you going to HogWild?
HOG:
* Friend's dog dies.
ME: "Listen, sure you can cry about it. But every dog has his day… to get run over by a Ford F150. Do your dog proud. Now it's time for YOU to fetch… his body off the pavement."