Hi Hog,
I have guy friend who has liked me for over a year. But we never got together because at first I was in a relationship and then when I was single, I decided that we would be better as friends.
Now I find out that he is dating someone else.
I realize that I want him badly now, and although we both still act like best friends, I don't know what to do, or how to act to get him to want to go out with me again.

I have, by the way, made it clear to him that I like him, but I told him that I would eventually get over him. Please give me advice, I'd really appreciate it.
-H
Hog's Relationship Advice:
Repeat after me: People always want what they can't have.

Now say it again. Really! SAY IT!!!

You like him because you can't have him.

Now you are seeing all of the qualities in him that you really like when before you didn't see them because... YOU CAN'T HAVE HIM!!!

HOGWILD DATING TIP: Since I know that girls always want who they can't have, whenever I like a girl, I get to know her. Then I tell her I like her. Then I disappear for a few days and fake my own death.

Now, because she can't have me, she's REALLY wants me! But she can't have me because she thinks I was trampled while being chased by rhinoceroses. (That's the story I have my friend tell her.)

But then, a miracle happens! I wake up from the coma and I'm good as new! Now she really wants me bad.

Usually she asks why I don't have any broken bones or even a scratch. This is where she finds out the truth and beats me over the head with her purse.

But like, whatever.

So anyway, here's what you do:

1 - Stay friends with him.
But don't talk to him everyday. Keep it casual. He knows you like him. You know he likes you but right now he's with someone else. When he and this other girl break-up, you can make
your move. Yes, you're like a Dating Vulture. Circling your prey. Then you swoop down to attack his bloody carcass!
NOTE: This is symbolism. Guys don't like it when you ACTUALLY attack them and tear their flesh with your beak.
2 - Meet more dudes.
A lot more dudes. If your options are limited, then you will keep thinking about those few options. If you have many options, then you will be in a great position to choose the BEST guy for you instead of simply a guy who you happen to know.
Imagine a vending machine. Would you rather have 2 choices or 20 choices? Would you rather have Skittles or a bag of chips? You want Skittles AND a bag of chips?!! You slllllllut!

3 - Be hot.
Guys like girls who are hot. Your hotness level is determined by these factors:

- Face
- Boobies
- Booty
- Attitude
- Not being annoying

There are some extra-credit factors like singing ability and gymnastics, but those are not as important. Unless you can cook. Cooking is the #1 way to improve your hotness level. It's like I always say, "I don't care how you look, as long as you can cook! Because looks fade... but meatloaf... that's forever!"

I'm telling you like it is. Personally, I NEVER go for a girl with a bad attitude. I don't care how nice her boobies are, if she's grouchy and has no sense of humor, she's no good for me.

So get out there and meet lots of people! Go out and find a new guy! You just might find a guy who is super-awesome-cool!

Or a ninja!
Now, if at any time you HAPPEN to be single AND this guy you like happens to be single... then you can be all like, "Hey, whatcha been up to? I would like to see that new movie where the stuff blows up. If only I had someone to go with..."

But really you should focus on meeting NEW guys. When you have a lot of guys to choose from, the really great guys will stand out. You can't really say that "Joe" is the best guy in the Universe if you only know Joe and his brother Toothless Bob.
Now a note to the guys reading this. What did we learn? Girls want who they can't have. So don't be so available. Pretend like you are already taken. Or do what I do, fake your own death.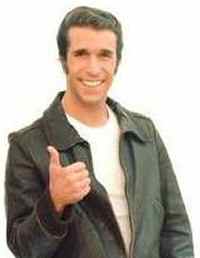 HOGWILD.NET Expert Dating Advice + Dating Advice. expert dating advice every day
You! Yes, you! Check out my page of Hot Deals and Discounts! It's yummy!