Hi Hog,
I met a really nice guy the other evening. He asked me for my cell phone number, talked about future plans, and generally gave off all the right signals about finding me attractive and wanting to see me again.
The next day, he sent a text message saying he was glad about having met me and that he did need my advice about some points we had talked about.
The same evening he got in touch with me again via text message. I answered his text message and have not heard from him again - no big deal.
My question: How long can I reasonably expect to wait for him to contact me again? Would he have gotten in touch with me so quickly after having met if he's not interested?
If doesn't get in touch, the I will NOT get in touch with him again - I'm not desperate nor want to come across as being so. But I must also admit I really liked the guy and this has not happened in a long time... :-) Thanks for your male point of view.
- C
Hog's Relationship Advice:
Shocking newsflash: Sometimes guys do stupid things.
Some of the possibilities causing his flaky behavior:
1 - He is wussing-out because he's not sure if you like him as a friend or as a potential boink-partner.
People procrastinate when they are unsure if their behavior will cause pleasure or pain. So it could be that he is unsure if you will accept or reject his advances.
2 - He's really busy right now and he didn't have a chance to get back to you. This means he's not super-attracted to you. Because when guys are super-attracted, they take action. There have been times when astronauts have delayed the space shuttle launch to go on a hot date.
NOTE: And you believed that stuff about ice on the wings! You're so naive!
3 - His wife caught him.
The part that concerns me is you say he wanted your "advice on some points we had talked about." That sounds very business-like.
Sometimes guys will use something like that as an excuse to talk to a girl. Like, in high school, my old trick was to get a girl's phone number so we could talk about the homework. But really, I wanted to talk about her Yam-ohs.
NOTE TO ME FROM MY BRAIN: Yam-ohs? Really? Is that what we're calling breasts now? Grow up!
NOTE FROM MY PEN!S TO MY BRAIN: Yam-ohs!
IMPORTANT NOTE TO HIGH SCHOOL KIDS: That homework trick doesn't work. It will not get you any closer to her Yam-ohs.
So there's a chance that this guy was really only interested in getting some information from you.
You say he gave you all the right signals about finding you attractive... were you reading these signals correctly?
SIGNALS THAT A GUY MIGHT LIKE YOU:
* He smiles at you
* He starts a conversation with you
* He asks for your name.
* He writes non-rhyming poetry about you every day in his blog
* He's staring and drooling
* He's jumping up and down while pointing at you
* He's jumping up and down while pointing at you... with his stiff love-stick
* He takes the piece of straw out of his mouth and puts his hands in the pockets of his overalls while shyly saying, "Duh...... I like YOU."
Guys and girls will flake on occasion. I've done it. Once at a party I got 3 phone numbers and you know which of those girls I called?
None.
Why not? Because I didn't feel a strong vibe with any of them. Like, we had polite conversation but there was no spark.
So then why did I ask for the number? Well, I was a little tipsy from enjoying "adult beverages"... but also for the challenge.
Especially with one of the girls who was icy to me at first. That girl I liked, but she lived far away and at the time I wasn't motivated to start anything with a long-distance girl.
But if you really like this guy, then why give up so easily?
Why not flirt with him? Why not seduce him into your feminine web of hot feminine female femininity?
You are allowed to send him 1 more text message. Your mission is to get him to contact you back.
Try this text message:
"I am soooo horny right now!"
Just kidding!
Here is a 100% guaranteed way to get someone to answer you: Call them a racist.
I've done this many times. When frustrated that a girl stopped answering my messages, I email them with the subject: "You're a racist!"
For example:
Jill, you are a racist! I know the real reason you stopped returning my emails. It's because I'm a dork, isn't it?! And you are racist against dorks! I'm contacting the NAADP (National Association for the Advancement of Dorky People) and they will be organizing a protest!
Or sometimes I explain that they are not answering me because I have an Asian friend and they are racist against Asians.
NOTE: People don't like when you accuse them of racism. So be prepared for a long and hilarious email where they try to defend themselves against your ridiculous claim. But in the end, this will not help you find true love.
SCENARIO THAT HAS NEVER HAPPENED:
SMALL BOY: Grandma, how did you meet Grandpa?
GRANDMA: We met at a party. He was so handsome. I gave him my email address. But then I stopped replying to his messages. So your Grandpa, ever the plucky one, called me a racist! That's when I knew we would be together forever. And we've been accusing each other of supremacist behavior ever since!
Okay, back to reality. Try sending the dude this text message: A girl can't wait forever... are you going to ask me on a date or not? ;-)
The worst that happens is he says no or doesn't answer. Big deal! You can't lose! He ALREADY wasn't answering you, so only good things can happen.
As a woman, you have much more power than you might imagine. Watch Mrs. Robinson in "The Graduate" to see how a woman can get what she wants. She is very aggressive without appearing desperate. She guides her boy into doing what she wants until she gets it.
Keep meeting new guys but in the meantime you can begin your seduction of this guy. You can "accidentally" bump into him at the bars or in the supermarket. And you just-so-happen to be looking hot.
At the supermarket:
THE GUY: Oh hey! What are you doing at my supermarket? Don't you live across town?
YOU: Yes, but I can't find what I need at home.
THE GUY: Why are you biting your lower lip and looking me up and down?
YOU: Listen, I need your help. Do you think these melons are ripe? Squeeze them.
THE GUY: Uh, okay.
YOU: Do you like how they feel?
THE GUY: Uh, yeah.
YOU: I've been looking everywhere, but I can't find the cucumbers. Do you know where I can get my hands on a nice size cucumber?
THE GUY: <Gulp!>
YOU: I must be going. Will you be a sweet heart and help me carry these heavy groceries to my car?
THE GUY: Oh, I don't know.
YOU: It will only take a moment. And you look big and strong. I'd be very... grateful... if you packed it in my back seat.
At this point, steam will shoot out of his ears, his scalp will shoot up off his head, and his bow-tie will twirl around in circles.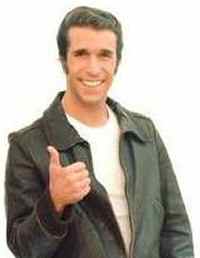 HOGWILD.NET Expert Dating Advice + Dating Advice. expert dating advice every day