Hi Hog,
I am probably the best girlfriend that a guy could ask for. The only thing is that I am jealous. I take good care of my boyfriend. I cook, clean, love him, pamper him... but I can't stand it if he talks to other girls. How can I make myself not care as much about this? And it's his fault because he always points out my flaws and tells me he wants other girls.
- A
Hog's Relationship Advice:
Ahhhhhhhhhhhhhhhhhh!!!

Why are girls such idiots!

NOTE TO MALE IDIOTS: I'm not saying you're feminine. Just saying you've got plenty of female company.
Girls, listen. STOP being with dudes who don't treat you right.

The problem is... deep down... you secretly like it.

Yes, some girls like guys who are jerks to them.
Oh, you hate to admit it to yourself. But you secretly like it.

WHY SOME GIRLS LIKE GUYS WHO ARE JERKS:
1 - Jerks are exciting. You never know what they will do next. Will he tell me I'm fat? Will he slap my grandmother? Will he steal money out of my purse and use it to slap my grandmother?
2 - You are approval-seeking. You like being judged and living up to someone else's standards. But Jerks are impossible to please. So it's always a challenge.
3 - You are recreating your childhood father issues
Again, I am not a psychiatrist but I HAVE seen every episode of Frasier so I think I'm qualified to say this: There is a strong possibility that your father physically or emotionally abandoned you as a child.
Bottom-line: you didn't feel enough love from your dad growing up.
So now you are trying to find a boyfriend who will treat you the same way as your dad. Then you will attempt to correct the problem in order to "fix" your childhood.
This is called Transference. It's also why you feel jealous. Because you feel threatened are you are frightened that your man will leave like your dad did.
Most of us use our current relationships to work out our childhood issues. This is BAD! Don't do this!
Stop it!
In my own relationships I've done it, too. And not once was I able to fix it. You know why? Because you can't fix the past!
You can only accept it or change your perspective.
Example:
Let's say dad left you as a kid.
BAD WAY TO LOOK AT IT: He left because I am unworthy of being loved.
This is NOT true and NOT useful.
BETTER WAY TO LOOK AT IT: He left because of his own issues that had nothing to do with me. I am stronger because of it. And because of this, I will carefully choose a rock-solid partner who I know will be there for his family. And I will never fear being alone. Because I've been built stronger than most.
Free your current relationships from the shackles of your past issues. It's not fair to the other person and it's not fair to you.
Now, if you DO continue to choose jerky jerks, fine. But don't complain about it!

You CHOSE to be with this jerk. You can CHOOSE to NOT be with him, too!

HOW TO RECOGNIZE IF YOUR MAN IS A JERK:
1 - Does he verbally or physically abuse other people or small animals?
2 - On your anniversary, did he surprise you by getting a tattoo of his ex-girlfriend's name?
3 - Did he brag after sleeping with your cousin?
WHAT TO DO ONCE YOU REALIZE YOUR MAN IS A JERK:

1 - Tell him which of his behaviors are jerky

2 - Tell him to stop these jerky behaviors

3 - If he doesn't stop, then LEAVE!

This is the 21st Century. There is no reason to stay with a jerky jerk jerk-face.

Back in the day, a girl might be financially dependent on a jerk. But now women are allowed to work. And drive. And vote. And read.
NOTE TO MY FEMALE READERS IN FUNDAMENTALIST ISLAMIC COUNTRIES: Sorry. Didn't mean to rub it in.
NOTE TO SELF: You don't have any female readers in fundamentalist Islamic countries because they're not allowed to read! Duh!
Basically, the world has gone to hell for Jerks. So take advantage and find yourself a sexy hogwild.net fan.
NOTE TO DUDES: 4 out of 5 Dentists agree: Viewing my site every day will double your muscle mass and triple the size of your groin-danglers.
NOTE TO THAT 1 DENTIST WHO DIDN'T AGREE: Watch your back, homey!

1 SECRET BONUS REASON WHY SOME GIRLS ARE ATTRACTED TO JERKS:
You confuse adrenaline with attraction. Those butterflies in your stomach? Not honest attraction. It's the fleeting feeling that you are not good enough for this guy. You are nervous.
Jerks can make people nervous because of their explosive and judgmental jerky behavior. Nice guys make you feel warm and comfortable. So they don't spark that same feeling.
It's like this:
A Jerk is like a firecracker. Exciting and fun in the short run. A little dangerous. Like, you might lose a finger.
A Nice Guy is a slow burning campfire. You tell stories together, snuggle, and laugh while toasting marshmallows.
So guys, if you want to attract a girl for a one-night-stand or brief timeframe... be a Jerk.
But if you want her for the long-run, be a Nice Guy.
NOTE: Nice Guy does NOT mean Wussy Guy. Never forget: The Wuss gets no Puss.
NOTE TO GIRLS: Sorry that was crude. Guy talk.
NOTE TO GUYS: Yeah! P*SSY!!! WOO-HOO!!!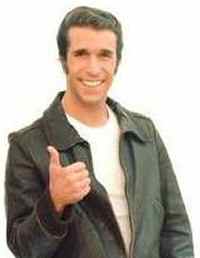 HOGWILD.NET Expert Dating Advice + Dating Advice. expert dating advice every day