Hi Hog,
I met a guy. We both like each other, that much has been settled. But for one reason or another, we cannot be into a girlfriend-boyfriend thing... this was decided by him.

He doesn't have a wife nor a girlfriend. We are both in our early 30s, have jobs, etc. and we live very far apart. But he calls me regularly and wants to see me regularly. What's going on with him? As for me, I have moved on. But what's with him?

- R
Hog's Relationship Advice:
You have moved on? Really? Then why are you writing to me?

Perhaps there is a little piece of you wondering, "What if?"
I, too, often wonder "What if?" Like what if a Giant Panda mated with Albert Einstein? Would the offspring be adorable genius physicists or would they lay around all day eating bamboo and doing Sudoku puzzles?
NOTE TO SELF: You have the maturity level of a teenage monkey.
Okay, here's the thing: You and this guy see different futures.

The future you see does not involve him as a boyfriend. "It can't work" you tell yourself. You are protecting your emotions by not allowing yourself to get too attached.

The future HE sees involves moaning, spanking, and maybe a bit of hair-pulling.

So he decided that you 2 can not be in a boyfriend-girlfriend thing?

What does THAT mean? He doesn't want to be exclusive?

Fine. But it seems that you are unwilling to accept the terms of his deal.

He wants access to your heart, mind and body while also having permission to access other women. Either you are cool with that or you are not.

REASONS WHY YOU SHOULD NOT BE COOL WITH THAT
- if you want to build something "special" and exclusive
- if you want to start a family

REASONS WHY YOU SHOULD BE COOL WITH THAT
- because it would make you super-incredi-awesome!

The important thing here is honesty. He's telling you up-front what he wants. There's no deception. You can say yes or no.

IS IT POSSIBLE TO LOVE MORE THAN 1 PERSON AT THE SAME TIME?
Yes. You should love all people, pets and plants.

NOTE: Except pigeons. They are foul little creatures made of rat-meat and devil-blood.

Loving more than 1 person romantically is an interesting concept. Yes it is possible. It happens all the time. You love one person. Then break-up and you later love another person. But can you love 2 people at once?

Surely you can appreciate and care for more than 1 lover. This guy can satisfy certain needs inside you while another lover satisfies other needs. It's like you're having an emotional threesome!

But then what do you on certain special dates? Who gets access to you on your birthday? On New Year's Eve?

The guy who gets you on Christmas will feel slightly more special than the guy who gets you on Arbor Day.

The tough thing here are the egos.

The nice thing about having a monogamous relationship is that commitment is sexy. You build a deeper bond built on loyalty.
And that's why it hurts so much when your partner cheats.

Why would this guy want to see you regularly?

To play chess!

Guys love chess! We love to put our face between 2 rooks and shout "Checkmate!"

Uh, yeah. It could be the sex.

It could be that he doesn't want to commit but he enjoys you. Not just humping you but also talking with you, laughing with you and humping you!

Did I say humping twice? Oops. I meant to say it 3 times.

It's a common male fantasy to have a stable of hot women available to him. The great biblical Kings did this. It is very manly to have multiple women to choose from.

Are you cool with being one of his select few women? I guess it depends. If you are Joe Schmuckface's 3rd girlfriend you might not feel that special.

But imagine a guy who is considered SUPER desirable. The hottest movie star or the most brilliant scientist or the leader of a great nation. Let's say this man wanted you.

Telling your friends that you slept with him shocks them and makes them jealous. Now imagine that he wants you for more. He wants to share part of his fairy-tale life with you.

To take you on his world adventure of prestige and power. To give you a taste of this exciting life...

This can be very tempting.

Being the girl this man sees once a week might make you feel more special than being even the wife of Joe Schmuckface.
Most likely this guy is somewhere in between being a King and being a Schmuckface.

THE DISTANCE-THING

In practical terms, the distance is interfering. Neither of you seem willing to move to be closer to the other. He is a literally keeping you at a distance.

So it could be that this guy is scared of commitment because he is scared of getting hurt again. So he is putting his toe in the water to see how it feels without committing to swimming.

You COULD, if you want, allow him to do this and slowly draw him in. It has happened many times in world history that a man did not INTEND to fall in love with a woman but did.

Sometimes a man will tell himself he does not love a woman or want to love a woman but then over time he finds himself so emotionally involved that he must admit he loves her.

So you can choose to use your feminine powers to draw him in and eventually love you.

WHAT TO MAKE OF ALL THIS

Your choices:

1 - be friends-without-humping
2 - be friends-with-humping
3 - remove him from your life
4 - be exclusive

Depending upon your situation, different options will be more appealing.

Your society's "morals" may prohibit you from having friends you hump... for instance you may be Amish or a strict Muslim or living in 15th Century England.

REASON TO BE FRIENDS-WITHOUT-HUMPING

You realize you can't handle, or don't want to handle the emotions that go with being intimate. You will need to be honest with yourself.

For a guy, friends-without-humping sucks. The equivalent situation in girl-terms is having a guy who humps you but NEVER talks with you. You start to feel used. Us guys don't want to be used for our emotions just like you girls don't want to be used for your bodies... your beautiful, sexy bodies.

Boobies!

NOTE TO SELF: Hey! Try to contain your enthusiasm for boobies. You don't need to shout out "boobies" every 2 minutes! How would you like it if a chick shouted out "wieners!" all the time? Whoa. That would be awesome.

REASON TO BE FRIENDS-WITH-HUMPING

You don't want to start a family at this time. Since you don't want to start a family, there is no pressure to be exclusive. You can enjoy him as well as other men.

REASON TO REMOVE HIM FROM YOUR LIFE

You don't want to be friends-with-humping and having him in your life is too tempting or difficult.

REASON TO BE EXCLUSIVE

He is so awesome that you want to put forth the effort of making him WANT to be exclusive with you. You want to win him over. Why? Maybe to start a family or because you want to feel like a conqueror. Or you want to make him fall in love with you, move across the globe to be with you and then CRUSH him! Mwu-HA HA HA!

I have a suspicion that you would like it if he moved to your location and was in an exclusive relationship with you.

How to do this:

STEP 1: Give him everything he wants.
Be the 1st person he wants to talk to when he's excited or sad or confused. Become his best friend. Allow him to be with other women. Please his every perverted desire.

STEP 2: Take it away.

The trial period is over. If he wants more, he must buy. In this case, it means commit.

Just tell him you changed your mind. You're no longer cool with the situation of him seeing other women and being far away. Promise him (and deliver) that you will continue to be the same woman (and much much more!) once you are together in an exclusive relationship.

Why would a guy want an exclusive relationship when that means LOSING something. (Other women.) It should mean he is GAINING something better... You!

You girls are very complicated. Guys are very simple. Guys have 2 requirements in a relationship:

1 - F*ck me.
2 - Feed me.

Everything else is a bonus. If a dude is satisfied with how you do numbers 1 and 2 he is likely to overlook many of your shortcomings.
Test this theory.

Find a guy. Give him the wildest sex of his life. Fulfill all his bedroom fantasies. Then make gourmet meals.
Then make NO effort in any other area. Tell him how you find his family to be shockingly ugly. Tell him his religion is dumb. Whenever he talks, yawn. When he's watching TV, change the station.

I promise you, if you give him the best sex and food of his life you can get away with anything.

HIM: Wow! That was the most amazing sex ever!
YOU: Lay there and relax. I baked you an apple pie. I'm going to feed you a warm piece and then you can fall asleep.
HIM: I love you. Hey, will you walk the dog?
YOU: No.
HIM: Why not?
YOU: Because I sold him.
HIM: What?!!! I can't believe you... mmmmm, this apple pie is delicious.
YOU: What were you saying?
HIM: <snore...>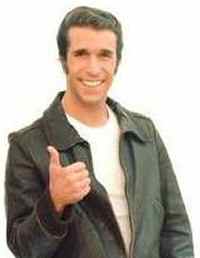 * Watch my dating advice videos and improve your dating with dating coach HogWild
* Ask YOUR Relationship / Dating Question!
* More HogWild Dating Advice
Subscribe in a reader Share on Facebook
HOGWILD.NET Expert Dating Advice + Dating Advice. expert dating advice every day
Discover all the compatible singles who match you