Dear Hog,

I read that comment on your site about the girls letting their g@y male friends slap their butts and grab their boobs. I can never understand women. Why the hell would they not mind g@y guys doing stuff to them that would cause us straight guys to get maced?
What pisses me off about g@y guys is they get the hottest chicks and they don't even want to screw them! What the hell?!
- B in NJ
Hog's Relationship Advice:
Basically you are asking me, "What can straight guys learn about dating women from from g@y guys?"
Well isn't it obvious? Girls love guys who take it in the butt!
Um, no.
NOTE TO G@Y GUYS: I know not all of you take it in the butt. Some of you know it is better to give than to receive! :)
G@y guys typically have lots of female friends and often inspire them to say, "If only he wasn't g@y..."
So the truth is g@y guys have some qualities that women like! The only thing "wrong" with g@y guys from her perspective is that he doesn't like the v@gina. Unlike me... I love v@gina!
NOTE TO V@GINA: Woo-hoo! You rock!
SIX THINGS STRAIGHT GUYS CAN LEARN FROM G@Y GUYS ABOUT HOW TO GET WOMEN:
1 - Grooming:
G@y dudes have nice fingernails. Trim. CLEAN. Think about it. Does a girl want your dirty Wolverine claws up in her hoo-ha? And if your nails aren't clean, then she will naturally conclude that your groin-danglers are dirty, too. And no one likes stinky groin-danglers.
And groom those groin-danglers. She doesn't want to see tumbleweed and a Los Angeles smog cloud when you whip it out.
2 - Dancing:
G@y dudes tend to be better dancers than straight dudes. Why? Because dancing is about expressing emotions. G@y guys and women dance to express themselves. Straight guys dance in hopes we can grind our man-parts into her lady-parts in such a way that she will be impressed and ask us to whip it out.
Dancing is all about being in touch with emotions with brings us to...
3 - Conversation:
Straight guys like to talk about how to solve problems, details, statistics and facts. I know what you're thinking, "Us straight guys also like to talk about chicks!"
Yes... but us guys talk about chicks the same way.
GUY1: How do I solve the problem of Suzy Bigknockers not letting me boink her?
GUY2: Well, how many times have you been out together? What did she say when you tried? Look, I have a move that works 72% of the time...
G@y dudes talk more about feelings. 97.2% of the time girls don't want you to solve their problems. They want you to SYMPATHIZE. Sympathize means to share their feelings. It comes from the Latin: Sym = "share the same" as in symmetry. Pathos = feelings. Thize = as in what we want to get in between. Hoo-ah! :)
How to Sympathize with a girl who is yabbering, er, talking:
Train yourself to make certain faces that make you appear to care even though your brain may be wandering to thinking about basketball or boobs. Or dribbling while playing with basketball-size boobs.
There's The Thinker face (where you rub your chin), the Concerned Look (where you bite your lip and squint your eyes), and then the look where you tighten your face and appear to be in a bit of pain. That look is called, Will-She-Notice-if-I-Let-out-this-Fart?
Focus really hard on her lips because that will keep your eyes from rolling when she complains about her co-workers for the 872nd time. And whatever you do, while sympathizing, do NOT whip it out.
Avoid sighing. Agree with her. Agree hard. Agree so hard that she now disagrees with her original point and comes to a new perspective.
YOUR GIRL: Stacey at work is such a b!tch! You know what she did to me today? Blah blah blah...
YOU: Yeah, that Stacey is no-good. You're an angel for not stabbing her in the eye with a lobster fork.
YOUR GIRL: Yeah, she's just a terrible person.
YOU: Yeah! She ought to be fired, imprisoned, and sentenced to death by lethal injection. And then they should burn her body and feed her ashes to pigeons in the Bronx.
YOUR GIRL: Well, she's probably just acting mean because she's really stressed about the new account. I guess I can try to be more patient with her.
YOU: I think you're right.
Now she has released. This was her emotional org@sm. Now she needs you to cuddle. Now she feels close to you. But do NOT whip it out!
4 - Drama:
Most girls will deny, deny, deny this BUT... they LOVE drama. Drama stimulates her emotions. And a woman's hoo-ha is directly connected to her emotions.
NOTE: That is most important thing I've ever said regarding sex. That, and how I learned it's not polite to put on a bib before "going down."
Just as her hoo-ha need different speeds, angles and pressures, her emotions need all these different states: happy, sad, excited, curious, scared, jealous... in guy-talk we summarize this range as "crazy."
We say she's crazy because a girl goes through all of these emotions and more in the same day! Sometimes in the same conversation! Sometimes in the same minute!
Guys can't understand because we only have 4 emotions: happy, sad, angry and horny.
And it's really only 3 emotions because horny overlaps the others. Girls, are you having a hard time knowing how your man is feeling because he doesn't talk about it? You can tell how he feels based on how he boinks you. Is he boinking you happy-horny? Sad-horny? Or pulling your hair and spanking your @ss angry-horny?
5 - Dress well:
G@y guys tend to dress well. Straight guys mainly wear clothes only because it's required by law. Otherwise men would leave the house wearing only a hospital gown for easy access to all scratchy parts.
G@y guys and women think of fashion as a personal expression. So girls read a straight guy's clothes as if it's telling something about his personality.
WHAT YOU WEAR.......... WHAT SHE THINKS IT SAYS ABOUT YOU
shirt with beer logo............ immature
old busted shoes............... poor and unmotivated
shirt with a comic book character or anime...... virgin
out of style jeans................. boring, dorky
sunglasses and a long trench coat.......... uh-oh. He might whip it out.
$10,000 Armani suit with Cartier watch........ perfect :)
And finally...
6 - Low Pressure:
Nobody likes to feel pressured. Think about a salesman jumping down your throat and he starts yelling in your face why his product is the best and why you should buy NOW NOW NOW!
This is how the girl feels when you are trying hard to impress her and put on your "moves." And you're not the 1st salesman she's seen today. Ten other salesman have pressured her, too.
G@y guys don't WANT anything from her. They're just being friendly.
Stop selling her. Get her to sell herself to you. Er, that didn't sound right. What I'm saying is that before you go crazy trying to get with her, find out if she's worthy of your wonderful sex organs.
She has to prove to you that she is up to your standards. Oh yeah, HAVE standards! If just any girl will do, then you are disrespecting yourself and your wonderful sex organs.
Demand more than just a smile and a v@gina! (Although ladies, that's a great start. :) When you've determined that she's cool, now you can let her know some of the awesome things about you WITHOUT the pressure. Now you can begin your sales presentation. Why not start with a demonstration and... Whip it out!
HA HA HA!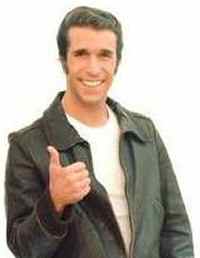 * Watch my dating advice videos and improve your dating with dating coach HogWild
* Ask YOUR Relationship / Dating Question!
* More HogWild Dating Advice
Subscribe in a reader Share on Facebook
HOGWILD.NET Expert Dating Advice + Dating Advice. expert dating advice every day
Discover all the compatible singles who match you