Hi Hog,
I've got huge problem with women. It's not about meeting them. It's not about getting the number or setting the first date.
I'm 22 and I've never had a girlfriend. I've never had sex. Didn't even give her a good kiss. The problem is that I get kind of a phobia when it comes to closing with women. I just don't know what to do. The problem is so big that I screw up every occasion I have. I just can't do this, and every woman starts thinking I'm a wussie and loses attraction. Do you have any ideas how to deal with it?
- M in Poland
Hog's Relationship Advice:
Unless you have a big psychological problem, I'm guessing you have a fear of being rejected.
And that's totally normal. How to overcome this? You should have a bigger fear of being a lifelong virgin.
The reason the girls think you're being a wussie is because you ARE being a wussie. A Man goes for it. He might win or he might lose, but he goes for it. And losing is only temporary. The real losers are those who are too scared to even try.
When a girl rejects you, it's not a big deal. She's not rejecting YOU, she's simply telling you that you have not made her attracted to you.
You need to strengthen your sense of self. No woman or circumstance should be able to crush you. You need to believe in yourself.
HOW TO BELIEVE IN YOURSELF
1 - Act like a confident person
Your brain and your body are connected. For instance, if you smile long enough, you can't help but to start to feel happier. Plus people will treat you nicer because they'll assume you're retarded.
So ACT like a confident person would act. Walk tall. Shoulders back. Chin up. Make strong eye contact. Hands out of your pockets. Walk with purpose. Breathe deep. Talk with a strong voice.
2 - Think about your past achievements
Recall times when you felt great about yourself. Think of the time you won that Award for Perfect Attendance. Or the time you beat that video game. Basically, remind yourself of why you kick-ass.
3 - Know that you are Loved
Everyone is loved be their Creator. Whether you believe in God or a Universal Energy or an Alien who lives in a secret Volcano... your Creator loves you. And only God can judge you. Not some random girl.
Psychological Problems
You might have some sort of mental block. You might be associating getting physical with a girl with a great deal of pain. Why is that?
Is it because you're scared to have a relationship? Why?
Think of the pleasure of being in a relationship. Think of the pain of being alone and spanking your romance-pole by yourself until you die. Do you want to die alone holding your jammy?
Do you?
Then fix this. Only you have the answers. You DESERVE to have a relationship with a girl. Allow yourself to get angry! Why should all these jerk-face jerkazoids have girlfriends and not you?! That's bullsh!t! Fix it!
Since you say you're going on dates, I will tell you some of the mechanics:
WHEN TO GO FOR THE KISS
Immediately! Just go up to girl and suck her face!
No.
It's simple. You go for the kiss once you both decide you are attracted to each other.
How do you know if YOU are attracted to a girl?
It's easy with guys because we're built with an attraction-o-meter.
NOTE: You can find your attraction-o-meter in your pants. :)
But with girls, you can't go feeling for the moistness of their love-puddle so you have to READ her signals.
NOTE TO SELF: Love-puddle. HA HA! I'm romantic.
Here is my classic list (meaning I've said this a zillion times before):
HOW DO YOU KNOW IF A WOMAN IS ATTRACTED TO YOU?
Level 1
- She remembers your name.
- She touches you.
- She keeps eye-contact.
- She crosses her legs TOWARDS you.
- Her arms are NOT folded.
- When she sees you she does NOT need to cover her mouth with her hand to stop from vomiting.
Level 2
- When getting together with you she gets herself pretty. In other words, she isn't hanging out in sweats with anti-zit cream on her face.
- She is stroking something of a cylinder shape like her lipstick or her beer bottle or an actual pen!s.
NOTE: Negative points if it's someone ELSE'S pen!s.
- When you take her hand, her fingers intertwine with yours.
Level 3
- You kiss.
- You squeeze each others' body parts.
- You kiss each others' body parts.
- She doesn't blurt out, "Ew!"
Level 4
- You are inside of her.
- She does not require payment.
Level 5
- She has said yes to your marriage proposal.
Level 6
- VERY RARE!!! She said yes to your marriage proposal 10 years ago yet still participates in activities in Levels 3 and 4.
So... If she gives you some Level 1 and 2 signals, she is attracted to you.
Now she is ready to be kissed. Girls want to be kissed! Girls LOVE kissing!
Now it's your job to take her somewhere a little more private.
BAD PLACES TO ATTEMPT THE FIRST KISS
- on a crowded elevator
- at a baseball game when they put your faces on the JumboTron TV Screen
- on the bus (especially if she's the bus driver.)
Sometimes a crowded place is good because it's anonymous. Like a crowded dance floor or Times Square on New Year's Eve or in the waiting room of the STD clinic.
Assuming you've established a friendly rapport with her by talking about some things you have in common and made her feel comfortable with you, she will kiss you now.
Most guys wait too long for the "perfect moment." STOP THAT!
There is no perfect moment. The time to kiss her is when you decide to do it. Do it with 100% confidence or don't do it.
Keep telling yourself this: "I have nothing to lose! Except my virginity!"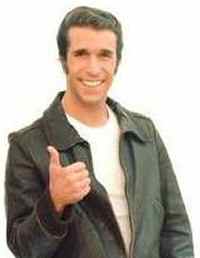 * Watch my dating advice videos or improve your dating with dating coach HogWild.
* Ask YOUR Relationship / Dating Question!
* More HogWild Dating Advice
Subscribe in a reader Share on Facebook
HOGWILD.NET Expert Dating Advice + Dating Advice. expert dating advice every day
Discover all the compatible singles who match you