Watch my video or read my dating advice below:
Hi Hog,
Why do nice guys always finish last?
- C in the U.K.
Hog's Relationship Advice:
Nice guys finish last because nice guys WANT to finish last. Because you make more friends when you're at the bottom with everyone else. Everyone likes a lovable loser. He's not threatening. Winners aren't always so nice. They're competitive. Then people get jealous of a winner's success and they trash talk.
As it applies to women, Nice Guys finish last... in bed. Because they want the girl to finish first! HA HA! That's why I consider myself a Nice Guy. Because I'm committed to quality. :)
There are plenty of women who LIKE and even PREFER Nice Guys. But when you say Nice Guy you're saying the wrong thing. What you really mean is Beta Guy. Wussy Guy. Walk-All-Over-Me-Because-I'm-Weak-Guy. And THAT is unattractive to women.
Girls want a strong man. Depending on her personal preferences, a man's strength can be defined by the strength of his:
character
convictions
stock portfolio
ambition
muscles
goals
commitment
passion
love of family
abilities
talent
leadership abilities
boner
If you're naturally a Nice Guy, then be a Nice Guy! But DON'T be a push-over! Girls will test you to see if they can knock you down. They want to see if you're tough enough for them. Because who will protect them and make them feel safe? They need to know you can do this. If you can't or won't -- then tuck your wiener between your legs and put on strawberry lip gloss.
Most girls don't want a guy who does everything they say. They don't want a guy who will kiss their ass. Show some damn backbone! Lots of guys make the mistake of trying to adapt to the girl they are with by bending their interests or principles. Don't.
You are you. You are leading the adventure. Why? Because you're the freakin' man! if she wants to hop on for the ride with you, maybe you will let her, if she's worthy. It is NOT the other way around.
WRONG WAY:
GIRL: I love dressing up my kitten in little outfits!
YOU: Wow! I love to do the exact same thing! We have so much in common!
GIRL: Um, are you g@y?
RIGHT WAY:
GIRL: I love dressing up my kitten in little outfits!
YOU: Wow! You are such a dork!
GIRL: Hey!
YOU: It's cool. I'm kind of a dork, too. My dorky thing is...
HINT: Don't say, "tucking your wiener between your legs and putting on strawberry lip gloss."
Girls want you to be in charge... in a loving way. NOT in a freakish controlling way. That shows insecurity. But in a loving way that shows you can take care of them. It is actually sexually exciting to a girl when you tell her what to do with a manly command. But this works only in moderation. You are her Man, not her Drill Sergeant.
NOTE: Unless you're sexually role playing. Which makes you her Drill Sergeant, literally. :)
You can only do this once you EARN her RESPECT.
How to Earn a Girl's Respect:
1 - Make Good Decisions
This can be as simple as choosing the restaurant. If she is happy with your choice, you will gain respect. If she told you she is allergic to seafood and you take her for lobster, you lose respect for being a dumb-ass. If you get lost on the way, you lose respect. A man gets things done.
2 - Protect her
Make her feel safe. When you're watching a scary movie together, she should be the one screaming and curling up in your arms, not the other way around. If you DO scream, play it off.
YOU: Eeeek!
HER: Did you just scream like a scared little girl?
YOU: Me? Nah. No. No! It's not like that! My foot fell asleep. That hurts! You know I yelped a little but -- pins and needles, baby! That's pain. Eeeek!
HER: Hmm... What? Did you OTHER foot fall asleep?
YOU: No! I saw a spider! Kill it!!!
3 - Do Manly Things
Fix stuff. Lift stuff. Belch really loud.
How to Lose a Girl's Respect
1 - Embarrass her
This can include saying stupid things in front of her friends, dressing like a slob, or having to borrow money from her parents to pay for your hookers.
2 - Do UnManly Things
Crying like a b!tch. Complaining like a b!tch. Bleaching the hairs in your gas hole.
3 - Make Bad Decisions or be Unable to make a decision
"Where do you want to go?" "I dunno. Where do YOU wanna go?" Ugh. Man up. Make a decision. YOU are the responsible one. It is ALWAYS your fault. Why? Because that's the cost of being a Leader/Strong Man. A wise man once said, "You gotta pay the cost to be the boss!" That man, was Chef Boy-R-Dee.
So choose the type of guy you want to be: Weak Nice Guy, Strong Nice Guy, or all-out Bad Boy.
WEAK NICE GUY VS STRONG NICE GUY VS BAD BOY
WEAK NICE GUY: holds the door open for his lady and does a little bow as she enters
STRONG NICE GUY: holds the door open for his lady, then spanks her
BAD BOY: holds the door open for his lady, then just as she enters, lets it slam in her face
WEAK NICE GUY: "I agree with everything you say, sweetheart!"
STRONG NICE GUY: "I don't agree with you on this issue, but I understand where you're coming from."
BAD BOY: "Shut up, woman!"
WEAK NICE GUY: "I'm sorry. I'll do better next time."
GIRL: "Ugh."
STRONG NICE GUY: "You like that?! Yeah!"
GIRL: "Give it to me!"
BAD BOY: "Shh! Your boyfriend is downstairs!"
GIRL: "Oh, he won't hear! He's busy... dressing up my kitten in little outfits!"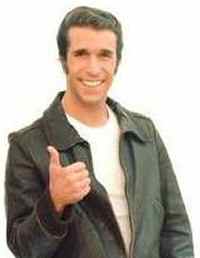 * Watch my dating advice videos or improve your dating with dating coach HogWild.
* Ask YOUR Relationship / Dating Question!
* More HogWild Dating Advice
Subscribe in a reader Share on Facebook
HOGWILD.NET Expert Dating Advice + Dating Advice. expert dating advice every day
Discover all the compatible singles who match you