Hi Hog,
I've been chatting online with a guy for about 3 weeks. I think he likes me because he asks me about my life and shows interest and he tells me what is going on with him.
I'm wondering why he hasn't asked me out. I've tried hinting that I like him and flirting but so far he hasn't flirted back. Should I give up on this guy or wait for him to ask me out? Should I ask him out?
- C in Reno
Hog's Relationship Advice:
You should wait.... for... EVER! HA HA HA!
Three WEEKS and you are still chatting online? You need to graduate to using the phone with him! That way you can get to know each other the old fashioned way, you know, by text messaging. :)
Your most valuable possession is your time. So stop wasting it. I'm all about being patient. But let's be smart, too.
You should have a list of values or qualities you're looking for in a man. You want to find out as soon as possible if this dude matches up.
By chatting for 3 weeks without seeing how he behaves in person, you are becoming emotionally invested in him. The more time you spend on something, the more you will rationalize staying with it.
Your brain will say, "Well I already spent 3 weeks chatting with this guy so I might as well go on a date with him even though he just told me he's 42 and lives with his mother and he used to be married to a cat."
If you're looking for relationship-material, you want to get to know the person quickly. You want to at least see if he has any deal-breaker qualities.
It takes years to really get to know someone, but you can delete potential dudes in minutes. You could chat with this guy for 6 months and then when you finally meet him you realize you're not attracted to him because he's overweight and has a lisp and one angry eyebrow.
Now you've wasted 6 months of your life! There are much more fun ways to waste 6 months of your life!
FUN WAYS TO WASTE 6 MONTHS OF YOUR LIFE
- in a coma because you attempted to break the World Record by drinking 12 Slushees in 10 minutes and you got severe Brain Freeze
- making love under the moonlight on the beaches of Jamaica
- 2nd half of senior year
As the woman, I believe it is your job to get the man to do the things you want him to do. You can't ask him out. You can't initiate the 1st kiss. But you can and should make him WANT to do those things. Inspire him to do the things you want.
You should hint HARD that you want to go on a date with him. If he doesn't respond then assume he only wants to be friends. Now you can get on with your life. Get him to reveal his intentions!
YOU: I sure do have fun chatting with you.
DUDE: Yeah. I like chatting with u 2.
YOU: I have to admit, I'm curious to meet you in person.
DUDE: That would b gr8! U should come over to my place next Saturday because my wife will be out of town!
Ah, see at least then you will know what's up.
Drop hard hints because you have nothing to lose.
YOU: Chatting is fun but I prefer to get to know people over the phone.
DUDE: Well, that might be difficult because I'm only allowed 1 phone call per day. And I really need to keep in contact with my defense attorney. Uh-oh! It's lockdown again! Gotta run! TTYL.
See, you want to know what's up as soon as possible. If a guy likes you, and you make it known that you like him back, he will ask you out.
Guys don't ask girls out under 4 circumstances:
1- he's not sure how she feels and he doesn't want to risk rejection
2 - he's not attracted to the girl
3 - he's already involved in a relationship
4 - he's fruitier than a male figure skater drinking a pineapple-mango smoothie... with his butt-hole.
NOTE TO SELF: What the hell is wrong with you? Seriously.
I'm all about taking your time to get to know someone. You need to build up trust. But talking on the phone is low-risk. It's just a conversation. If you had met in person at the supermarket or a bar you would already be talking face-to-face. In my view, the goal of online dating is to get to the face-to-face as soon as possible.
Drawbacks of different kinds of communication:
Face-to-Face Conversation: If person is boring, more difficult to leave
Telephone conversation: Can't see the person, so can't read body language or facial expressions
Instant Messaging: Person could totally be misrepresenting self. Could be lying about being employed or about having a v@gina.
So let's go! Get him to ask you out already or stop wasting your time. If you drop hints and he doesn't act, you should totally Next him. "NEXT!"
He's hesitating to ask you out for one of the reasons I outlined above. So if you decide to wait for him to ask you out, you could be waiting a loooooong time.
If you wait, here is what your date will be like:
YOU: Thanks for picking me up.
DUDE: Sorry for being late, I had to refuel my jet-pack.
YOU: Will we still be in time for the movie?
DUDE: Oh yeah. I can't wait for us to get our senior discount!
YOU: Because we're really old.
DUDE: Hey, I said I was sorry for waiting 45 years to ask you out! But we have the rest of our lives to get to know each other!
YOU: My eggs are dried up.
DUDE: That's OK. My sperm cells walk on crutches.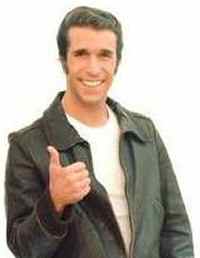 * Watch my dating advice videos or improve your dating with dating coach HogWild.
* Ask YOUR Relationship / Dating Question!
* More HogWild Dating Advice
Subscribe in a reader Share on Facebook
HOGWILD.NET Expert Dating Advice + Dating Advice. expert dating advice every day
Discover all the compatible singles who match you