Watch my dating advice video above or read my dating advice below:
Hi Hog,
There is this guy who always hugs me and even carries me/picks me up (literally) at random times. I've never really seen him do that to other girls.
What do you think it means when a guy picks a girl up and is constantly hugging her?
Is this a normal thing for friends to do or do you think he likes me?
- A in Chicago
Hog's Relationship Advice:
Totally normal. I do that with my friends all the time. My friend George loves when I wrap my arms around him and squeeze him tightly in my man-bosom!
HA HA HA!
Um, no. Guys try to get physical with girls they like. Physical contact is a way to share a connection with someone.
FRIENDLY PHYSICAL CONTACT | MORE-THAN-FRIENDLY PHYSICAL CONTACT
pat on the back | pat on the v@gina
kiss on the cheek | kiss on the v@gina
shaking your hand | shaking your v@gina

Why a hug? Because guys love to give girls hugs!
REASONS GUYS GIVE A GIRL A HUG
1 - allows the guy to smell her hair & perfume
2 - so he can feel her soft snuggle-bubbles pressed against his body
3 - while hugging you, you can't see that he is making the bragging "Oh yeah" face to his friends
I'm guessing that you guys are teenagers because most 42 year old men don't randomly hug chicks and lift them up.
Yes, this dude likes you. Here is a chart to help you know when a guy likes you, depending on his age.
THINGS GUYS DO WHEN THEY LIKE A GIRL
When the guy is between:
Ages 10-13
~ yanks her hair, passes her notes in class, makes fun of her
Ages 14-17
~ hugs her, stares at her, writes her a poem/song, tries to impress her by doing something cool like doing a stunt on his skateboard or playing Bon Jovi's "Livin' on a Prayer" on his trumpet.
NOTE TO SELF: Why did I think that would work?
Ages 18-23
~ offers her a beverage or a drug, most likely beer and marijuana
Ages 24-40
~ offers her a beverage or a drug, most likely tequila and cocaine
Ages 41-59
~ offers her a beverage or a drug, most likely red wine and Valium
Ages 60+
~ offers her a beverage or a drug, most likely Metamucil and Celebrex
NOTE TO GUYS: No, you don't need drugs or alcohol to get a girl. All you need is what you have inside... your wallet. Money!!! HA HA HA! Just kidding! Mostly.
So now that you know how he feels about you, you can decide if you want to reciprocate.
If you like him back, then the next time he gives you a hug you should whisper in his ear, "You're making my n!pples hard like two little Skittles!"
NOTE: Don't do that.
You can say, "It might be fun to hang out with you sometime" or "You give good hugs" or "I thought it was really cool that time you played me 'Livin' on a Prayer' on your trumpet. You are the sexiest trumpet player ever. I'd be happy to help you practice your double-tonguing and fingerings!"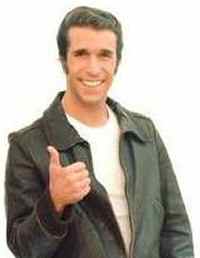 * Watch my dating advice videos or improve your dating with dating coach HogWild.
* Ask YOUR Relationship / Dating Question!
* More HogWild Dating Advice
Subscribe in a reader Share on Facebook
HOGWILD.NET Expert Dating Advice + Dating Advice. expert dating advice every day
Discover all the compatible singles who match you