Hi Hog,
My boyfriend and I live together and I can't tell you how many times I go on the computer and see that he has been looking at porn. This makes me really angry with him. Am I not enough for him? Why does he need to watch that filth? I feel like he's cheating on me by watching that stuff. I've asked him to stop and he said he would but clearly he has not. What should I do?
- P in Detroit
Hog's Relationship Advice:
You should dump holy water over his head and slap him in the face with a giant crucifix.
As always, you have just 3 choices in any situation:
Change it.
Leave it.
Accept it.
NOTE: You can read more about this in the amazing book: The Power of Now.
So, let's explore your options...
Change the situation:
Well, you tried to get him to stop watching those yummy, er, disgusting movies and that didn't work. Looks like he really likes them. But you don't.
Before you try to change someone else, why not look at yourself? Why does his behavior bother you so much?
What are the feelings that his behavior gives you?
You asked me, "Am I not good enough for him?" So I'm guessing that his viewing of vapid vixens makes you feel inadequate. You ask yourself, "Why would he need that stuff if he's got me?"
Because it's not about you.
That's right. Not everything in this world revolves around you.
NOTE: It COULD be about you, like if you two had stopped having sex or if you look a lot different then when you first started dating... but usually a guy who looks at dirty movies did that stuff before he met you and he will continue to do it.
So the real change here is in your perspective. He is not trying to hurt you. He's just trying to get a boner.
It's a fantasy world. And yes, he should do better job of hiding it from you out of respect for your feelings. Just as you wouldn't leave out your vibrator and Gucci catalogue.
NOTE TO SELF: Dude, girls do not really m@sturbate to photos of expensive shoes!
Now, if you have a MORAL objection to porn, that's a different story. This means that you and your man have a difference in values. This is not easily overcome.
NOTE TO SELF: Heh heh. Over-COME. Heh heh heh. Lord, why am I so stupid?! HA HA!
If you have a moral objection, like you think porn exploits women, just remember that porn also exploits men. How? Porn is a trilli-bazillion dollar industry, preying upon a man's #1 weakness -- his balls.
BRILLIANT INSIGHT: You could kick a man in his balls. But the way to really hurt him is to use his balls against him.
If you object to porn based on the religious reason that the Bible says "Thou Shalt Not Smack It..." what the heck are you doing with a non-religious dude? That would be the bigger issue than what he leaves in the tissue.
Awwwww!! HA HA HA!

Option 2 is to leave the situation:
You can break-up with your guy over this. You said you feel like he's cheating on you with the porn. I would have to 100% disagree. If he's watching it with another woman, yes. But if he's alone and watching by himself -- he's just exploring a natural sexual fantasy of un-natural women with huge Foobies. (Fake Boobies.)
Is this worth losing the relationship? Maybe it is to you.
CONVERSATION WITH YOUR FRIEND
YOU: I broke up with my boyfriend last night.
YOUR FRIEND: Oh my God! What happened! Did he cheat on you?
YOU: Yeah.
YOUR FRIEND: With who?!
YOU: The internet.
YOUR FRIEND: Oh... I see... hmm... well, that... is... really... awful. Was it just a sex thing or was he buying the internet flowers and taking the internet out to dinner?
Choice 3: accept the situation.
You can only accept it once you come to the conclusion that he is not hurting you.
Many women have the attitude, "I don't care how my man works up his appetite as long as he eats at home."
Men have ridiculous sexual appetites. Men are built to stick their jammy in as many different women as possible in order to populate the Earth. We have to fight this urge. So his looking at porn may be his release. It could be that the reason he does NOT cheat is BECAUSE he's watching porn.
There is the possibility that if he couldn't satisfy his natural urges to boink new bimbos with these 2 dimensional videos, he would start entertaining the idea of finding REAL bimbos to bop with his uh, bop-stick.
Which option you choose is up to you. I can't tell you how to feel. I'm just saying you might want to look at it in a different way. I'm sure there are things you do that he doesn't really like but he tolerates because he cares about you.
WHAT TO SAY WHEN YOUR GIRLFRIEND ASKS WHY YOU WATCH PORN
- "It's for you! I'm trying to learn exciting new moves that I can use to pleasure you! So... how do you feel about nipple-clamps?"
- "Because I ran out of hooker-money... By the way, can I borrow $19.99?"
- "Don't worry, I don't watch it for the hot young women. I watch it for the men. Those yummy, yummy men."
- "It's like when I watch sports. I can't play like that, but I appreciate seeing amazing athletic moves."
- "Because I support the arts!"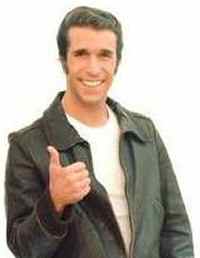 * Watch my dating advice videos or improve your dating with dating coach HogWild.
* Ask YOUR Relationship / Dating Question!
* More HogWild Dating Advice
Subscribe in a reader Share on Facebook
HOGWILD.NET Expert Dating Advice + Dating Advice. expert dating advice every day
Discover all the compatible singles who match you