Watch my dating advice video or read it below:
Dear Hog,
I was having sex with my man when I asked him, "How would you like me to take care of you?" Then he got shy and said never mind. He started to think and pulled away. The sex was very, very good with sweet and tender feelings and very passionate. Why did he pull away?
- J in Anaheim, California
Hog's Relationship Advice:
It could mean one of two things:
1- He could have thought you meant, "How would you like for me to take care of you emotionally?" And since he doesn't want an emotional relationship with you, he pulled away. Maybe he feels like you are getting too attached. He only wants a physical relationship.
or
2 - He is too shy to communicate his sexual preferences.
There is really no way for me to know because I wasn't there. So to better answer your question, I am sending you a small video camera to put on top of your computer. Have it turned on in the bedroom the next time you two are together. HA HA HA!
There is no way for YOU to know what his reaction meant either. Guessing is pointless. You must TALK ABOUT IT with him!
Communication is VITAL to any relationship. And not just dating relationships. Family relationships and friend relationships, too! You MUST be able to talk to each other about anything and everything if you want to be happy. There should be no misunderstandings. No embarrassment. You should feel comfortable around each other enough to talk in an open way.
To be able to do this, you must establish mutual trust and respect.
WHAT NOT TO DO A.K.A. HOW TO *DESTROY* TRUST
- When your partner is trying to tell you something, interrupt and argue
- Judge your partner. Make him/her feel guilty.
- Hide things. Deceive. Lie.
- Break your promises.
- Mock your partner until they feel insecure by shouting things in public like, "You're stupid and you have ugly genitals!"
HOW TO BUILD TRUST
- Put your guard down and allow yourself to be vulnerable.
- Talk openly about how you really feel.
- Listen with compassion. Don't offer a solution unless asked. Just listen.
- Keep your promises.
- Build up your partner's self-esteem by shouting things in public like, "You're smart and you have beautiful genitals!"
NOTE: Imagine how great your partner will feel when everyone on the bus knows he has beautiful balls! He'll be sitting with his chin up and his legs wide open.
You will have a much happier relationship when you can talk to each other. Because in a relationship, two people have different expectations and rules for behavior. EXCEPT -- the other person doesn't KNOW what your rules are! You can't expect your man to know what the hell your rules are if you don't tell him!
And you don't know what HIS rules are! Maybe he was taught to be ashamed of sex and that it shouldn't be spoken about... But how would you know that?
You SHOULD be able to talk about sex. If you're doing the stiffy-squishy-fishy-flop-dance, you should be able to discuss the stiffy-squishy-fishy-flop-dance.
NOTE TO SELF: I like how you are telling people to talk about sex in a mature way while calling it the "stiffy-squishy-fishy-flop-dance."
HOW TO TALK ABOUT WHAT YOU WANT SEXUALLY
Don't make it about "here's what you do right and here's what you do wrong." Start with compliments.
YOU: You know what you do in bed that I really like?
HIM: What?
YOU: I like when you kiss my neck and pull my hair. And I really like it when you last longer than the time it takes to make hot chocolate in the microwave.
Now you can suggest some new things.
YOU: You know what might be fun to try?
HIM: What?
YOU: It would be so hot if you tied me up with ropes, dripped hot candle wax on my chest, and covered me with lettuce.
HIM: Oh my God! ... That's my fantasy, too!
Another thing you can do is watch dirty movies together. You can talk about which things in the movies you like and which you don't like. This way you will find out some of his fantasies and he will discover yours.
NOTE: This isn't for everybody. You must feel secure with your body and you must also enjoy smut.
NOTE TO SELF: Yay! Smut!
HINT: If you're in a relationship, usually the guy wants to keep the illusion that his girl is somewhat innocent and was not a total slut-bag before he met her. So if your fantasy is to be violently slammed by 10 dudes, (And that's a perfectly fine fantasy) when you see that in the movie, don't blurt out, "That's awesome! I really miss doing stuff like that!"
Also, consider his feelings. Don't tell him your fantasy includes something he can't do. Don't tell him your fantasy is to be with a guy whose jammy is twice as large as his. Sure there is a 10% chance this will really turn him on, but there's a 90% chance this will give him a complex and he will no longer want to have sex with you.
You saying something like that would be like him saying, "My fantasy is to have sex with a girl twice as pretty as you... while you sit in the corner and knit me a scarf."
So be honest in your communication, but be smart. Be sensitive to each others' feelings.
Being sexually compatible with your partner is just as important as being compatible in other ways. The problem is most couples don't find out until much later. Then you settle for having mediocre sex. If you're in a grown-up relationship, you'll be sharing intimacy for a long time. So it's important to have someone you really enjoy boinking.

That's why I talk about sex on the first date. I would only suggest that GUYS bring up the topic of sex this early. A double standard? Yes. Because girls, if you want a guy to think about you in relationship-mode, you shouldn't come on too sexual at first. Otherwise, he'll put you in the category of hump-buddy.
But once he brings up the topic, feel free to talk about it. Even during the first time you have sex. As he touches you, you can whisper in his ear...
YOU: That feels soooo good. You know what else I like?
HIM: What, baby?
YOU: I'd like it if you bent me over, pulled my arms behind my back, and read me the financial section of the New York Times.
HIM: Ooh that's hot. You want me to read you the stock quotes or about the international markets?
YOU: Whatever you want, big boy. Just hold on one second. I need to go into the kitchen to grab the lettuce.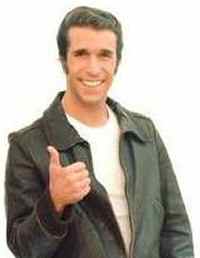 * Watch my dating advice videos or improve your dating with dating coach HogWild.
* Ask YOUR Relationship / Dating Question!
* More HogWild Dating Advice
Subscribe in a reader Share on Facebook
HOGWILD.NET Expert Dating Advice + Dating Advice. expert dating advice every day
Discover all the compatible singles who match you