Watch my dating advice or read it below:
Dear Hog,
I want to make my boyfriend feel good because I want to return the favor and I think he deserves it. What kinds of things do guys like to hear?
- J in San Francisco
Hog's Relationship Advice:
THINGS GUYS LIKE TO HEAR VS. THINGS GUYS DO NOT LIKE TO HEAR
GUYS LIKE TO HEAR: I'll follow you anywhere.
GUYS DO NOT LIKE TO HEAR: I'll follow you EVERYwhere (to make sure you're not cheating on me.)
GUYS LIKE TO HEAR: I love being in your arms.
GUYS DO NOT LIKE TO HEAR: I love being in your e-mail account and reading all your messages
GUYS LIKE TO HEAR: It's hurting me but it feels soooo good.
GUYS DO NOT LIKE TO HEAR: It tickles!
Of course every guy is different. Some guys want you to tell them that they have a big jammy while OTHER guys feel that it's more important that you tell him he has a HUUUUUUUGE jammy. HA HA HA!
But really.
HINT: Don't call it a jammy. Use the dirty words. Call it a Cobble-wobble-ding-dong-doo-dad-diddle-stick.
Everything with us humans is about how it make us FEEL. Guys want to FEEL big. In every aspect. We want to feel powerful and strong. A woman who gives a guy this feeling will make a man happy. And if that fails, give him a BJ. :)
NOTE TO DUDES: The opposite is also true. Girls want to feel little. The reason girls like tall guys is because they can squish bugs on the ceiling. But also because a tall guy makes her feel small in comparison.
Girls, we want you to adore us but not suffocate us.
We want you to be you be hot so that you turn guys' heads but not give guys head.
SECRET WAY TO MAKE ANY PERSON FEEL SPECIAL
OK, this is big. Do NOT use this for eeeeee-vil! If you really like someone and want them to feel good this will be natural... As you get closer to someone emotionally you start to see them differently. They become more attractive to you. Even their flaws look cute to you.
Once I had a girl tell me that this birthmark on my back was "adorable." I had always thought it looked like the former Soviet Union. I guess chicks think Communist Federations are cute. :)
OK, so this is the secret: If your guy has something he feels self-conscious about -- for example, let's say his ears stick out -- then tell him how much you like his ears.
BE CAREFUL WITH THIS! He will only believe you if you have ALREADY established trust and honesty in the relationship. If he thinks you are lying he will lose all his trust in you, you will embarrass him and when you embarrass a guy he loses his boner. And when he loses his boner he loses interest in you so he will leave you.
He will leave you for a girl who gives him his boner back.
Boner. This is my 4th favorite sounding word in the English language after
3 - poop.
2 - boobies.
1 - mellifluous.
You want to admire something in your man that he admires in himself. Usually that is something he has WORKED HARD to achieve.
I'm a pretty tall guy. When girls say, "Oh, I like that you're tall!" it means nothing to me. I didn't DO anything to be tall. I just am. It's like me telling a girl, "You have great big melons!" Well, she knows that already and unless she worked really hard to PAY for those melons -- she's didn't do a damn thing to get them. So that's not much of a compliment.
Here are some FEELINGS that guys want:
Guys want to feel respected.
Make certain your ACTIONS match your words! You can't tell a guy that you respect him then scream at him, "Hey moron! I'm over here at Check-out Aisle #10! I got you the Tom Thumb Brand condoms since you said the regular small size was too baggy!"
Guys want to feel important.
You can say "You know something that I've always admired about you? I really respect the type of work you do. You are really making a difference."
Only say this if you MEAN IT! Don't say it if the guy's job is to do data entry for a company that strangles puppies in order to make perfume from their tears.
Guys want to feel powerful.
Guys want to feel like they're successful.
Take the time to congratulate him on his successes. Sometimes guys don't stop to appreciate the small gains they make because they are so focused on the big goal. But with your encouragement along the way he will really thrive!
Don't be sarcastic:
YOU: Way to go not getting fired this week. Keep it up and maybe you'll get promoted to CHIEF Assistant mop boy by next year!
YOUR MAN: I told you I'm working on my new patented swirly mop motion that's going to revolutionize the industry!
YOU: When God was handing out brains, you were bent over naked looking at your feet.

Other feelings guys want:
Guys want to feel cared about.
Some guys respond to sweet words, some to sweet actions, some to a soft touch, some to thoughtful gifts, and some respond best to time spent together. And ALL guys respond to a sweet, considerate BJ.
Guys want to feel like they've made a difference in your life.
You can say, "You've helped me so much. I've learned so much from you. Like how to download p*rn while I sleep."
Guys want to feel envied.
It's a great feeling when other dudes want your girl but she's with you.
Guys want to feel approval from their friends.
Personally, I don't give a damn what people think but most guys do. They want their friends to approve of their woman. Usually this means you are cool with his friends. You don't nag, demand or berate. You're just chill. Or super hot.
Guys want to feel secure that their woman only wants him.
There's a secret to giving a guy a raging hard Love Monster. Be fiercely loyal. Make sure he knows that no one can take you from him. Be your own woman. Have your own life. Don't be clingy. But he should also feel like you aren't giving away his beloved lady-hole to anyone else.
Now onto some Next Level sh!t...
Once you're beyond the ordinary infatuation and selfish stuff, you progress to the TRULY SPECIAL. This is the area called interdependent LOVE. In this zone, the guy has higher level feelings. This is the zone I call BTB. (Beyond the Boner.)
In BTB...
Guys want to feel like they can serve you.
You will see that he will sacrifice for you. ALLOW him to serve you.
Guys want to feel like you share the same purpose in life.
This is humongo. You are excited by where he is going in life and you want to get there with him!
Guys want to feel that you love them with the same intensity they love you.

Finally, stay away from trite sayings. Say it from the heart or don't say it.
Saying, "Thank you for dinner" is the LEAST you can do after your man pays for dinner. Don't take it (or him) for granted. The standard post-meal "thanks" doesn't make a guy feel that great. Though, if you skip it, he will feel unappreciated.
Do more! If your man put effort into choosing a nice restaurant, thank him: "Sweetheart, you always put such thought into where to take me for dinner. I really appreciate you doing that. It means a lot to me. It's like my soul is having an orgasm."
If you enjoyed the conversation over dinner, then thank him for THAT, "Honey, I don't think I say this enough but... I really enjoy spending time with you and talking with you. You mean so much to me. And you make me feel special when you take the time to talk with me over a nice dinner."
Those are the things men want to hear. That and, "Would you like a BJ now?"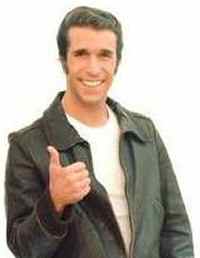 * Watch my dating advice videos or improve your dating with dating coach HogWild.
* Ask YOUR Relationship / Dating Question!
* More HogWild Dating Advice
Subscribe in a reader Share on Facebook
HOGWILD.NET Expert Dating Advice + Dating Advice. expert dating advice every day
Discover all the compatible singles who match you