Watch my dating advice video or read my dating advice below:
Hey Hog!
My husband and I have always had a good relationship but recently it seems like he has something bothering him.
It's hard for us to have a simple conversation without all this tension around us. What does this mean? Did we get married too young?
- C in Austin, Texas
Hog's Relationship Advice:
There's something that he can't bring himself to tell you -- like he's g@y.
HOW TO KNOW IF YOUR HUSBAND IS SECRETLY A HOMO-MO-MO-MO
- He comes home with a box of new sexy lingerie. You say, "I can't wait to put this is on for you!" He says, "This isn't for you. It's for me!"
- He says, "You're pretty hot -- for a GIRL."
- When you tell him you'd like to make love, he says, "Eewww!"
OK, it might not be that. But it's something. Something is really bothering him but he can't tell you. This means he feels guilty about it. Or ashamed. You need to talk about it. Whatever it is.
You are his wife. He shouldn't be hiding things from you.
Except for a secret bank account.
A secret bank account full of p*rn!
Reassure him that everything will be OK. That whatever it is, you will work through it together.
THINGS THAT PUT STRESS ON A RELATIONSHIP...
EXTERNAL STRESS:
- money problems
- health problems
- family problems
- job problems
SEXTERNAL STRESS:
- no nookie from you
- extra-credit nookie from an affair
If he is having trouble telling you face-to-face, you can suggest that he write you a letter explaining what is bothering him. Remind him that you love him.
Your man is being selfish. You can tell him so. Tell him that his problems are your problems and that he's making you sad. You can start by asking him direct questions like:
Is the problem something with me? Are you still attracted to me? Did I do something to upset you?
Is the problem something outside our relationship? Whatever it is, we'll work through it together.
Did you get married too young?
SIGNS THAT YOU GOT MARRIED TOO YOUNG
- Every night you make the same thing for dinner.... Skittles
- You have a scheduling conflict: your 10th Anniversary party is on the same date as your Sweet 16 party
- You can't decide if you want children or if you want to put up a new poster in your treehouse
- Your wedding had a Slip n Slide. And you used it to slide down aisle.
- On your honeymoon you lost your virginity. And your last baby tooth.
Awwwww!!! HA HA HA!
One of this challenges of getting marring young is that you have not fully developed as a person. Your personality will grow up. So the risk is that your personalities will no longer be compatible once you get a little older. But it's up to you to continue to CHOOSE to love each other each day. You should EXPECT that your partner will change. But hopefully you will grow TOGETHER and not apart.
It doesn't matter if you get married young or married old, it's all about sharing values, sharing fun times together, knowing how to communicate your love, the desire to make a family together and making your partner feel special.
And sex.
So tell him that if he wants some, he has to open up and tell you what's going on.
And if you finally offer him sex and he goes, "Eeeeew!", then you KNOW what the problem is. He's been cheating on you at the Strip Club... with the bouncers!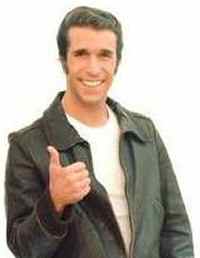 * Watch my dating advice videos or improve your dating with dating coach HogWild.
* Ask YOUR Relationship / Dating Question!
* More HogWild Dating Advice
Subscribe in a reader Share on Facebook
HOGWILD.NET Expert Dating Advice + Dating Advice. expert dating advice every day
Discover all the compatible singles who match you