Watch my dating advice video or read my dating advice below:
My ex-boyfriend and I dated for a year. Then four days after we broke up, he slept with another girl. Now it's just 6 weeks later and they're engaged.
He's a complete alcoholic and does hardcore drugs and he is completely ruining his life. For some absurd reason I can't get him out of my head. We haven't spoken in over a month but I still wonder how he is doing.
I want to help him kick his addictions and be his friend again. I know we could never be together again, but I'd like to have him as a friend. How do I approach him?
- J in Kansas City
Hog's Relationship Advice:
You approach him like this:
"Hey buddy, o' pal! Have no fear! I am here to Saaaaaaaaave You!"
ANNOUNCER: "Dum-dee-dummmmmmm! It's Suuuuuuuper X! As her alter-ego, J in Kansas City would seem to be a regular girl with a regular job, but at night, she tears off her glasses and trades in her purse for a golden lasso. She flies through the air without a care in her sexy underwear to save her ex-boyfriends... from THEMSELVES!!!"
BOY: Super X! I'm in love with you!
SUPER X: Sorry kiddo! I only go for boys with self-destructive personalities so I can tackle their problems in a way that helps me avoid my own issues.
BOY: Aw, shucks, Super X!
DRUNK UNEMPLOYED LOSER WITH NO EDUCATION: Arg!
SUPER X: I hear the cry of a boy who needs my help! This gives me a massive lady boner! Suuuuuuuuuper X to his rescue!!!!!
Listen, I know you care about him. But that's not really the issue. Stop picking guys who are "fixer-upper" projects. I know it makes you feel really good to be able to help someone and that's great. But relationships are hard enough without having the extra stress of someone who is self-destructive.
Just like you need to be a happy and complete individual before you can have a healthy relationship, your partner must be the same. A guy with serious drug and alcohol problems is in no way ready to contribute to a relationship. He will destroy the relationship because he is in the mode of destroying EVERYTHING that is good in his life.
It's natural to wonder how he is doing. And it's natural to want to be friends because you really care about him. It's so hard to be friends with an ex because there are always left-over emotions.
As I've said before, the only way to be friends with an ex is if you've BOTH moved-on COMPLETELY. Or if you both think the other one got ugly.
Ask yourself, "WHY do I want him as a friend?"
YOU: Because I care about him!
But why? He is in your past. Yes, you care about all people. But then you would be volunteering in a drug rehab center. But you're not. You're obsessing about HIM.
You need to do something very difficult. You need to let go. You are not going to win him back. You are not going to save him.
He has made his own decisions. He has a new woman in his life. She might be wrong for him but he chose her.
Instead of working on fixing your ex, work on yourself. Oftentimes we spend all this time and energy trying to tell everyone else how to better their lives, when we should be bettering ourselves. When you get yourself together and in tip-top shape, guess what?
You become a role-model to others. You are happier and more productive. And then you can REALLY contribute and help people.
Don't use your romantic relationships and friendships to play therapist or drug counselor. Be VERY careful about those you allow in your inner-circle. We tend to rise or fall to the level of our peer group. Surround yourself with the type of people you respect.
This is very difficult, but you need to drop him completely. Otherwise you are just asking for drama. It's a sad situation.
SAD SITUATIONS THAT WE JUST HAVE TO ACCEPT
- ex-boyfriend destroying his life with drugs and alcohol
- death of a beloved pet
- ice cream scoop falls off your cone and onto the sidewalk
Nooooooooooo!!! I love you double-chocolate Rocky Road! <SNIFFLE!>
But you have to let this situation go... because it's no longer YOUR situation.
It's going to take time for you to heal after this break-up. Allow yourself this time. Every time you think about him, you are re-opening the wound. Move forward. Work on getting yourself together and happy so you can open your heart to a new guy -- a guy who is healthier emotionally and can enhance your life.
So put away your red cape. Retire your golden lasso. Stop using your x-ray vision to look through "tough guy exteriors" and use it for cool stuff like checking out sexy firefighters.
Because your ex, he's the ice cream scoop that fell on the sidewalk. So shake your head, but then march your little booty back to the ice cream truck and grab yourself a new cone! A MANLY cone: smooth as vanilla and hot as fudge. A manly cone you want to hold and suck all the ice cream out of. You need an ice cream cone with nuts.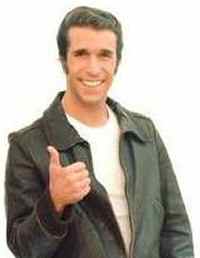 * Watch my dating advice videos or improve your dating with dating coach HogWild.
* Ask YOUR Relationship / Dating Question!
* More HogWild Dating Advice
Subscribe in a reader Share on Facebook
HOGWILD.NET Expert Dating Advice + Dating Advice. expert dating advice every day
Discover all the compatible singles who match you