Watch my dating advice video or read my dating advice below:
Hey HogWild,
I think you give really great and funny advice and I need your help! I really like this guy who's a grade older and I just can't seem to get him to notice me. I know I'm not ugly or anything and I've tried everything but nothing seems to work! Can you please help me finally get his attention?
- J in Orlando

Hog's Relationship Advice:
HOW TO GET A GUY'S ATTENTION
1 - Boobs
2 - Chicken Wings
3 - Chicken Wings in between your boobs.
OK, that's what works on me. :)
But I do guarantee that if you show up with blazing hot wings wedged into your cleavage, the guy WILL notice.
NOTE: Be sure to carry moist towelettes.
THINGS THAT LOOK HOT IN YOUR CLEAVAGE FROM LOWEST TO HIGHEST
- hair :(
- cell phone :|
- banana :)
- chicken wings <3
- my face B:)
What I'm saying is, to get a guy's attention is pretty easy. You just give him what he wants. And what do guys want?
THINGS GUYS WANT
* Sex
* Food
* A good nap
* Televisions
What do you do now? You hint at the PROMISE of these things once he is with you. You COULD just throw sex and televisions at a guy and sure, he'll take it, but he might not stick around. Because it was too easy.
You want to play a little bit hard to get. Make him work for that homemade dinner! This is the powerful rule: "People value things they WORK for." If you just give somebody something, they take it for granted. Stupid, right? Yeah well people are stupid.
THINGS YOU DIDN'T WORK FOR SO YOU TAKE FOR GRANTED
- Your freedom
- Your pretty face
- Your fully functioning hoo-ha.
Girls, take the time to thank your hoo-ha! I do.
Thank you, hoo-ha's for being so wonderful.
Talk to this guy and drop hints.
Let's say you know he loves video games...
YOU: How's it going?
BOY: OK I guess.
YOU: I need a guy's opinion. When it was my last boyfriend's birthday, I got him a video game system. Do you think that's a good gift? Because he didn't really seem to appreciate it.
BOY: Wow! Serious?! That's an AWESOME gift.
YOU: OK, I was wondering if maybe I did something wrong.
BOY: No, he's crazy!
YOU: OK, thanks. I'm gotta go because I'm cooking steaks tonight before I go to bed to watch sex on the plasma Television until I take a nap. Later!
BOY: Hey come back! I love you!
#1 Way to Get a guy to notice you:
Look good.
Duh.
Different guys have different types of girls they like. I suggest that you be yourself, except more awesome. In other words, be your BEST self. You can get a make-over to bring out your best qualities.
Easiest ways for a girl to become more attractive:
If you're fat, don't be. You CAN be and that's fine. But if this particular guy doesn't like your shape, then you are out of luck. So either pick a different guy, or give yourself a different shape.
APPEARANCE
If you have bad skin, fix it.
If you have crooked teeth, fix it.
If you have a bad haircut, fix it.
If your eyes are crooked, wear an eye-patch. Pink.
If you have hair on your face, remove it.
If you have hair on your stomach, remove it.
If you have hair on your nipples, leave it! If you want to date chimpanzees.
If you have hair shooting out of a mole on your chin, cackle and ride off to the moon on your broomstick.
Wear clothes that hide your bad parts and show off your good parts.
If you ONLY have bad parts, wear a poncho.
Be clean.
Smile. Be happy! Walk with a fun and confident stride! Girls look better when they are smiling. Frowning and being miserable is a turn-off.
EXCEPTION TO THE BE HAPPY RULE: When you're angry, be REALLY angry. Yozwa, that's hot!

YOUR AURA
Learn how to be sexy. Find a movie with a hot girl who acts sexy and copy her every move.
NOTE: For this, do NOT choose an "Adult Action Movie." Choose a movie where the girl seduces the guy. Not a movie where she calls for pizza with an extra-large pepperoni.
Because slutty is not sexy. Sexy is the way you look at a guy. The way you moisten your lips. The way you walk. The things you say and how you say it.
SECRET TIP OF THE CENTURY:
Once a guy knows you like him, he will try to like you back. He will look you over and see if he can be with you. So if you look good enough and you are not annoying he will start to like you.
99% of HUMANS CAN NOT DEFEND AGAINST THIS...
The Ego. It drives us. This is why compliments work.
Not FAKE compliments. Yuck. SINCERE compliments. Compliment the guy on something he has worked hard to achieve or something he is proud of. NEVER compliment the obvious.
BAD COMPLIMENT: I like your eyes.
Why is this bad?
Because he did nothing to get his eyes. Plus, he probably hears this all the time. It's obvious.
WARNING! The same compliment can be great with one guy and terrible with another. Example, "You're so smart!"
Great for a hot guy who people don't realize is also intelligent and who works hard to keep up his grades.
Terrible for a guy who is on the Honor Roll every semester. Because everyone tells him he is smart. But if no one ever tells him that he's cute, then you can safely say that. (If it's true.) But the best compliments are things he is proud of...
GOOD COMPLIMENT:

Let's say he's in a band and you know he has been working really hard on his guitar playing skills... A good compliment would be, "Wow! You've really improved your guitar playing! You're really awesome now!"
People gravitate to people who make them FEEL GOOD.
If you can figure out how to make this guy feel good, then he will want to be with you.
Hot chicks have an advantage because most guys feel good about themselves just being around a hot girl because of the positive attention they get.
BAD WAYS TO GET A GUY'S ATTENTION VS. GOOD WAYS
BAD WAY: make-out with his best friend.
GOOD WAY: make-out with his best friend's sister.
BAD WAY: Start a rumor that he has a very tiny, um, hoo-hoo-dilly.
GOOD WAY: Start a rumor that he a VERY LARGE sneaker collection.
BAD WAY: Rob him
GOOD WAY: Steal his wallet. Then give it back after stuffing a note inside that says, "Meet me at my place to watch the game over dinner and a nap."
Attach the note to an unopened condom.
Attach the unopened condom to a chicken wing.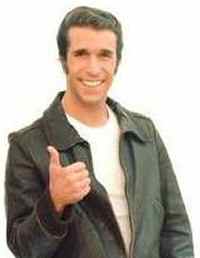 * Watch my dating advice videos or improve your dating with dating coach HogWild.
* Ask YOUR Relationship / Dating Question!
* More HogWild Dating Advice
Subscribe in a reader Share on Facebook
HOGWILD.NET Expert Dating Advice + Dating Advice. expert dating advice every day
Discover all the compatible singles who match you