Watch my dating advice video or read my dating advice below:
Hey Hog,
Why are the hot girls I meet always either taken or 7 years older? (I'm 20.) I absolutely hate it! If they were my age, we would be awesome together. It's really freaking depressing. The best thing about older girls is they're very mature and they're not crazy.
I'm looking for a decent girl who doesn't drink or act slutty. It's hard to find that these days. I don't know what to do.
- B in NJ
Hog's Relationship Advice:
So you want an older girl who doesn't drink or act slutty. Dude, you're in luck! There are LOTS of these girls. Especially in South Florida. Living in Senior Homes. The best time to meet them is at 2 pm when they play BINGO.
It sounds like you are a lot more mature than most guys your age. And you want a girl who matches your maturity level. It would be easier for you to find a girl your own age who just happens to be mature.
Because most girls prefer not to date a younger guy, not just because of the maturity thing but because of financial status, sexual skill level, and because most girls want to feel "safe" and protected by their man. That's the key, she has to consider you her Man and not her boy.
But there is hope for you! For there is a special group of mature ladies known as "Cougars." These women prey upon, er, prefer to be with younger guys like you. A Cougar is often a divorced woman who is wise to the world and is eager to sink her claws into your back as she teaches you the sexual mating calls of the jungle.
If you want an older woman, you should go back to your old high school and find your former art teacher who's still single and lookin' good.
DISADVANTAGE OF DATING ONE OF YOUR FORMER TEACHERS: She still treats you like you're her student: "Today's assignment is to do the dishes, take out the trash, and rub my feet. And if you're really good... on Friday we'll watch a movie."
It's not that hard to find the type of girl you want. I like that you have defined the major character traits you desire. Mature, non-crazy, non-drinker, sexually lame, er, conservative. :)
But I must tell you, ALL girls are crazy. That is a scientific fact based on the fact that scientists have figured out sub-atomic interactions but still can't figure out why their wives are mad at them.
SCIENTIST: My hypothesis is that your perturbed state is a result of menstrual cramping in your, um, hoo-ha.
SCIENTIST'S WIFE: I'd have to disagree with your findings, Doctor. If you would have done your research, you'd recall that today is my birthday, you big jerk!
SCIENTIST: I was going to surprise you but now I'll just tell you! I DID get you a gift! I discovered a new Heterochromatin sequence of DNA and I named it after YOU!
SCIENTIST'S WIFE: Ugh. What kind of gift is THAT?! You should know I prefer Euchromatin DNA sequences! <SNIFFLE!> It's like you don't know me at all!
You have to find a girl whose craziness is compatible with your craziness. Oh, you think you're normal? Whoa! It's the people who think they're totally normal who are the REAL crazy people who have a square missing from their BINGO card.
So go to places where you are likely to meet these mature, soda-pop drinking virgins.... Utah! That's right! Get yerself a good ol' fashioned Mormon girl!
But really, look for girls who dress the part. What people wear is an indicator of their personality. It's NOT the entire story but it's a start. You can guess that a girl is not all that conservative if she has her boobs hanging out of her dress and she's got a tongue ring and a tattoo on her neck that says, "I HEART WIENERS."
But you see that girl with baby blue bonnet and the long dress down to her ankles? Oh yeah. That's the one!
If you're 20 and looking at girls who are around 27, you have to realize that these girls are in a totally different phase of their life.
TYPICAL PHASES IN A TYPICAL WOMAN'S LIFE
NOTE: Does not apply to all women! Just most!
AGES 12 - 14: "Boy band phase." Which guy she likes in her favorite pop band determines her future dating habits. She will pick either the bad boy or the clean-cut preppy guy, or the funky odd-ball, or the g@y guy.
AGES 15 - 17: "Love to be in love phase." This is when a girl craves a relationship. She wants to be "in love."
AGES 18 - 21: "Party Ho Phase." After breaking up with her high school boyfriend to go to college, she needs to be free! This includes the freedom to experiment by kissing other girls and whipping out her snuggle bubbles at Spring Break in exchange for a t-shirt. This Phase is also known as the "Awesome Phase."
AGES 22 - 24: Time to get serious. Ms. Young Professional Woman is looking for a guy who might be husband material.
AGES 25 - 27: Either "Marriage Time" or "Uh-oh Phase." This is the age where most American girls get married or begin to say uh-oh.
NOTE: This does not apply to Louisiana where the Marriage Time Phase is at ages 15-17.
AGES 28-31: Either "Makin' Babies Time" or "Full Panic Mode." She is either starting a family or her own family is beginning to wonder out loud if she is a full-time lesb!an.
NOTE: Most college girls are part-time lesb!ans, working only on weekends.
AGES 32 - 40: Either "Raising the Kids and balancing Career Mode" or... "Triumphant Return to Party Ho Phase!"
So if you're looking at 27 year old girls, you should realize most of these girls are looking to get married and squeeze out babies -- quick! And how is a 20 year old guy going to provide and start a family?
If a girl is single at 27 and NOT looking for marriage she is most likely not a "typical" girl. She's a bit of a rebel. And rebel girls aren't likely to be tea sipping virgins.
Go to the places where you are likely to meet your type of girl. Try coffee shops, libraries, parks, the supermarket, the bookstore, the International Festival of Knitting...
You can even use this really cool invention called the Internet. Go to one of those singles sites that specializes in your type of girl.
Meet as many people as you can. Then get invited to events where your type of girl will be.
If you find a girl who is your style but you're not attracted to her, don't ignore her! Make friends with her! 1 - Because she's cool and 2 - Because she can introduce you to her other friends, some of whom will be hot!
NOTE: If you start dating one of her more-attractive friends, she might get jealous and mad. So be sure to send her a Thank You note.
If you insist on dating an older woman, you should go for a high-powered career woman who is looking for a Trophy Husband.
ADVANTAGES OF BEING A TROPHY HUSBAND
- You don't have to work
- She takes you out to nice restaurants
and
- Lots of girls will mistakenly hit on you because they think you're so sweet for going out to dinner with your mom!
BINGO!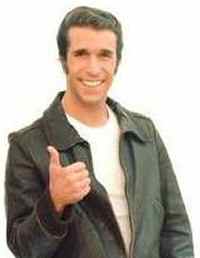 * Watch my dating advice videos or improve your dating with dating coach HogWild.
* Ask YOUR Relationship / Dating Question!
* More HogWild Dating Advice
Subscribe in a reader Share on Facebook
HOGWILD.NET Expert Dating Advice + Dating Advice. expert dating advice every day
Discover all the compatible singles who match you