Hi Hog,
You handle some pretty out-there topics from the guy's perspective, so I'll ask you this.
After my boyfriend and I had been dating for a few months I learned he has a reputation for playing the field so I had doubts trusting him. So he took a padlock, fastened it around his testes, and gave me both keys. He told me I could give him the keys back when I trust him as much as he trusts me.
Wow!!
Do you think this is a good demonstration that a guy can be faithful?
- J in Marietta, Georgia
Hog's Relationship Advice:
Hmm... well at first I didn't believe this. But then I wrote J back and she SWEARS it's true. And you know what, this is one of those things that is so stupid, it probably IS true.
Is this a good way for a guy to show he's faithful? Heck yeah! But why stop there? C'mon man, go HogWild!
- Tie his romance-pole to the back of a horse. Girl, you get on the horse. And if your man ever even LOOKS at another woman, whip the horse.
- Some parents punish their kid for smoking cigarettes by making him smoke 3 entire packs until he gets sick. You do the same. If he cheats, make him then cheat with 32 of the ugliest bad breath girls you can find. Some of whom have wieners. Big ones.
A padlock does NOT prove anything. He can still can get a hard, uh, hoo-hoo-dilly. And if he gets into bed with a girl she will see the padlock around his groin-danglers. At this point she will either run away screaming or she'll be like, "Ooh, kinky!" as she breaks out the handcuffs and prison warden outfit.
If the guy has to physically stop himself from cheating that doesn't say much. Being faithful is a mental challenge. And your man is definitely mentally challenged.
Relationships are based on trust and being 90% honest.
NOTE: I say 90% honest, because 10% of the time you should keep your damn mouth shut so you don't make your partner feel bad. EXAMPLE:
GUY: Do you like my wiener?
GIRL: Not really. It looks like a retired earthworm.
This doesn't help anyone. Instead:
GUY: Do you like my wiener?
GIRL: Yes. I love tadpoles!
You must have trust in a relationship because you're opening your heart to this person. If you don't have trust, then you don't have anything. This is why it's important to take your time to get to know the other person. You don't need to rush into sharing your emotions or sharing your bodies. Go at your own pace until you feel like you can trust this person.
If a person wants to cheat, they will find a way. You can't watch their every move. You have to give your partner the benefit of the doubt. Now if they prove you wrong, that's when you start breaking out the Medieval Testes Torture devices.
Girls, if you REALLY want to encourage your guy to be faithful forget the padlock on his man-grapes. Put an emotional padlock on him. Use your ultimate female weapon: tears.
Have a conversation with your boyfriend about how much you trust him and that if he ever cheated it would crush you. Then start crying. Then look in his eyes and say, "You see my face now? This is how I will look if you cheat on me...
"If you feel tempted to cheat, stop yourself and think how much you'll be breaking my heart. If you need something that I'm not giving you, I want you to tell me. I want you to be happy so you don't go anywhere else for the freaky female Fun-Dip."
The idea is that if he gets into a situation where he's tempted, the image of you with tears streaming down your face is burned into his mind. If he can have sex with another girl while picturing you crying, he's a psychopath.
Besides, a padlock? That's a lot of responsibility on you. What if you lose the key?...
<KNOCK KNOCK!>
YOU: Who is it?
BIG BURLY GUY WITH DIRTY FINGERNAILS: S&M Locksmiths!
YOU: Honey! The man is here to remove the lock!
BIG BURLY GUY WITH DIRTY FINGERNAILS: Where is the lock, ma'am?
YOU: It's in the bedroom. In between his legs. On his balls.
BIG BURLY GUY WITH DIRTY FINGERNAILS: Oh. I'd be careful with the bolt cutter.
UPSTAIRS IN THE BEDROOM...

YOUR BOYFRIEND: Oh my God! Charlie?!
BIG BURLY GUY WITH DIRTY FINGERNAILS: Steve, you bastard! I'll never forgive you for boinking my wife!
YOUR BOYFRIEND: Aaaaaah!
DOWNSTAIRS...
YOU: So did you remove the LOCK?
BIG BURLY GUY WITH DIRTY FINGERNAILS: Yeah. That too.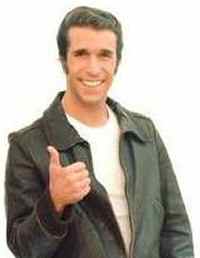 * Watch my dating advice videos or improve your dating with dating coach HogWild.
* Ask YOUR Relationship / Dating Question!
* More HogWild Dating Advice
Subscribe in a reader Share on Facebook
HOGWILD.NET Expert Dating Advice + Dating Advice. expert dating advice every day
Discover all the compatible singles who match you