Hi Hog,
In your dating advice you say to approach and not stare at girls to avoid being a "pathetic loser." But how the heck do you approach girls?
- J in Miami
Hog's Relationship Advice:
OK, maybe I was a bit harsh by saying guys who stare at girls without approaching are pathetic losers. What I meant to say is that they are dork-miester maestros.
Approaching women is the toughest thing for most guys to do.
THINGS THAT GUYS FIND DIFFICULT
- approaching beautiful women
- watching ballet
- shooting 100% of their pee-pee in the bowl
If you learn nothing else -- if you figure out how to approach girls it will open a new world to you. Because just by sheer numbers and luck you will meet some girls who like you.
Ever wonder why you see a sloppy ugly dude with a hot chick?
It's because he APPROACHED her while you sat around holding your wiener.
Girls want a man with balls. Unfortunately, many times a guy with balls is a d!ck. If you can be a nice guy who also has big hairy balls -- you will have your choice of women.
Girls are attracted to CONFIDENCE. By taking too long to approach a girl, it shows her that you LACK confidence. You are worried what she will think.
And THAT is the key. Who cares what she thinks?!!! Who is this anonymous girl to judge YOU?! Just because she's hot? Please.
If your only requirement for a girl is that she's attractive, then you deserve to be rejected. Raise your standards!
Your overall attitude must be, "Let's see if this girl is worthy of my awesomeness." You are evaluating HER. Don't kiss her ass.
If you're nervous about approaching her it's because you're focusing on TAKING. You're thinking about what you can get from her. Stop it.
You're trying to GIVE to her. I never think, "Can I get sex from her?" No. If she's lucky, I will GIVE sex to her. Great amazing sex. Or a great amazing relationship. If she's worthy.
I am confident in what I have to offer because I've taken the time to learn the SKILLS it takes to make a woman happy.
One of the most important things I've learned is that EVERYTHING we do in life is a skill that can be improved with practice. Being happy is a skill. Sexual satisfaction is a skill. Caring for a woman is a skill.
PRACTICE MAKES PERFECT
What do YOU spend hours doing every week?
- Spend hours approaching women and you will become great at meeting new girls
- Spend hours shooting a basketball and you will become great at jump shots
- Spend hours squeezing your romance-rod and you will get carpal tunnel.
This topic is so huge that I can only give you an overview. If anyone has a specific question about approaching girls in a specific situation, I'll answer that, too.
But first you must master the overall attitude. When you first approach, it's only about 10% what you say. The girl is looking at the other 90%. Does your body language and face convey confidence? Do you look attractive? Are you normal or creepy?
The only specific you need to know right away is that you need to grab a girl's attention immediately. The hotter the girl, the more she gets hit on and the less patience she will have.
An average looking girl will just be happy that you're talking to her (if you're confident and normal.) But a girl who is approached all day is tired of boring dudes. So you must be different and exciting.
HOW TO BE DIFFERENT AND EXCITING
- your confidence is unusually strong and manly
- you start the conversation with a crazy funny story
- you approach her in the mall parking lot by bungee jumping down from a helicopter and yelling, "Come with me! The Commies are gaining on us!!!"
I'd suggest practicing by approaching girls who you are NOT attracted to. That way you will see how easy it is to talk to new girls. The reason is because you don't WANT anything from these girls.
Guys handcuff themselves when they see an attractive girl because they think they need to have the most amazing opening line. Sure you can spend hours thinking of the perfect thing to say to a girl. The most clever and witty thing ever. But forget that. Just talk.
Approach a girl and be honest. Just don't tell her she's beautiful. She's bored by that. Notice something else about her. Be different! Be genuine.
Never comment on a girl's looks until you know she likes you. It's boring. Every guy does that. Don't ask what she does for work or what she's studying. Every guy does that. Don't ask where she's from. Every guy does that.
Talk about something she is wearing or holding and what you think it says about her. Smile. Be friendly. Be relaxed.
Or you can do it soap opera super intense style and with a Spanish accent.
YOU: I must have you.
GIRL: Who the hell are you?
YOU: I am Car-r-r-r-r-r-r-r-r-r-r-r-r-los. And I must have you.
GIRL: Um, do I know you?
YOU: You do not know me but you will never forget me. Now I will lift you in my arms and throw you in my convertible sports car.
GIRL: OK!
Be different in an awesome way.
I've started conversations in many dorky ways. Because I don't care. I just want to see if she's cool. Just because she's hot doesn't mean I'll let her get with me. She's also got to be interesting and full of passion. She has to make me laugh. She has to be down-to-earth.
The approach is merely step 1. It's a simple introduction. How you react to her reaction is crucial. If she rolls her eyes, do you cry and walk away? Or do you laugh and say, "I like a sassy girl with attitude!"
She can not judge you!!! Got it? Who cares?! If you know you are a good person inside then no one can judge you. Girls want a strong man. Many girls want a guy who will judge HER. How you can be capable of doing that if you're worried what she thinks about YOU?
Eventually you should learn specific techniques that work in different settings. But until then approach with CONFIDENCE!
And soon you will be approaching beautiful women at the ballet by bragging how you shoot 100% of your pee-pee in the bowl!
NOTE: The girl may ask if you need help finding your short school bus.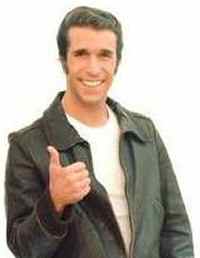 * Watch my dating advice videos or improve your dating with dating coach HogWild.
* Ask YOUR Relationship / Dating Question!
* More HogWild Dating Advice
Subscribe in a reader Share on Facebook
HOGWILD.NET Expert Dating Advice + Dating Advice. expert dating advice every day
Discover all the compatible singles who match you