Hi Hog,
I have been with girlfriend for 2 months. When we started dating, I must say that I didn't even like her but she was hot as hell so I thought, "Just go for it."
But now I've found a new girl who I really like. But the problem is she has a boyfriend.
Am I a jerk for being with a girl that I really don't like just because she is hot and the sex is great?
I have a hard choice to make: Do I stay with my girlfriend or do I break up with her to go for the girl I REALLY like but who has a boyfriend?
What makes my choice even harder is that recently my girlfriend said that she loved me and I wasn't able to answer, so I took a huge bite on a piece of bread.
Am I a jerk for being with a girl just because of the sex?
- A in ?
Hog's Relationship Advice:
You are not being a jerk for being with a girl because of the sex. You are being a guy.
This is what guys want: sex. Sex with a girl we can tolerate. Everything else is a bonus.
Some guys rate a girl from 1 to 10. But that's not how it works for relationships. For those who don't know, I will introduce you to HogWild's Equation for a Girl's REAL rating:
HER HOTNESS RATING minus
HER ANNOYING RATING minus
HER PSYCHO RATING.
As you can see with my equation, hotter girls have more leeway when it comes to being annoying or crazy. Ugly chicks had best be on their best behavior.
Now that we've been honest with ourselves about the sex, we can talk about your specific situation.
First let's discuss the complication of your girlfriend saying she loves you. I like how you handled it. You avoided the question by slamming a piece of bread in your mouth. HA HA HA!
Wow. Just when I think I have the market cornered on immaturity, you go and do that.
I can see it now...
Over a romantic candle-lit dinner:
YOUR GIRLFRIEND: I love you.
YOU: Uh... <Shoves huge piece of steak into mouth> Mmf ralgo ooo.
YOUR GIRLFRIEND: Did you hear what I said? I said I love you.
YOU: <Chugging glass of water and biting ice cubes.>
YOUR GIRLFRIEND: Hey! Are you listening to me?!
YOU: <COUGH> Choking. Need Heimlich maneuver.
2 weeks later...
YOUR GIRLFRIEND (on the phone): You can't stay in that hospital bed forever! I want an answer!!!
YOU: Beep. Beep. Beeeeeeeeeeeeeep.
YOUR GIRLFRIEND: That's YOU making those sounds! You are NOT dead! .... Yet.
The fact that she said she loves you doesn't change anything. You still don't like her or love her back.
At some point you will break up with her. It's only a matter if you will break-up with her before or after you've found a sexual replacement.
As for the girl you like who has a boyfriend... Now this requires some skill and careful tact. Over the course of days or weeks or months you will have to show her that being with you will be a lot better than being with her boyfriend.
To steal away a girl takes advanced techniques. You will have to make her feel like she is missing out on something. A girl who is perfectly happy with her situation can not be persuaded. But if there is trouble in the relationship, that's when you can step in.
Here's how to be typical guy about it:
Don't break-up with your girlfriend. Become close friends with the girl you like. She won't suspect anything because you have a girlfriend.
Get her to open up to you about her boyfriend. Get her to complain about him. Everything she WISHES he would do, do for your girlfriend. But then talk about how your girlfriend doesn't appreciate these things you do.
For example:
GIRL: My boyfriend never does anything nice for me. He never even gets me flowers.
YOU: Really? That sucks. I think that's something you do for a girl if you really care about her. I get my girlfriend flowers all the time. But you know what? Sometimes I feel like she doesn't really appreciate it.
or
GIRL: My boyfriend never makes-out with my hoo-ha.
YOU: Really? That sucks. I make-out with my girlfriend's passion area for so long I need to bring SCUBA gear.
And that's how you start planting the idea in her mind.
You keep doing things like this every day. Until one day you say something like, "Ya know, if I didn't have a girlfriend, you'd be the exact type of girl I would love to be with."
Then you gently stroke her face... with your boner.
HINT: Don't do that.
It all comes down to what makes you happy. Clearly, being with a hot chick who gives you great sex is not enough. You might need things like -- fun conversation, intelligent exchange of ideas, things in common, caring for each other... you know, stupid stuff like that. :)
Guys always want a smooth transition from girl to girl. So go for it! Besides, girls are more attracted to guys with girlfriends because of the rule, "People want what they can't have." So the best time to find a new girlfriend is while you still have one.
So in the end, you will be breaking up a couple and taking your girlfriend's delicate little heart and stomping on it with construction boots made out of cement and lemon juice.
Does that make you a jerk?
Yes. But luckily for you, girls go for jerks.
Now go buy a dozen red roses and some SCUBA gear!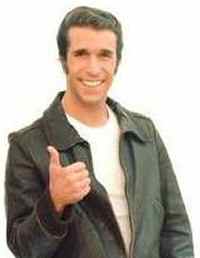 * Watch my dating advice videos or improve your dating with dating coach HogWild.
* Ask YOUR Relationship / Dating Question!
* More HogWild Dating Advice
Subscribe in a reader Share on Facebook
HOGWILD.NET Expert Dating Advice + Dating Advice. expert dating advice every day
Discover all the compatible singles who match you