Watch my Dating Advice video or read my dating advice below:
Dear Hog,
How do you tell when a guy is just a friend or if he wants to be more than just friends?
What does it mean when he flirts with you, but he tells you he has a girl back home (even though he is single) when you tell him that you like him?
Thank you for your consideration. Love you.
- V in ?
Hog's Relationship Advice:
Here's how you tell if a guy is just a friend or if wants more than that:
1 - Swing your leg back
2 - Let you foot slam forward into his crotch
If he is doubled-over in pain, that means he has testicles. And that means he wants to be more than just friends.
Because he's a guy!
I've said this before but I guess I have to say it again... Girls, you're never "just friends" with a guy.
The ONLY exceptions to this are:
1 - he considers you to be un-boinkable
2 - you have been friends since you were babies and were raised almost as brother and sister
3 - he's a homomomomomomo
And #1 and #2 are tossed out while he's drunk.
#3 is pretty rock solid. Unless you have a hairy butt.
Awwww! HA HA!
The other circumstance is that you're in a relationship and your guy friend respects your boyfriend enough not to make a move. He'll be polite and wait until you break up.
I know some of you girls are like, "But I've been friends with Tom for YEARS!"
Yes, and for years Tom has been trying to slip into your slide.
Sometimes a guy is in a relationship or married. In the rare case that he is allowed to have female friends (HA HA HA!) he might be able to be just-friends.
But he's probably hanging out with you so he can have you after he breaks up with his current girl. Or at the same time if his girlfriend is down with that.
NOTE TO GIRLS WHO ARE DOWN WITH HAVING ANOTHER GIRL IN THE BEDROOM: You're awesome! :) And contact me immediately.
So you're saying this guy flirts with you? But when you told him that you like him then he makes up a story that he has a girlfriend?
If you tell a guy you like him, then he lies and says he has a girlfriend then there is a 99% chance he doesn't like you.
Because only 1% of guys are that sophisticated to run a mind game where they make up a fictional girlfriend to get you jealous -- ESPECIALLY when you already said you liked him.
I can only think of one type of guy who seemingly flirts with girls but has no interest in them...
He'll compliment you on your outfit or your new hair style. He's the type of guy who notices these things instead of your boobs. He's also probably a really good dancer and has an appreciation for old black & white movies and songs by Cher. And when he compliments you, he ends the sentence by flicking his wrist and touching you lightly on the arm while shouting, "Girlfriend!"
Yes, this type of guy is a great friend. Because he wants nothing from you. Because you have no pen!s. He is a homomomomomo.
The only reason a straight guy flirts with you is because he wants something. If it's not sex, then it's a promotion or your math homework or your potato chips.
Or he could be one of those dudes who flirts with everybody by his nature.
Most guys, if they like you, and you tell him you like him -- they will break out into a big smile and pull you close. Then they'll kiss you and attempt to claw off your bra like a bra-clawing uh, bra-clawer.
NOTE TO SELF: Damn it! I suck at analogies like a....... DAMMIT!
So yeah, this guy is wasting your time. And not in a fun way!
FUN WAYS TO WASTE YOUR TIME
- Spinning around in circles really really fast!
- Rubbing your hand on your, uh, passion area
- Spinning around in circles while rubbing your passion area really really fast!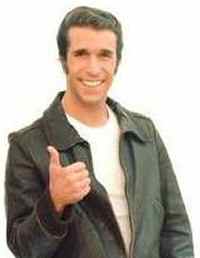 * Watch my dating advice videos or improve your dating with dating coach HogWild.
* Ask YOUR Relationship / Dating Question!
* More HogWild Dating Advice
Subscribe in a reader Share on Facebook
HOGWILD.NET Expert Dating Advice + Dating Advice. expert dating advice every day
Discover all the compatible singles who match you