Watch my Dating Advice video or read my dating advice below:
Hi Hog,
Girl and guy work together. Although attracted, neither act on it. Both move to different cities. Now through the magic of texting, something is started. Too much, too fast. We did all the wrong things from talking dirty to discussing our numbers. And yeah, I ran my big yapper too much. He said he didn't see this working out.
I told him that was fine, because I was ready to get back to on the dating scene. (Totally not true. I really dig this guy.) Then I swallowed my pride and apologized for all my behavior and hoped we could still be friends.
He very clearly said don't bother me for a few days! We've had a fight and we haven't even kissed!
I know I'm an idiot, so now what?
- J in ?
Hog's Relationship Advice:
First of all, you're NOT an idiot. You're just acting like a fool in lust. You're being all emotional and that's why you can't be logical.
Here is the logic:
- You live far apart.
- You've never kissed.
- You're arguing.
Pretty much a no-brainer that you should get married. Er, I mean, move-on.
There'll be some people who are like, "Duh! How could should she NOT know that it won't work out?"
Look, we ALL have trouble seeing the obvious when we're wrapped up in it. That's why it's great to have a straight-shooting friend to slap you back into reality. And for you, I am that friend. So... <SLAP!>
The important thing here are the 2 lessons learned:
1 - Important Lesson for Girls -- Never reveal your number.
Never, NEVER, N-E-V-E-R tell a guy how many dudes you've mounted. NEVER!
99% of guys can't handle it.
Guys are very visual. Let's say you've been with 12 dudes... and you tell this to the guy. From now on he'll see 12 d!cks dancing around your head.
Do you want 12 d!cks dancing around your head?
THINGS YOU WANT DANCING AROUND YOUR HEAD
- Sugar Plum Fairies
- smiley faces
- chocolate cupcakes
THINGS YOU *DON'T* WANT DANCING AROUND YOUR HEAD
- d!cks
The ONLY exception to this rule is if you're a virgin. Because that's the only number most guys can handle. Zero.
Why can't guys handle your number? Two reasons:
a - Most guys are too insecure about their jammies and they think you may have been "spoiled" by some dude with a big ol' romance-rod and now they won't be good enough for you in bed.
b - In our society, guys still hold the fantasy that their girl is pure. She's an angel. She can save us from ourselves.
One thing I've learned is that women are NOT angels. Women are beautiful and complicated and delicate but they are not angels. They are robots sent from the future to destroy us!
Girls, do NOT reveal your number! Even if he asks!
So what do you say?
DUDE: So... how many wieners have you swallowed in your, uh, penis fly trap?
YOU: A lady never discusses such things.
DUDE: True, true. So... how many?
YOU: I'm not very experienced*, if that's what you're asking.
* Experience is all relative. Not very experienced compared to who? A basketball groupie? A p*rn star?
Just say you're not that experienced, even if you've seen more wieners than a Nathan's Hot Dog Eating Contest.
Even if you've been hit by more balls than a baseball bat.
Even if the word "Welcome" is shaved into your pubic hair.
Even if you've handled so many packages... that you were offered a job as head of the post office!!!
2 - The classic lesson: "If you hesitate, you masturbate."
You both liked each other but you hesitated to act on it until it was too late. Until you were in different cities. If you like someone, act on it. Do it.
Life is too short to worry about rejection. And they're not really rejecting you... They're rejecting your approach AT THIS TIME.
Potato Chips don't feel rejected when I don't eat them. Sometimes I'm just not in the mood for potato chips. But if Potato Chips catches me at the right time, I'm all over it! I dive right in and after I finish I'm licking my fingers.
And some people don't like Potato Chips, they prefer Celery. So don't feel rejected, that's their problem! Stupid Celery-munchers! :)
So if you like someone, go for it. No person can judge you. They aren't better than you. And if you believe that you are awesome (which if you're my fan, then of course your ARE! :) then this other person is missing out by not being with you.
A famous hockey player once said, "You miss 100% of the shots you don't take." In other words, you gotta take a shot at it if you wanna score!
Getting rejected is NOT failure. Failure is NOT trying. Getting turned down is a very important step in getting you closer to success.
So remember, if you hesitate, you masturbate.
If that doesn't work for you, try these:
Girls, if you let the feelings linger.... you'll have to settle for your finger.
Girls, if you wait and wait for later... you'll be at home with your vibrator.
Guys, if you don't act because you're afraid of being dissed... you'll be at home at night squeezing it in your fist.
Guys, think of all the chicks you liked but never even met... and that's why your girlfriend is a naughty 30 second clip on the internet.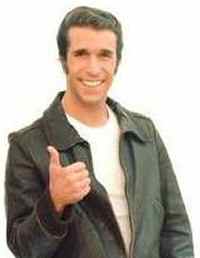 * Watch my dating advice videos or improve your dating with dating coach HogWild.
* Ask YOUR Relationship / Dating Question!
* More HogWild Dating Advice
Subscribe in a reader Share on Facebook
HOGWILD.NET Expert Dating Advice + Dating Advice. expert dating advice every day
Discover all the compatible singles who match you