Hey HogWild,
I just saw one of your videos and I love your sense of humor. The best thing is that you joke around but you do help a lot!
I'm trying to figure out if this guy likes me or just wants one thing from me. I really hope he likes me because I like him but if he doesnt then it's OK.
So I met him not long ago and I don't know why but from the minute I saw him I just felt this huge attraction!
He tells me how I'm hot and how I look cute. He tells me that my hands are soft. LOL.
This one time he grabbed my waist, and this other time he pushed his butt into me.
Every time we're close to each other he gives me this look and stares into my eyes.
I've heard that he flirts with all the girls at work and I do see him talking to girls but I don't see him flirting with anyone else.
This one guy told me he does flirt a lot with everyone at work. I'm sooo confused! Help please!
I've never been this confused and never been so attracted to a guy!!! Thanks!!!
- M in Dallas
Hog's Relationship Advice:
Does he just want "one thing"? Now, what ONE thing could you be talking about?
Oh yeah. The one thing ALL guys want from a girl...
DINNER!
A hot, steamy dish that melts in my mouth. Mmm...
This is a great lesson for guys. See, girls are attracted to CONFIDENCE.
A guy who is comfortable enough to flirt with all the girls is definitely confident and playful.
(Or g@y.)
So you need to find out: Is he just having fun flirting or does he really like you?
(For your pen!s.)
A guy will ask you out when he is attracted to you AND he thinks you will say yes.
If you let him know that you like him WITHOUT straight-up telling him -- then you will find out your answer.
HOW TO LET A GUY KNOW YOU LIKE HIM
- compliment him
- touch his arm when you speak
- be interested in his conversation
- jump on his face and ride it like it's bumper cars
If he doesn't ask you out after that then you have 3 choices:
1 - accept that he only likes you as a friend
2 - get him more attracted to you
3 - grow a pen!s
I've covered this topic of getting a guy attracted a billion times but here's the basics:
Guys are VERY visual. So if you really want this guy, you need to be up his MALOH. (MINIMUM ACCEPTABLE LEVEL OF HOTNESS.)
You might already be there or you may need to get in better shape. And make-overs can be an amazing improvement in your looks.
Remember, when it comes to getting a guy attracted, you don't need to be hot. You need to be hot ENOUGH. And that varies depending on the guy's level of superficialness, his options, and his level of drunk.
And the big secret is that guys get more attracted to you once they know YOU are attracted to them.
And the other big secret is that guys get more attracted to you when you make them dinner. Because guys get tired of preparing their own dinner every night. Eating alone. Holding his fork in his hand.
Another great way to make him more attracted to you is by being interested in his life. In his passions. Nothing is more flattering than when someone actually takes the time to listen to you and respects what you are you passionate about.
And if you REALLY want to get him more attracted to you... let him watch you eat a banana-split. Let the vanilla ice cream drip down off your chin as you wrap your lips around the banana. As you do that, give him the sexy eyes... as your start choking to death... Which is all part of your plan!
Because now he's grabbing you from behind! Giving you the Heimlich Maneuver! Hot!
Maybe he'll become intoxicated by the scent of your perfume as you spew mushy banana chunks!
Now is he only after that one thing? You know, dinner? Hey, a man's gotta eat! :)
But in general, you can see if a guy really likes you for more than just your hoo-ha by the THINGS HE DOES.
Forget about the things he says. Does he do nice things for you?
Also, don't give it up right away. Make him work for it.
And when eating "dinner", please be safe. Wear oven mitts!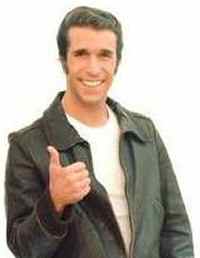 * Watch my dating advice videos or improve your dating with dating coach HogWild.
* Ask YOUR Relationship / Dating Question!
* More HogWild Dating Advice
Subscribe in a reader Share on Facebook
HOGWILD.NET Expert Dating Advice + Dating Advice. expert dating advice every day
Discover all the compatible singles who match you