Watch my Dating Advice Video or read my dating advice below:
Hey HogWild,
There is this guy that I've been chatting to for 2 years now... We flirt, I really like him and I think he likes me, too. But he has a girlfriend and he's been with her for over one year now.
Every time we talk he always asks me who do I fancy?
He annoys me with the same question all the time... I think he knows that it's him that I like but he just wants to hear it from me.
So I told him I like him. He asked me why I didn't I tell him I liked him before. I told him because he has a girlfriend and he didn't need to know.
He didn't say he likes me. He didn't say anything. And now I think he is trying to make me jealous by flaunting his girlfriend in my face and saying that he misses her. He has never done this before.
I really really like this guy... And I thought he liked me, too. What do you think I should do?
PLEASE HELP!

- A in London
Hog's Relationship Advice:
I think you should stop wasting your time.
THINGS YOU SHOULDN'T WASTE
- your time
- your money
- your supply of emergency chocolate.
NOTE: Only eat your emergency chocolate in a REAL chocolate emergency! Don't forget the story of the boy who cried wolf! When he REALLY needed chocolate he had none left and he had to eat -- ugh -- oatmeal raisin cookies! Eeew!
You're doing what GUYS usually do.
They hang around the girl they like for years -- never making a move -- being her friend while secretly hoping for a chance to sha-boink her then whisk her away to a romantic wedding in Alaska attended by clapping seals with an old walrus as the minister. Whoa. Where the heck did THAT come from?
Two years. Two YEARS. Unless a guy is super ridiculously shy he doesn't need or deserve two YEARS to express his feelings for you. And if he IS super ridiculously shy he might need to fix that before getting into a relationship.
You are he are friends.
Does he flirt with you? Maybe. And?
Has he ever asked you out on a date? Has he ever tried to kiss you? Has he ever done something romantic for you like... thrust his tongue between his two fingers in the shape of the letter V?
No. Because he is not attracted to you in that way. That's fine. There approximately 800 million other single guys out there. Find one without a girlfriend. Find one who likes you. Find one with a good F.E.P. (Future Earning Potential.)
When a guy is constantly asking you, "Hey, which dudes do you like?" he is NOT sizing up his competition. It means he does not consider himself a candidate for your vagina.
Very RARELY, a highly skilled dude with a large amount of game will ask a girl this question in order to PRETEND like he's not interested... But 99.72% of the guys you talk to are in this category.
Guys don't have "girl-talk" with girls they like.
HOW TO TELL WHEN A GUY DOESN'T WANT TO DATE YOU
- when you ask, "So what are you doing on Friday night?" He answers, "Nothing." Then you say, "Well I'm not doing anything either..." Then he says, "Cool."
- he admits to you that his jammy is so small it looks like it should have a fingernail on it.
- he farts around you. Hard.
NOTE: That last one does not apply if you're married.
When you tell a guy that you like him, if he likes you back in a romantic way he will do one of the following:
- begin weeping while choking out the words, "I can't believe it. I am so happy right now!"
- smile and say, "I like you, too."
- thrust his tongue between his two fingers in the shape of the letter V.
The guy is NOT trying to make you jealous by "flaunting" his girlfriend and saying he misses her. He is trying -- desperately -- to give you the HINT that he likes his girlfriend of OVER A YEAR and not you.
THINGS YOU SHOULD TAKE
- the hint
- your vitamins
- the romance-rod in your uh, hoo-ha
You are delusional. I'm not trying to be mean. I'm being direct with you. Because I love my fans and you guys ask me your questions because you want real answers. I love you too much to sugar coat it like your girl friends might.
BULLPOOPY THINGS YOUR GIRL FRIENDS TELL YOU
- "Just because your last 5 dates all ended the date before you even finished the appetizer doesn't mean you're doing something wrong! Guys suck!"
- "I loooooove your new hairstyle! It's so cute! What? No, it's not too short! You look great with a buzz cut! I wish I had your facial structure so I too could look like an angry lesb!an fist-fighting drunk soldiers in Russia!"
- "I would NEVER have sex with your boyfriend! (Again.)"
You MUST learn to read the signals that show if a guy likes you or not. Was he really flirting? Or being friendly?
Here's how you tell if a flirty guy really likes you:
Flirt back.
Now does he flirt harder or does he fly away like he's a pigeon and you're psychopathic pigeon stabber?
If you flirt back and he never asks you out, then he is just flirting with you to keep his options open.
If this guy was really flirting with you with no intention of ever dating you, he is a guy who likes to have fun flirting. But to do that for two YEARS? Very odd. So either you misunderstood or he is a HUGE jerk-face jerk-a-zoid!
Either way, you are wasting your precious time.
Here is how you handle it like a mature adult:
Walk up to him on the street when he is with his girlfriend. Slowly touch him on his shoulder and slide your hand down his chest while saying, "Last night was great."
Then look at his girlfriend and thrust your tongue between your two fingers in the shape of the letter V!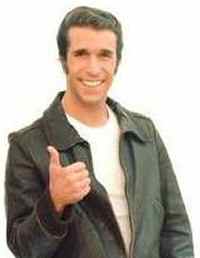 * Watch my dating advice videos or improve your dating with dating coach HogWild.
* Ask YOUR Relationship / Dating Question!
* More HogWild Dating Advice
Subscribe in a reader Share on Facebook
HOGWILD.NET Expert Dating Advice + Dating Advice. expert dating advice every day
Discover all the compatible singles who match you