Watch my Dating Advice Video or read my dating advice below:
Dear Hog,

Your dating advice videos are awesome! Have you considered writing a book? I think a lot of people would buy it!

My question is: Do you agree with the idea that the guy should be the one to pursue a relationship with a girl?
I'm pretty sure my guy friend likes me, and I want him to make the first move. How should I hint that I want to date him without actually asking him out?
Is the fear of rejection higher for guys when they like a friend?

Thanks,

B in Charlottesville
Hog's Relationship Advice:
Yes, the guy should make the first move.
No, the fear of rejection is not higher if you're friends. It's easier for most guys to ask out a girl they already know than some random girl.
Because with a friend, they can gauge if you like them back. And no, 99% of guys are not concerned with "ruining the friendship." That's because 99% of the guys who are your friend WANT to sha-boink you.
The other 1% fall into the following categories:
- think you're really cool but not attracted to you
- trying to sha-boink your friend
- think boobies are yucky
The only time you should make the first move is if you are the rare type of girl who is TRULY comfortable taking the lead in the relationship. If you have to be the one to to initiate the dating process, don't expect to change your guy into a take-charge man who makes decisions and the leads the way.
No, sorry. You've got yourself a mama's boy. Expect that you will dress him in the morning, wipe his nose when it's runny, and the only way you'll get him to squish a gross bug for you is if you can first convince him to jump down off the kitchen table and stop screaming.
As the woman, I believe it is your job to get the man to do the things you want him to do. You can't ask him out. You can't initiate the 1st kiss. But you can and should make him WANT to do those things. Inspire him to do the things you want.
You should hint HARD that you want to go on a date with him. If he doesn't respond then assume he only wants to be friends. If that's the case, good! Now you can get on with your life.
My suggestion is to go A date before you decide to start dating. Make sure you have a compatible sexual or sensual energy before you commit.
Because a romantic relationship is different from a friendship in that you share a mutual attraction expressed by a physical intimacy. Being compatible physically is just as important as being compatible in every other area.
For instance, if you're only attracted to super fat guys with super big hairy bellies who like to wear spandex bicycle shorts but he's built like a chiseled statue... then sorry muscle man, it's just not gonna work out! Start eating bacon-flavored ice cream and tape a toupee to your stomach.
NOTE TO SELF: Bacon-flavored ice cream... gross or incredibly delicious? Hmm... to the laboratory!
Since you're already friends with the guy you like, this makes it easier in that you already have an open line of communication. But it's harder because he will be unsure if you are being friendly or flirty.
You have to make it very clear that you are interested in him as more than just a friend.
Because most guys do not get little hints. For instance:
YOU: I think you have a beautiful smile.
HIM: Uh, thanks. Why? Is something stuck in my teeth? Dammit! I knew I shouldn't have put little pieces of bacon in my ice cream!
YOU: Um, I think you're really smart. And I like that.
HIM: Oh, so you want to copy my math homework? Sure, no problem.
YOU: I LIKE YOU! I WANT JUMP ON TOP OF YOU AND SUCK THE TONGUE OUT OF YOUR GORGEOUS FACE!
HIM: Oh I understand now! Gosh to heck, I am sooo slow! HA HA! You want to copy my Social Studies homework, too! All you had to was ask! Duh! Aaahhh! Why are you choking my wind-pipe?
YOU: BECAUSE I REALLY REALLY REALLY LIKE YOU!
You do not want to go over the line being too blatant because that will make you seem desperate. And desperation is ugly.
Since you know that he is already interested in squeezing your um, squeeze 'ums, you can skip the part where you build up his attraction to you. Now it's time to let him know that you are attracted to him, too.
HOW TO LET A GUY FRIEND KNOW YOU ARE ATTRACTED TO HIM WHEN YOU ALREADY KNOW HE'S ATTRACTED TO YOU, TOO
Bad way: I know that you like me. And I've decided that I like you, too. So let's strip off our clothes and make-out right here, right now! Excuse us! Please make way and clear the back seat of this bus!
Badder way: You think I'm hot. I think you're hot. Let's be hot together. We'll be like meat and potatoes in a big bowl of soup. Your meat plus my potatoes in a scalding hot bath of garlicky water. Garlicky!
Good way: Let me ask you something. Would you ever consider dating a girl who is your friend?
If he says, "No way! Friends are just friends and I would never want to ruin a friendship with a girl no matter how nice her boobies happen to be!", then you know he's not really interested in you.
If he says, "Well, it depends...", then you have your opening.
You can say, "Well I think I might have a crush on you. I'm not sure if I should ignore it or... I dunno..." Then look up him with your softest feminine eyes, bat your eyelashes and wait for him to kiss you.
HINT: It will be easier for him to kiss you if you are somewhere kinda-private. So like, if you're both attorneys, don't do this in the court room.
Although it would be AWESOME if the entire jury all sighed, "Aaaaaaaww!"
Then the judge slams her gavel and she declares, "Order in the court! Order in the court! I order you two love-birds to come back into my chambers! So I can get a better look! I like to watch!" Then she hikes up her long black robe to reveal sexy stocking and high heel pumps as she dances on top of the desk.
Ahem.
I'm only suggesting you be this bold because you are certain he likes you.
Another option is to go on a regular friend-date and then flirt hard on the date to entice him to kiss you.
My feeling is that once you kiss, there will be a huge release of tension and then you can talk about what the kiss means. And you can also see how it feels to kiss him. You want to see if he's passionate.
You want to hang out with him alone... Make up some reason like, "Hey friend o' mine, I need to go shopping for new jeans and I was hoping you could come with me because I want a guy's opinion."
Now you have a good excuse for him to come out with you plus the opportunity to show off your booty. If you're not comfortable with your booty, then choose a different friend-type activity where you two can do alone without it seeming too obvious.
EXCUSES TO HANG OUT ONE-ON-ONE
- study together
- go to the zoo together because your girl friend canceled and you really want to go
- you need to practice for your upcoming Thumb Wrestling Tournament
Then once you are out together, get a "spontaneous" idea to do something where you will have some privacy. Like if you're in the mall and there's a movie theater you can say, "Oh! That movie is playing that I've been wanting to see! We should watch it!"
Then in the movie theater with the lights down low, you can touch him on the arm. Snuggle up to him. Now making it really clear you are into him. If he likes you, he should start to get the idea.
You can even get close and put your nose to his neck and smell him.
YOU: You smell really good. What is the name of the cologne you're wearing?
HIM: Oh, I'm not wearing cologne. I was eating bacon-flavored ice cream before. And I just burped.
YOU: You are so gross... Take me!
Get him to kiss you in that movie theater! If he is shy or inexperienced he will be worrying about kissing you. He might start sweating, or shaking, or urinating.
If he doesn't like you, he will push you off of him.
But if he's cool with you snuggling on him and touching him then don't take his lack of a move as him being disinterested. It's probably because he doesn't have any moves. I don't know how skilled your guy friend is with women so this can really vary.
You can give him an analogy...
YOU: You know how YOU feel about bacon-flavored ice cream? That's how I feel about you.
HIM: So you think I'm odd combination of delicious foods that both intrigue you and gross you out?
If you want to be really bold, you can ask him quietly in his ear, "Have you ever thought about kissing me?"
Again please be certain he likes you, otherwise you are going to embarrass yourself. But assuming he does find you attractive he should answer, "Well, yeah."
Then you can boost his confidence by saying, "Well, I've thought about it, too. I wonder if we'll ever find out..."
If he doesn't attempt to kiss you by now you need to take the bucket of popcorn, dump it over his head, them slam it down over his face and start slapping the bucket yelling, "You are an idiot! I like you, dumb-ass! This is why you will never get a girlfriend because you are a stupid stupid boy! Watch HogWild's videos to learn how to make a move you stupid weenie!"
Then as everyone in the movie theater yells at you to shut up, scream back at them, "It's not my fault! This guy here is like a hockey game -- he's fun to look at but he's got no balls! If he was a chocolate dessert he'd be a plain brownie -- because he's got no nuts! He's like Santa Claus the day after Christmas -- he's got an empty sack!"
"And his burps smell like spoiled milk and pig parts!"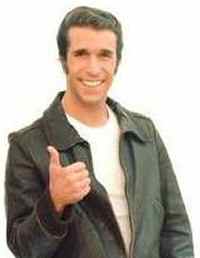 * Watch my dating advice videos or improve your dating with dating coach HogWild.
* Ask YOUR Relationship / Dating Question!
* More HogWild Dating Advice
Subscribe in a reader Share on Facebook
HOGWILD.NET Expert Dating Advice + Dating Advice. expert dating advice every day
Discover all the compatible singles who match you