Hi Hog,
How do I tell my girlfriend that I'd like her to lose weight?
- Trevor in Ohio
Hog's Relationship Advice:
Ooh! Touchy subject!

To be fair, is she the same size as when you met?

If you bought a big ass S.U.V. you can't expect to rip the roof off and make it into a sports car convertible.

But if you drove off the lot in a mini-Cooper and now she's transformed into a Ford F250 that's towing a boat in the rear... then this is not fair to you. It's like false advertising!

Girls like that should come with a product warning.

WARNING: This product may inflate 300% in size. Keep away from children
because she may eat them. Keep away from an open flame because she may
make s'mores.

Before making demands, make sure you've got your own sh!t together.

So your girl is getting sloppy. Are YOU getting sloppy, too?

- Do you still show her appreciation for all she does?
- Do you still make certain your b@lls are powder fresh before dropping
them on her chin?
- Do you still take her out for a romantic Italian dinner or are you bootleg and order delivery and stick a candle in the center of the pizza, you cheap piece of crap?
- Are you so hairy that it looks like you're wearing a vest?
- Is it difficult for you to type emails because your beer gutski is hanging over the keyboard?

So if you DO have your sh!t together...

This is how you tell your girl you'd like her to lose weight:

You don't.

Because if you do, she'll cry and lose confidence.
Then she'll be all self-conscious. Then she won't have sex anymore because being naked
leads to her thinking she's fat and so she can't enjoy it.

So now you've got a girlfriend who is fat AND won't put out!
(And that sucks, because everyone knows the best part about fat chicks is that they put out!)

You can take 1 of 2 approaches:

1 - The sneaky way
2 - The gangsta way

The sneaky way:

Start looking at some old photos together.

YOU: Baby, wow! Look how great you look in this picture! Oh, so sexy!
HER: What?! You don't think I look good anymore?!
YOU: Stop eating doughnuts, bitch!
(Just kidding, don't say that.)
YOU: I love how you look. You look EXTRA-hot in the pictures because you were going to the gym and stuff. It was nice. I know you don't have as much time now.

Now you've put the thought in her head. She will want that feeling of being sexy again.

Now as soon as she loses even 1 pound, you'd better appreciate that sh!t! Encourage her!

SAY THIS: You look great, sweetheart! Your hard work is really starting to pay off!
DON'T SAY THIS: Just 20 more pounds to go, fat ass!

THE GANGSTA OPTION:

YOU: Girl, lose 10 pounds by Friday or I'm out!!

Okay, that's too gangsta.

1 - Tell her you're throwing a party and she should wear something festive and colorful.

Then invite the neighborhood children. Blindfold them and give them sticks. Tell them your girlfriend is full of candy.
or

2 - Call your girl and tell her your car is stuck on the side of the road. Tell her to bring you a spare tire. Preferably, the one around her waist.
or

3 - Call her by new little pet names like:

"Sweet tooth"
"Plumpkin" and
"Cutie pig."
or

4 - Leave a trail of Skittles that leads her to an exercise bike.

or

5 - When she enters the room, throw up your arms, turn your hands into claws, and growl, "MONSTER!!!!"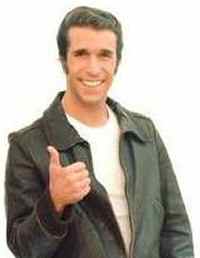 I talk about girlfriend problems WAAAAY more in-depth in the premium members section. AND that's also where I answer your SPECIFIC individual relationship questions.
At the time of this writing, I'm offering a FREE TRIAL. (Check here to see if this offer is still good.) This is your chance to check it out for free and look around. If you like it, keep it! if not, then cancel at no charge. You've got nothing to lose! And lots of fun and knowledge to gain! Join now with the free trial!

* Ask YOUR Relationship / Dating Question!
* More HogWild Dating Advice
HOGWILD.NET Expert Dating Advice + Dating Advice. expert dating advice every day
You! Yes, you! Check out my page of Hot Deals and Discounts! It's yummy!