Hi Hog,
Why am I always attracted to wrong type of guy? Like Mr. Pot Head, Mr. Drink-and-drive, Mr. Control-Freak, and Mr. Can't-keep-a-job?

- Alison in Seattle

Hog's Relationship Advice:
It's because you are a woman. You confuse the excitement of "drama" with attraction.

And guys are guilty, too. We confuse sex with love. The hotter a girl is, the more sh!t we let her get away with.
Super-hot-girl can be always be late, be a terrible cook, and a flirt.
Walnocerous-girl can't get away with that behavior. Walnocerous-girl gets a stern talking-to if she interrupts us by sneezing. "Woman! What did I tell you about sneezing when I'm talking!"

Girls, I'm just telling you the way it is. I'm not saying it's right. It just is. So says Philosopher Hogfuscious.

Why do not-hot chicks bob on your knob like crazy and hot chicks only give it "lip-service"? We all compensate for areas in which we lack.
That's why Carrot Top is jacked while Chris Rock is skinny. If Chris Rock wasn't as hilarious as he is, he'd be in the gym every day, too.

Women want the opposite of everything they CLAIM to want. When they get treated right, do they appreciate it? Yes. In the beginning. Then they get "bored." Where is the excitement?
I'll tell you where... it's on that motorcycle. The guy with tattoos who will take you on an adventure.
You never know where you stand with him. Then he will take off. But at least he won't leave you TOTALLY alone. You know, since you're pregnant and all.
And you always have that new blister on your lip to remember him by.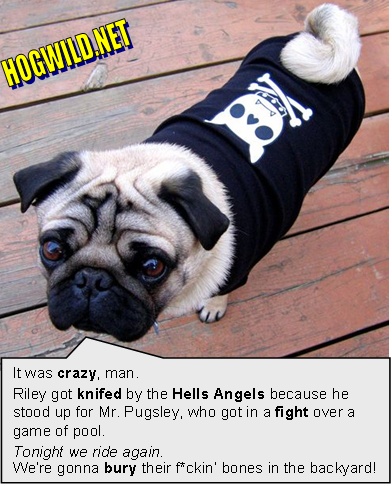 How to choose a boyfriend:
1 - Does he make you laugh?
2 - Do you feel comfortable around him?
3 - Does he treat you well?
4 - Is the sex good?
The end.

How to choose a girlfriend:
1 - Is she hot?
The end.

Just kidding. To pick a girl, do the Hog Math:Take her hotness rating MINUS her annoying rating MINUS her psycho rating.

Example:

Her Hotness Rating = 7
But she's always complaining about her co-workers, she only wants to watch Romantic Comedies, she won't let you watch sports, and she accuses you of cheating on her with the 400 pound woman who sweeps the floor at Wal-Mart.
Real Rating = -2

Conclusion: Not girlfriend material.

So the hotter she is, the more annoying and psycho she can be... but there is a limit. And of course if she's not that hot there is a very low tolerance for her nagging and flipping out.

To answer your original question... WHY do you choose the wrong type of guy?

1 - Because you enjoy the adrenaline rush of guys who are unpredictable and destructive. Those are the guys you wanna watch blow up sh!t in the movies. But they don't make good boyfriends.

2 - You have a huge ego. You think they can "fix" people. And you will be his savior. For Christ's sake, you're not Jesus! Fix yourself, Ms. Perfect, before you go around trying to fix other human beings.

3 - You have some issue in your childhood that you are subconsciously trying to go back to make better. But you can't go back. These guys are not your dad. Leave them alone.

NOTE: I am not a psychiatrist. But I have seen every episode of Frasier. I'm actually working on becoming an attorney. I have just 1 more year to go of watching Law & Order.

So that's WHY, so now what?

STOP CHOOSING LOSERS!!!! Choose more carefully. Choose MEN, not DRAMA.

Drama is great because you never know what will happen next. You're calling your girlfriends 27 times a day to ask what to do. You are the center of attention. It's so exciting!

Stop it. Get your drama-fix from television and celebrity gossip. Allow your relationship to be boring if boring = a steady emotional bond built on trust between 2 people who enjoy each other's company, have good sex, and laugh a lot (not while having sex)... then boring is awesome.

HOGWILD.NET Expert Dating Advice + Dating Advice. expert dating advice every day
You! Yes, you! Check out my page of Hot Deals and Discounts! It's yummy!