Dating Advice: How to get a girl: You Need Balls and a Brain
by me, HogWild
If you don't know how to get a girl, it's like this... You get girls by using TWO things... your balls and your brain.
Sounds easy. But most guys don't use both at the same time. And that is why they have not yet -- and may never -- realize their full potential.
If you are all brain and no balls then you are a man who knows WHAT to do but you lack the courage to step out and DO it. You are held back by fear or some nonsensical idea of what you are "supposed" to be.
You have balls. Now you must use them. Life is like a big mouth that you must teabag! Drop your balls on it! hahaha aw! hahahh!
If you are all balls and no brain, that means you are daring and aggressive. But very, very stupid.
You're like a testosterone-infused moose wearing a leather collar and British police helmet.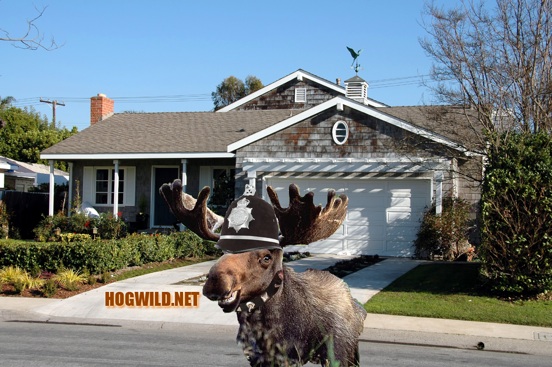 Now, we all have our moments of being all balls and no brain or no balls and all brain. And in those moments, we usually don't succeed.
Because your brain is the planner. It's the learner. It is the General that devises the strategy. This is crucial. A bad strategy will send all the brave soldiers to their deaths.
You balls are the doers. They are the soldiers. Even if your General creates the perfect plan, nothing will happen if the soldiers are too cowardly to take action!
THE GENERAL: We will get revenge and we will protect our homeland! It's time to attack! First, we need one courageous soldier to sneak into their territory.
SOLDIER: Uh, I would love to do it but um, I've got a dentist appointment. Six month cleaning. Maybe next mission.
SOLIDER 2: Well I can't do it! I promised Henrietta I'd take her to the Opera. If I don't, she'll kill me! I'm not scared of the enemy, I'm scared of my girlfriend!
SOLDIER 3: OK, I will DEFINITELY do it! I will go in there. Just give me 5 minutes and a beer. I'll figure it out. OK. Yeah. Totally gonna do this. Oh, wait. I don't see an opening any more. Crap! And I was so ready to make my move!
Yes, see, these are the excuses your soldiers tell your general.
You must have confidence in your general and faith in your soldiers.
To achieve great things and get a girl to like you, you must...
This is taken from my Premium Members section where I post my new videos.
Here are some more tips, but only Premium Members get the entire video + access to over 400 full dating and relationship videos in the Video Vault!
- To achieve greatness in this world, it takes big balls and a mighty brain. And it is NO COINCIDENCE that women get lustily lubricated in their lady hole for men who exhibit balls and a brain! Women love a courageous and intelligent man!
- Think of how you look when you are hesitating for an hour to talk to a girl and then when you DO talk to her, you don't really know what to say. You look like you have tiny little baby chihuahua balls and about the same intelligence as a mustard stain!
But when you've improved your conversational skills so you speak eloquently on a variety of interesting topics and -- most importantly -- you show her...
Only Premium Members have access to this Video!
1 - Learn more about the Premium Membership
or
2 - You realize Life is Short, get the relationship you deserve and Join Now!
Need one-on-one coaching? Contact
Dating Coach
HogWild for help!
Latest HogWild Dating Advice


Click here to Get Greater Dating Confidence + Increase your Relationship Skills
"The most important part of any relationship... is choosing the right person... in the first place." - HogWild
With your Premium Membership, I'll show you WHY that is true... and HOW to choose the right person for you.
HogWild's dating advice and comedy has been viewed by over 2 million people on YouTube. They have written thousands of positive comments thanking him for his coaching.
He has won awards for his outstanding teaching abilities and stand-up comedy and has been featured on PBS, Mad Magazine, Clear Channel Radio and more!
He has premium members learning from his dating advice from all over the globe including the United States, United Kingdom, Germany, Denmark, Ireland, Egypt, Mexico, Australia, and Canada. Yes, even Canada! :)
Become a paid member and you get INSTANT access to over 400 dating advice videos that will help you answer such questions as...
"How to be mega-confident"
"How can I become more desirable?"
"How to conquer the Fear of Rejection"
"How to Approach"
"How to get hotter sex"
"How to read the secrets of body language to know if someone REALLY likes you"
"How to keep a person loyal to you"
"How to tell a story so it increases attraction to you"
"4 Great Places to Meet your next Girlfriend/Boyfriend"
"How to Get over your Ex. Completely."
"How Flirt Effectively"
"How to Destroy Negative Thoughts"
"How to Immediately Screen out the Psychos"
"#1 Mistake that makes Conversations with new People Boring"
"7 Ways you are being Unattractive"
"8 Tips for the first time you have sex with a person of the sexy sex"
"How to deal with being hurt"
"How to bring out your inner-awesome"
And so much more!
You will finally feel control over your dating life and you will get the relationship you really want.
HogWild's dating advice makes it easy!
Become a member and get INSTANT access to the videos that will change your love life forever!
***