Welcome to THE NEXT LEVEL OF AWESOME: How to Be Fearless, Part 1
Imagine yourself as... fearless. You would totally talk to that hottie you've been eyeing!
You'd take big chances in your career!
You'd travel to cool far-away places by yourself and make fun new friends everywhere you go!
You'd dance silly in a thunderstorm... while holding up a giant metal pole while singing,
"I ain't scared of no lightning bolt
"Am I undaunted, or am I dolt?"
Yes, there is a difference between being Fearless and Stupid.
See, fear in itself is not good or bad. Fear exists because sometimes it helps us survive. However, if a fear you have is NOT helping you survive... then it is helping you die.
Because everytime you ALLOW your fear to slap you around, you die a little bit more.
FEAR: I am FEAR! Don't you DARE do that!
Your freedom gets limited.
FEAR: Sit down!
Your actions get more timid.
FEAR: Keep your mouth shut!
You box yourself in. You get a little more defensive. You close yourself. And the beauty of the world... is taken away from you. You get isolated and depressed.
FEAR: Mwu-HAHAHAHA! Why do you feel lonely? You always have ME! You and your Fear, together forever with no one else! Mwu-HAHAHAHA!
Love is a feeling of togetherness and happiness. Fear is a feeling of isolation and desperation.
Yes, Love conquers Fear. But will you let Fear conquer YOU first?
Choose which fears you want to keep. Choose which fears to dump.
I'm keeping MY fear of jumping out of an airplane... and into a river...... full of rhinoceroses... while I'm dressed as a female rhinoceros wearing a pink tutu. Because that's a fear that helps me stay alive.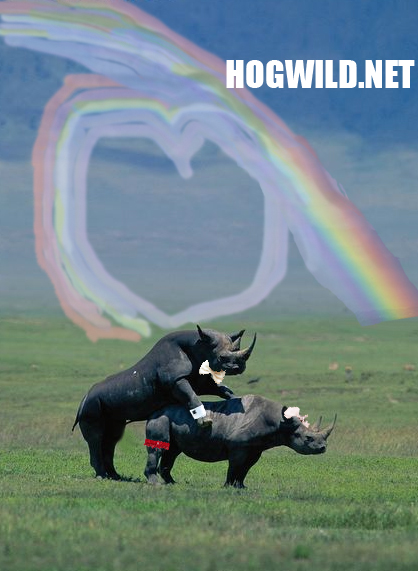 I choose to dump the fears that are holding me back.
When I am scared of something.... I force myself to do it. I fight through it.
First I think, what's the worst thing that could happen?
I'm not telling you which fears are harmful to you. YOU decide that.
You might want to dump your fear of approaching new people because it's limiting your choices for relationships.
You might want to dump your fear of death because it's making you scared to live your life to its fullest.
Your fear of getting old because its making you worry and not appreciate each day.
Your fear to let go and be vulnerable because it's preventing you from sharing your heart in a relationship.
Your fear to lead because you don't want to be disliked if you make a tough decision.
Your fear of losing a loved one because it's making you jealous and insecure.
Your fear of toasters because it's making you miss out on... toast.
Fear is an emotion. Emotions grow from thoughts. To change your emotions, change your thoughts. STOP THINKING about what could go wrong. STOP THINKING and obessessing about what you fear. Think of the POSITIVE results! Go in with enthusiasm! Haven't you had enough of being fearful? Isn't it YOUR time to shine? Do it!
Stop all the fearful THINKING and START the positive DOING!
Here's how...
This is taken from my Premium Members section where I post my new videos.
Here are some more tips, but only Premium Members get the entire video + access to over 125 full dating and relationship videos in the Video Vault!
- Living "safely" is actually very dangerous. Because it prevents you from ever being your fully awesome self. It tricks you into settling for less. It will keep you in a craptacular relationship because you fear standing up to your partner because you fear they will leave you. It will keep you from talking to new people and meeting someone great for you.
- True Love is the ability to...
Only Premium Members have access to this Video!
1 - Learn more about the Premium Membership
or
2 - You realize Life is Short, get the relationship you deserve and Join Now!
Comment below! How did you conquer a fear that you had?