Dating Advice: How can I get my boyfriend to respect me more?
by me, HogWild
A in Houston writes...
Hi Hog,
I love your dating advice videos! My boyfriend and I have been together for 6 years and we have a daughter but I want to know how can I get him to respect me more.
All he seems interested in is one thing.
But I'm sick of him asking. He isn't the romantic type but I feel that he hates me or maybe I'm boring. I even bought new clothes and I do my hair and makeup everyday and he doesn't notice.
Please help if you can!
- A in Texas
He's only interested in one thing? You mean, pleasing you by doing all the household chores?
Oh, right the OTHER one thing... cake.
Well thank goodness he wants YOUR cake and he's not paying for it at a WHORE! Um, store. heh heh
COMMERCIAL ANNOUNCER: This video is brought to you by, "Whore Cakes! Scrumptious desserts baked fresh by cheap nasty prostitutes!
Now on sale, our famous "Strumpet Crumpet!"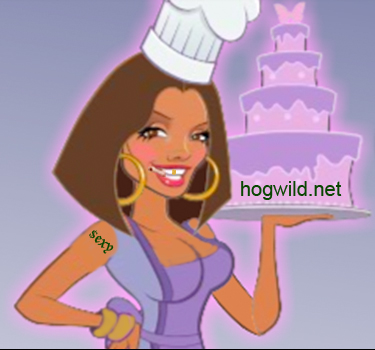 It sounds like this guy doesn't WANT to be your boyfriend.
Look, you need to tell him that you don't feel appreciated. Tell him exactly what actions he can take that will make you feel appreciated.
Like noticing your new clothes, complimenting your appearance, helping with childcare, cuddling you, and stroking your hair sans the ulterior motive of needing a place to wipe his boogers.
He needs to understand just how important these things are to you. Because if he doesn't do them, you will have to end the relationship.
If you can't end the relationship, then you'll just have to learn to accept his poopy behavior.
Maybe he doesn't value you after all. Maybe you are better off with someone who will treat you better.
WHY is he treating you this way? Are you hella-annoying? Does he think he can do better and so he is resentful of being with you? Or is he simply a jerk-face jerk-a-zoid!
You need to communicate these thoughts to him. If you WANT to stay with him -- tell him! But make sure he knows that he must stop taking you for granted. Maybe he needs some time to miss you. If you can, leave for a few weeks. Take your child and live with a family member or with a friend. Because it sounds like he needs a wake-up call.
There IS a chance he will take this as an opportunity to break-up with you. If so, good riddance! Because it means he was probably going to mistreat you forever.
Respect is earned when you...
This is taken from my Premium Members section where I post my new videos.
Here are some more tips, but only Premium Members get the entire video + access to over 400 full dating and relationship videos in the Video Vault!
- Make lists for each other. Ask him to make you two lists. One list is all the things you do or CAN do that would make him feel loved. The other list is the things you sometimes do that make him feel unloved.
And you make those same 2 lists for him.
- But all of that is for nothing if you don't do this next step...
Only Premium Members have access to this Video!
1 - Learn more about the Premium Membership
or
2 - You realize Life is Short, get the relationship you deserve and Join Now!
Need one-on-one coaching? Contact
Dating Coach
HogWild for help!
Latest HogWild Dating Advice


Click here to Get Greater Dating Confidence + Increase your Relationship Skills
"The most important part of any relationship... is choosing the right person... in the first place." - HogWild
With your Premium Membership, I'll show you WHY that is true... and HOW to choose the right person for you.
HogWild's dating advice and comedy has been viewed by over 2 million people on YouTube. They have written thousands of positive comments thanking him for his coaching.
He has won awards for his outstanding teaching abilities and stand-up comedy and has been featured on PBS, Mad Magazine, Clear Channel Radio and more!
He has premium members learning from his dating advice from all over the globe including the United States, United Kingdom, Germany, Denmark, Ireland, Egypt, Mexico, Australia, and Canada. Yes, even Canada! :)
Become a paid member and you get INSTANT access to over 400 dating advice videos that will help you answer such questions as...
"How to be mega-confident"
"How can I become more desirable?"
"How to conquer the Fear of Rejection"
"How to Approach"
"How to get hotter sex"
"How to read the secrets of body language to know if someone REALLY likes you"
"How to keep a person loyal to you"
"How to tell a story so it increases attraction to you"
"4 Great Places to Meet your next Girlfriend/Boyfriend"
"How to Get over your Ex. Completely."
"How Flirt Effectively"
"How to Destroy Negative Thoughts"
"How to Immediately Screen out the Psychos"
"#1 Mistake that makes Conversations with new People Boring"
"7 Ways you are being Unattractive"
"8 Tips for the first time you have sex with a person of the sexy sex"
"How to deal with being hurt"
"How to bring out your inner-awesome"
And so much more!
You will finally feel control over your dating life and you will get the relationship you really want.
HogWild's dating advice makes it easy!
Become a member and get INSTANT access to the videos that will change your love life forever!
***