How to get a girl: Be cool. How to get a man: Be pretty.
by me, HogWild
Every so often, it's good to step back from all the detailed techniques and strategies for how to get a girl or how to get a man and look at the big picture in its most simple form.
Now, you NEED the methods and the smart strategies and techniques to get and KEEP the best partner for you... but keep the big picture in mind. That will make you relax and understand what's going on.
When you're trying to attract a girl or a guy there are many factors but to start... it's just one thing for men and one thing for women.
Men, be cool. Women, be pretty.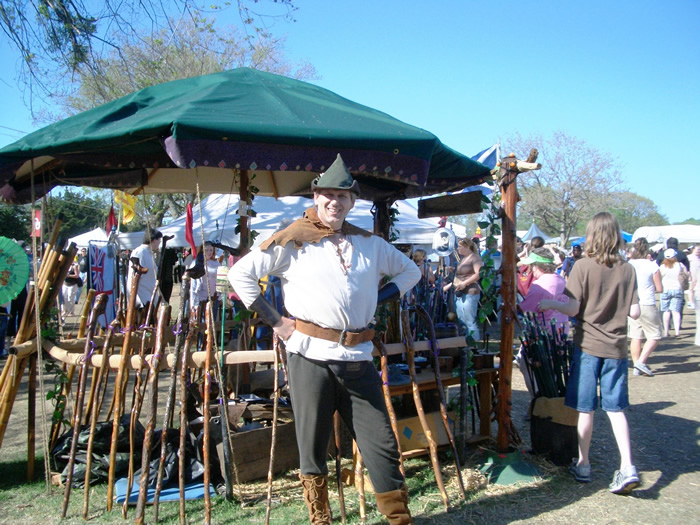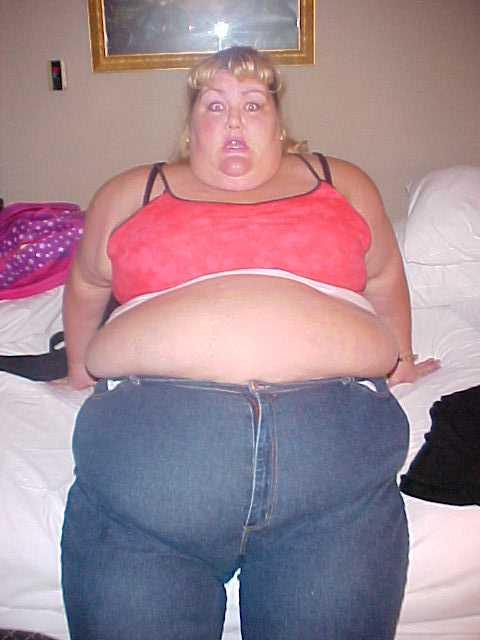 Of course it takes more than that. You must have substance, intelligence, character... but for that initial spark... that first musical note that attracts people to you... for guys it's coolness and for girls it's prettiness.
CHEESY GUY: Lucky for me, I'm pretty AND cool. And pretty cool. I was on the cover of a modeling magazine, called Hottest Magazine Covers. My face was on the front cover. My booty was on the back cover. And in between..... were some people who wish they were me.
When you listen to a new music artist for the first time ever, you're a bit skeptical. You probably only give this unknown song 30 seconds before deciding if you'll keep listening -- especially if no one recommended it to you and you found it randomly.
Very few people listen to 10 songs from an unknown musician to decide if they like it. The point is, if that first musical note is blurted out of tune, you might not even listen to five seconds of the song! You'll never know if it's a good song because you figure this will be a waste of your time. If they can't even get the FIRST note right? C'mon! I've got other stuff to do!
Like playing whack-a-mole on my phone! And organizing my old birthday cards by year, no, alphabetically by the card giver, no... into categories of funny, sappy, and boring!
So guys, your first note is your coolness. Girls, it's your prettiness.
Now, who you are defines what is cool or pretty. For instance, in video 358 I talk about how to be an awesome geek. So yes, you can be cool that way! Be the coolest version of you! And girls, you don't need to be a fashion model to be pretty but you DO need to be the prettiest version of YOURSELF... if you want your first note to sound beautiful.
OK, so what does it mean for a guy to be cool or for a girl to be pretty?
Guys, your coolness is mainly the combination of these 4 things...
This is taken from my Premium Members section where I post my new videos.
Here are some more tips, but only Premium Members get the entire video + access to over 500 full dating and relationship videos in the Video Vault!
- GIrls, you want your face to have clear skin, your teeth to be clean and straight, and use make-up PROPERLY to bring out your best features such as your eyes or lips.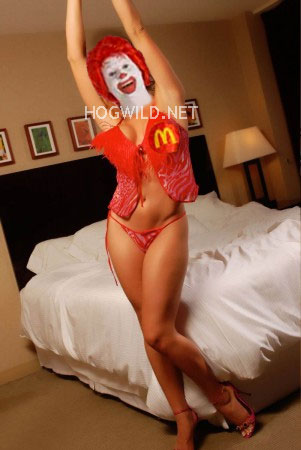 HINT: You don't want your body shape to resemble an egg. Basically you don't want to resemble ANY breakfast food, especially pancakes, sausages, or a muffin.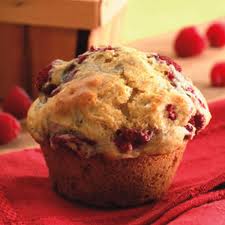 - Ideally, you want to be cool AND good looking. For guys, work on being cool first, then good looking. For girls, the other way around. Add elements to your coolness or prettiness as you can. Here are 7 ways to do that...
Only Premium Members have access to this Video!
1 - Learn more about the Premium Membership
or
2 - You realize you've been making the same mistakes or not knowing what to say or do all these years! You can get a one-month subscription for the price of a night at a bar. To you, the cost is worth it since it will actually help you get what you want. Join Now!
Need one-on-one coaching? Contact
Dating Coach
HogWild for help!
Latest HogWild Dating Advice


Click here to Get Greater Dating Confidence + Increase your Relationship Skills

Become a paid member and you get INSTANT access to over 500 dating advice videos that will help you answer such questions as...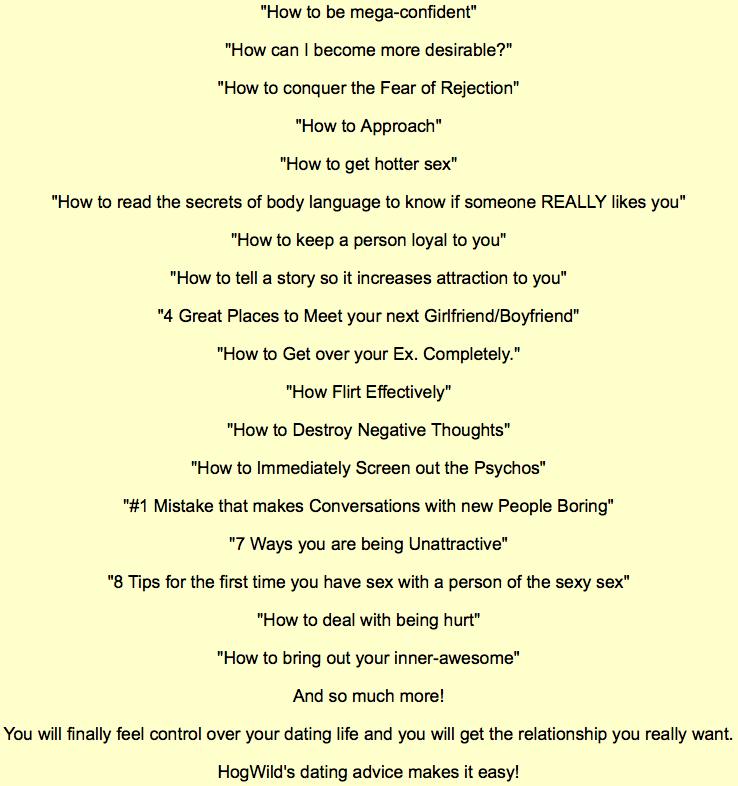 Become a member and get INSTANT access to the videos that will change your love life forever!
***






This article is for people who need help with:
how to get a relationship
how to get a boyfriend
how to get a girlfriend
how to get a wife
how to get a husband
How do I get a girl attracted to me?
how to attract women
how to get a woman to like you
how to get a girl to like you
how to get a girl
how do you get a girl to like you
how to get the girl you want
how to get girls
how to make a girl like you
how to make a woman want you
how to make her want you
make women want you
how to make a woman like you
how to make a girl want you
make girl want you
how to make women like you
how to get a man
how to attract a man
how to get a guy
how to attract a guy
how to get a guy to like you
how to get a man to like you
how to attract men