JUSTIN: It's just past midseason in the MLB so it's time to make a few predictions. So here are my 8 playoff predictions. Sadly none of them are from Texas.
Atlanta Braves- They've been here before and they've lost more heart-breakers in the playoffs than the Bad News Bears.

HOG: I love the original Bad News Bears movies! It reminds me of my athletic glory days as a reserve back-up All-Star outfielder in Little League.


JUSTIN: Led by Chipper Jones, Andruw Jones and one of the best coaching staffs in baseball, the Braves are a lock for this year's wild card. But much like a Chihuahua visiting Michael Vick's house, they don't stand a chance.

HOG: Ouch! I don't know why everyone is giving Michael Vick a hard time about his illegal dog fighting operation. Michael Vick is a total angel… at least compared to other NFL players who shoot people, stab people, and murder their ex-wives.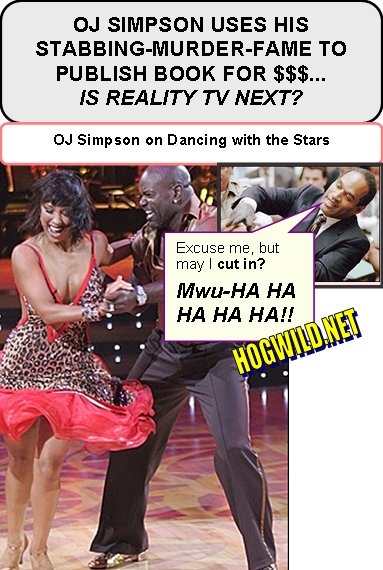 JUSTIN: Look for the Braves' hitting to freeze up come October and for countless fans in Atlanta to be toasting each other, "Hey at least we're back in the playoffs."

HOG: I think the Atlanta Braves should be banned from the playoffs. Because they never do anything once they're in. (Okay they won the World Series ONCE but that was against the Cleveland Indians, so that barely counts.) There are many teams who, if invited to the playoffs would actually win. The Braves are like the really hot chick who keeps getting dates even though she never gives up the booty. Yes, the Braves… are a c0ck-tease.

JUSTIN: Los Angeles Dodgers- The team that has Alyssa Milano writing a blog, is back in the mix of things in the NL West.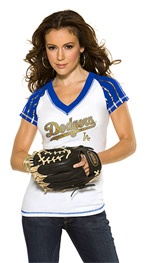 HOG: Doesn't Alyssa Milano have stuff to do? If she's bored, I would be more than happy to "entertain" her. And by "entertain" I mean, give her a "strip show." And by "strip show" I mean make her "puke in her lap."

JUSTIN: This Dodger team is a savvy group of veterans with a solid pitching staff led by Cy Young candidate Brad Penny. They actually have a chance to make some noise in the playoffs if they can get healthy.
HOG: Here is a picture of Brad Penny with Alyssa Milano. Holy curveballs!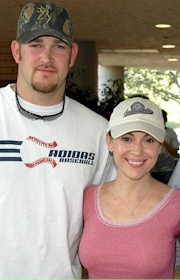 JUSTIN: Unfortunately for the Dodgers their team is a little too veteran this year. They have too much riding on guys that are older than HogWild. Plus they are managed by the infamous Grady Little and I see Alyssa Milano crying over her blog and returning to soft p*rn movies in the fall.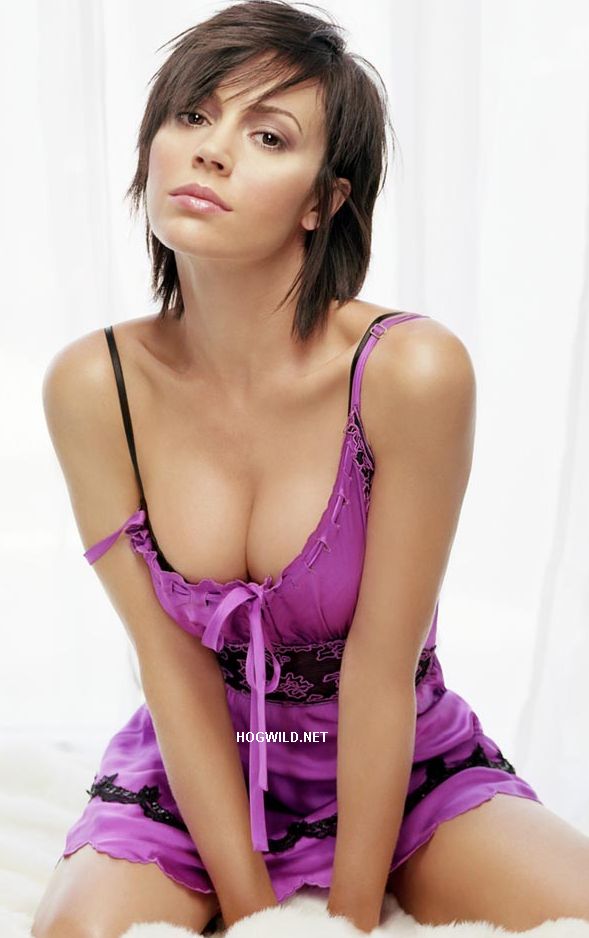 HOG: Why do you keep insisting that I am old? I'm not old. I'm just too old to still be in college.

NOTE: I'm not really still in college. Well, not as a student. I just hang out there to pick-up chicks. Just kidding. Mostly.

JUSTIN: Milwaukee Brewers- This year's version of the Detroit Tigers, the Brew Crew has amassed a core of young talent and solid pitching to sneak up and steal the National League Central. Led by the black Babe Ruth, Prince Fielder, this team is one of the most exciting teams to watch in baseball. They're a little green to win it all but with a little bit of luck we could be watching Milwaukee's 7th inning sausage races well into September and possibly October.

HOG: What the hell is a sausage race? On second thought, forget it. I don't want to know.

JUSTIN: Every game the Brewers have four guys dress up in sausage suits and race around the field. If you guess the right winner then you get...I don't think you get sh!t but it's a Sausage Race and that's funny damn it!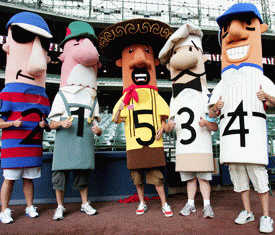 HOG: How is Prince Fielder the black Babe Ruth? Because he's round and hits home runs?
JUSTIN: Bingo!

HOG: I was just thinking about something. Milwaukee is famous for their beers and their cheeses. That's a combo that surely unleashes a nasty backdoor slider. Is it possible the state of Wisconsin is responsible for global warming caused by the release of spleen-house gases?

JUSTIN: New York Mets- Look out folks, if the Mets can hold it together and get healthy you could witness an ecstatic HogWild drunk off wine coolers and wearing a Mookie Wilson throwback jersey celebrating. Can we get video of that???

HOG: Drunk off wine coolers? Whatever, dude. I'll be drunk off of hard apple ciders! Woo-hoo! Let's go HogWild!

JUSTIN: The Mets have the talent behind David Wright and Joey Reyes but if they don't get Pedro Martinez back to help out their razor-thin staff, you're going to see HogWild wearing a Doc Gooden jersey drinking a forty while he watches the Yankees get their ass beat in the ALCS. So Go Mets!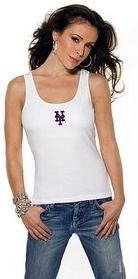 HOG: I have this dream that I'm a baseball player and Alyssa Milano is the team manager. She says to me: "All right, tonight you're hitting in the 2 hole!" Then I giggle and giggle.
JUSTIN: Los Angeles Angels- While the other three AL contenders get all the press, the Angels have slowly built a strong contender made up of great pitching and the home run derby champion Vladimir Guerrero.
Unfortunately for the Angels after Guerrero there's just not much pop in the lineup so look for the Angels to finish up the season about thirty games in front of Texas and then get upset in the first round of the playoffs.

HOG: I think that Major League Baseball should add some extra motivation for pathetic teams (like your Texas Rangers) to not finish in last place. Like, they should make the last place team have to do chores for the 1st place team.

Chores Last Place Team must do for 1st Place Team:

- Run to the clinic to get fresh needles

- Engage in sexual intercourse with the highly-unattractive groupies to keep them busy while players on the 1st place team score with the hot ones

- Run to the clinic to get more fresh needles

JUSTIN: New York Yankees- I hate the Yankees but I respect them and they are the hottest team in baseball right now. With G@y-Rod having another MVP year and another 'roid powered year from Roger Clemens, the Yanks will be the team NO ONE wants to play in the playoffs.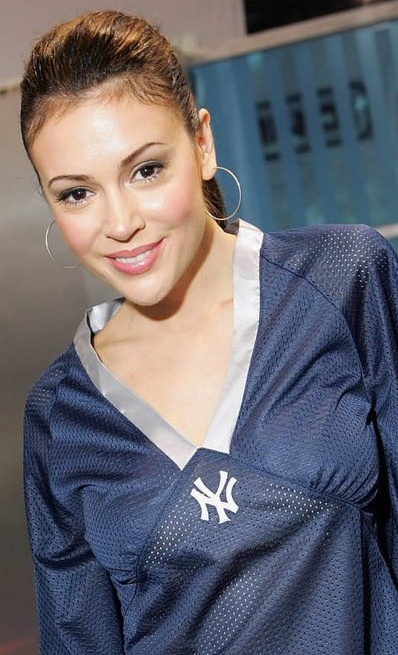 JUSTIN: Unfortunately for New Yorkers everywhere, much like Jason Giambi, I just don't think the Yankees have the juice to win it all this year. Look on the bright side though Yankees fans, at least your team will be falling apart in October instead of June like my the sorry ass Rangers.

HOG: That is no consolation. The Texas Rangers are like a Jessica Simpson movie. They're EXPECTED to suck.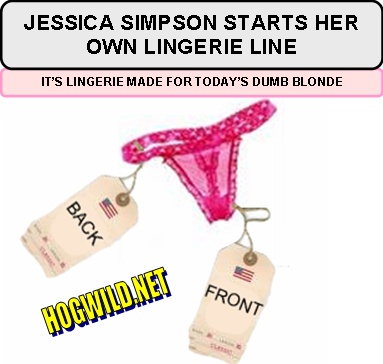 HOG: Roger Clemens is not on steroids! He's an all-natural player! He's on prune juice and protein! Besides, on his salary, he can afford to get something better than old-fashioned 'roids! He's probably on some futuristic NASA-developed alien hormone that gives him magical healing powers and the ability to lift cars with his mind.
Detroit Tigers- Last year's Cinderella story came up short in the World Series but this year they're looking like they haven't missed a beat. With the 100 mph throwing Joel Zumaya coming back from injury to join the most talented pitching staff in the league and a high powered offense led by Magglio Ordonez, the Tigers have it all this year. Not only will they make it back to the series but I'm predicting that they'll take it all and take home to the trophy to Eminem and Kid Rock. Oh well, at least they'll still be world champions right?

HOG: Tigers manager Jim Leyland is a genius! He still has his wits about him even though he is almost as old as Julio Franco.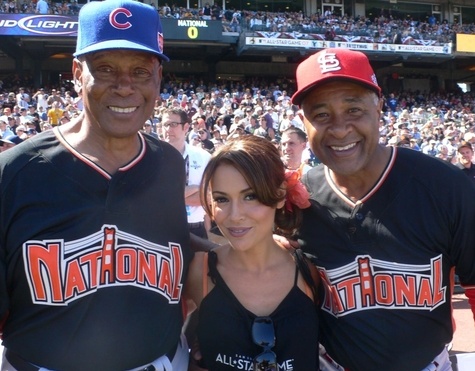 HOG: Above are Hall of Fame shortstops Ernie Banks and Ozzie Smith attempting to turn a double-play with Alyssa Milano.
NOTE: Yes, I really am this immature. HA HA HA!
JUSTIN: Boston Red Sox- The Red Sox have long been the lovable underdogs of the MLB but with a $150 million plus sized payroll and fans like Ben Affleck and Jimmy Fallon they are slowly becoming the Yankees-Lite.
Still though, with Beckett and Papelbon locking it down on the mound and Big Papi and crew scoring like Brad Pitt at a sorority pillow fight, this team is pretty much unstoppable. The only thing that could stop them this year is the Fallon/Affleck Curse or the Detroit Tigers!

HOG: Why is Brad Pitt in your analogies? Is that who you're thinking about? And you called Alex Rodriguez g@y! That's like the pot calling the kettle pink!

Have you been having those dreams again about Brad Pitt and you competing in a sausage race?

HA HA HA! Just kidding. I know you are as a straight as a Rangers 7-game losing streak.

JUSTIN: If only my sex life was as consistent as Ranger losses I'd be a happy happy...HAPPY man!