JUSTIN: It's been an especially tough month for the Commissioners of the 3 major sports in America. But since they get paid millions of dollars they'll get no tears from me. As a matter of fact, as a commissioner of a sport, you are kind of like the boss or the Don of your family. So with that thought in mind here is how me and HogWild would solve all of the current commissioners problems in each sport -- Sopranos style!

HOG: Sopranos style? Does that mean the end of this article should be incredibly disappointing?
** BASEBALL**

JUSTIN: Barry Bonds is about to break one of the most hallowed records in sports history as he closes in on the all-time home run record. But since everyone knows he took steroids, Baseball Commissioner Bud Selig doesn't want to support Barry by showing up at the ballpark when he breaks the record. If I were commissioner here is how I would let Barry know that I know that he's full of sh!t.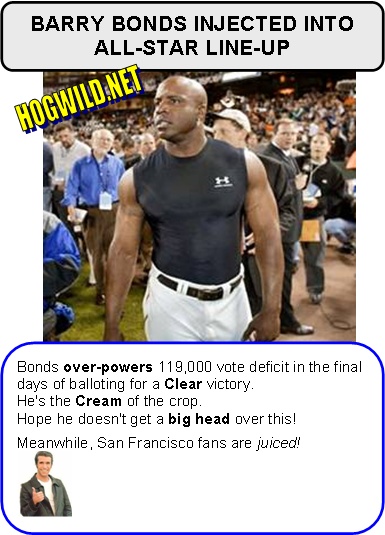 Where ever he was playing at that night, I'd show up wearing a baseball cap with an asterisk on it to go with my t-shirt that says, "I know what you did last summer Barry."

HOG: Then as baseball Commissioner I'd have a panic attack and have to see a hot therapist who balks at my attempt to get to third base by sliding into her on-deck circle. So then I offer her a mobster-style compromise and tell her I'll settle for being whacked. Tee-hee-hee!


JUSTIN: When Barry Bonds actually does break the record I would calmly walk out onto the field with my associates Carmine and Vinny but instead of shaking his hand, I hand him a p!ss test and force him to take it right there in front of everyone at the ballpark.

HOG: Eeeewww! No one wants to see Barry's jammy and tiny steroid-shrunken marbles!

JUSTIN: Then as everyone waited for the results to come back we'd watch a montage of all of Barry's highlights on the big screen. Once the results were back, if he showed up positive, Carmine would hit him over his big giant head with his home run bat and Vinny would throw a burlap sack over his head and throw him in the trunk of my car to be dealt with later.

But if his test came back clean...I'd have Santa Claus whisk him around the ballpark in his magic sleigh as the Tooth Fairy and the Easter Bunny gave out candy and Unicorns to everyone at the game.

HOG: If you slammed a baseball bat over Barry Bonds' head, the bat would snap in half. Barry's head is huuuuuge! I think if you opened the top of Barry's skull, inside you'd find another slightly smaller Barry Bonds head. And inside that head would be another smaller head. It'd be like Russian Dolls.
** BASKETBALL **
JUSTIN: Referee Tim Donaghy is under investigation for betting on games that he officiated in and making calls that affected the outcome of the game. Donaghy is under protection currently because he has reportedly been getting death threats and if I were NBA Commissioner David Stern those death threats would be coming from me!

REFEREE DONAGHY: Hello?

COMMISSIONER JUSTIN: "You little ungrateful prick I'm going to kill you! You think you can ruin the game of basketball? Well I've got a little surprise for you Timmy!" Click.

You see when someone damages the integrity of the game that deed can not go unpunished. So since there are rumors that former Union Boss Jimmy Hoffa is buried underneath Giant Stadium in the Meadowlands I'd make sure that a certain scumbag ref mysteriously disappeared never to be seen again unless someone was to dig down underneath Spike Lee's court-side seats at Madison Square Garden. If one was to do that who knows what they might or might not find...

HOG: You want Sopranos style? I bust him for not cutting me in on the action! So I slamdunk Referee Donaghy's whistle down his throat! Now for the rest of his life, every time he breathes, people will think he is whistling for a time-out.

Then I would shave his entire body, glue a blonde wig to his head, and set him up on a late-night "date" in Denver with a drunk Kobe Bryant.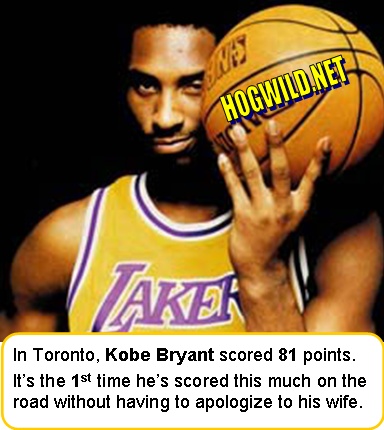 ** FOOTBALL **
JUSTIN: Atlanta Falcons Quarterback Michael Vick is set to go on trial for allowing dog fights to be held at his residence. Vick claims that he is innocent but if I were the NFL Commissioner I'd have to make sure. You see, we all know how incredibly inhumane and cruel dog fighting is, so if I were NFL Commissioner Roger Goodall I'd make Michael Vick an offer he couldn't refuse…
Either you admit that you knew about the dog fights, turn in everyone involved and retire from the league or... in order to get back into the league you have to defeat 5 pitbulls in hand to paw combat. Oh and just to give the dogs some extra incentive and get the betting going, we're going to tie a T-bone steak to your Johnson.

HOG: And to keep this Sopranos-style, just before we find out whether or not the pitbulls tackle Vick in the sack, we…

<FADE TO BLACK>