JUSTIN: While the New York Yankees and the Philadelphia Phillies are streaking back into pennant races, the New York Mets and the Boston Red Sox are trying not to choke away the division titles. Since the playoffs are looming, I think it's time to take a look back at my last predictions and break them apart.

Prediction for NL Wildcard: Atlanta
Probable Wildcard: San Diego or Arizona

The Atlanta Braves have fallen apart quicker than Michael Vick's NFL career.
HOG: I think we're gonna see a Michael Vick comeback! In the WWE. They'll make him into a "bad-guy" wrestler. He'll swagger into the ring with 2 pitbulls in a bag, kind of like Jake the Snake back-in-the-day.
Vick's trademark move will be the Rabies Roundhouse. After a stunning kick to the sternum, Vick foams at the mouth and bites the face of his opponent.
JUSTIN: At five and a half games back, my wild card prediction of the Atlanta Braves looks as if it's going to hold up about as well as a boner in the presence of Rosie O'Donnell.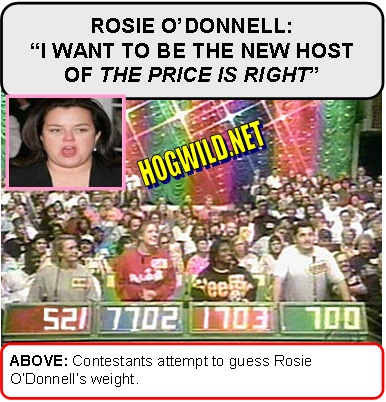 HOG: Aaaaaaaaaaaaaawww! Gross! I think that is the actual lab test for Viagra. Subjects take the pill and if they can maintain a stiff romance-pole while looking at a picture of Rosie O'Donnell then clearly the pill is working miracles.
That should be their new TV commercial… a man confidently standing with his hands on his hips, smiling. Then the fat gnarly, walnocerous-looking Rosie O'Donnell pops up and goes, "BOO!" to try to scare away his boner. But it doesn't work!
JUSTIN: The San Diego Padres have a firm grip on the wildcard with the Phillies making a run at 2 ½ games back. At least Atlanta still has the Hawks to cheer for... nevermind.

Prediction for NL West: Los Angeles Dodgers
Probable Winner: Arizona or San Diego

In my defense, the Los Angeles Dodgers were looking good when I picked them to win their division.
Unfortunately, much like football in Los Angeles, they were no where to be seen when the playoffs started.
So scratch them off the list and replace them with the Arizona Diamondbacks for now. They've got a one game lead over the Padres but the good news is that whoever comes in second place will probably still be the wild card.

HOG: So what you're saying is that your predictions so far are 0 out of 2. You're a smart sports guy, so this just shows how difficult it is to predict sports outcomes. There are just so many variables!

THE 4 COMMON, YET UNPREDICTABLE THINGS THAT SCREW YOUR FAVORITE SPORTS TEAM

1 - injuries

2 - arrests

3 - organized crime blackmailing/bribing officials

4 - steroid shortages

JUSTIN: You forgot...
5 - mistresses suing for illegitimate child support!

Prediction for NL Central: Milwaukee Brewers
Probable Winner: Milwaukee or Chicago

A month ago the Brew Crew looked like they were going to run away with the National League Central but since then the St. Louis Cardinals and the Chicago Cubs have both made significant runs. The Brewers are only a game out, that's the good news. The bad news is that the Cubs are on a roll and they're about to announce "last call" on the Brewers. If the Cubs do make the playoffs someone in Chicago please make sure that Steve Bartman is no where near Wrigley Field!

HOG: Some people don't know Steve Bartman. He's the fan in the stands who ruined Chicago. He's like the cow who kicked over the lantern that burned down the city in 1871. He's like, hated and stuff.

JUSTIN: In his defense, the Cubs were the ones who choked away the rest of that game like a bunch of Buckners! Someone stop me before my references get any more obscure!
HOG: Your esoteric references leave the average reader feeling colder than an Ann Bancroft stare in a Mike Nichols movie.
JUSTIN: Prediction for the NL East: New York Mets
Probable Winner: New York Mets

With their billion dollar payroll and their monster line up I think the Mets will be able to hold off the red hot Phillies.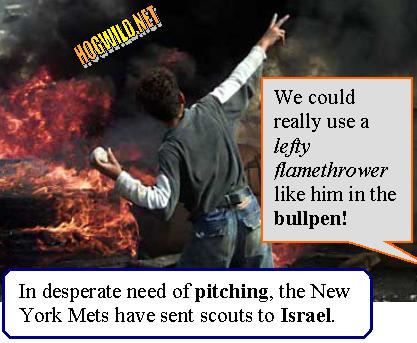 JUSTIN: So instead of making a prediction or a smart ass statement that would probably jinx the Mets, I'd like to take this moment to announce that I made the Championship for the 2nd year in a row in my Fantasy Baseball League.
I'm losing by over a hundred points at the current moment but Mookie Wilson called me earlier in the week to wish me luck so I really think I'm going to make a comeback.

HOG: I'd just like to say.... "Let's go Mets!"
And congratulations! On having no life. Uh, I mean for making the Championships in your Fantasy League!

Dude, I used to be in Fantasy Baseball until I realized this frightening correlation:

As involvement in Fantasy Baseball INCREASES, Sex with women DECREASES.

This is a scientific fact. I guess since you're married you figured your sex number can't decrease any further. But it can! Beware! Sex will drop to Absolute Zero.

JUSTIN: I'm doing fine in the romance department because I only hit the waiver wire at lunch time. Fantasy Baseball's fun but not as much fun as doing the n@ked tango with the old lady!
HOG: I'm sure your wife is thrilled to know that you call your love-making the "n@ked tango" while referring to her as the "old lady."
But it's better than my "solo swing dance" with the "old hand."

JUSTIN:
Prediction for AL Wildcard: New York Yankees
Probable Winner: New York Yankees

You know some things in life are just a given. Like New York Yankee fans having cheesy facial hair and the Yankees making the playoffs. Every year the New York media has a melt down claiming that the Yankees are through and Joe Torre needs to retire but the truth is Torre's still got it and so do the f*cking Yankees. At only a game and a half back it looks as if the evil Empire is about to Strike back.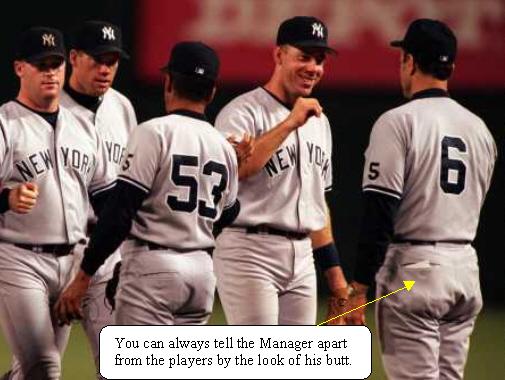 HOG: Did you know… in Yankee Stadium, after every Yankees win, they play "New York, New York" by Frank Sinatra. When they lose they play the Liza Minelli version.

JUSTIN: That's funny. I've actually been to Yankee stadium and must admit it's one of my favorite stadiums in baseball along with their fans. They may cheer for a team I hate but they are hilarious with their taunts and the whole tradition of sacrificing babies before each game to ensure victory.
HOG: Dude. No babies are harmed. Those are midgets.

JUSTIN:
Prediction for AL West: Los Angeles Angels
Probable Winner: Los Angeles Angels

Clearly the Angels have been the class of the American League West the whole season. Not that it's that hard to shine in the West. The Rangers still suck (shocker) the A's have been ravaged by injuries and even though the Mariners made a run it looks as if they are going to be sitting on the couch (again) watching the playoffs this year. At least the Dodger fans will have an L.A. team to cheer for in the playoffs!

HOG: You're on fire now! See everybody! Justin is a sports genius! You should have put your money where Justin's mouth is!

Um, on second thought, that might lead you straight to Tony Romo's ass.

JUSTIN: Ha ha ha! Did I tell you I have Tony Romo on my fantasy football team?

Prediction for the AL Central: Detroit Tigers
Probable Winner: Cleveland Indians

Wow! This one is a total shocker not because the Indians aren't good, it's because the Tigers have just fallen apart this season. With a core of excellent young pitching, the Tigers were my pick to win it all but Cleveland has just out played them in every aspect of the game. Better pitching, better hitting and even better coaching. My God, did I just write that about a team from Cleveland??? The Mistake on the Lake is in the house! Someone call Drew Carey and tell him he's not funny!

HOG: Hey! Drew Carey is the king of mediocre comedy! He's always slightly above the humor watermark. Drew Carey is like Cleveland itself. Ugly. Odd. But an underdog worth cheering for.

JUSTIN:
Prediction for the AL East: Boston Red Sox
Probable Winner: Boston or New York

With the Sox struggling and the Yankees surging, never has a 1 ½ game lead looked any slimmer. While the Sox can do no right, the Yanks can do no wrong. It must feel like a horror movie back in Boston right now because after breaking the curse back in 2004, it's slowly creeping back into their lives and looking for revenge!
Quick! Someone kill Jimmy Fallon and smear his blood on home plate. It probably won't stop the curse but it will probably make Bostonians feel better after blowing the pennant.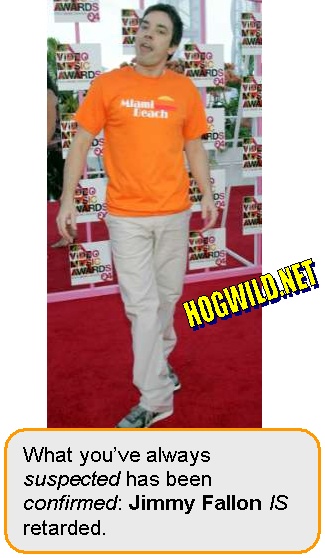 JUSTIN: So who will win the 2007 World Series? Clearly after going 4 for 8 with my division title picks, I think I need to hold off and do a little bit more studying. All I can tell you is that it won't be the Texas Rangers... and the New York Jets will lose again this week.

HOG: Wow. There's some insight for you! Predicting the Texas Rangers and New York Jets to lose is like predicting that President Bush will say something stupid. Or that Paris Hilton will do something wh0re-like. Or that I will make a Paris-Hilton-is-a-wh0re reference to end an article.