The New York City Beard and Moustache Championships! Yeah! WTF! Yeah!
The Knitting Factory was packed to capacity with media, manly men with mutton chops, some cute and curious chicks, and me.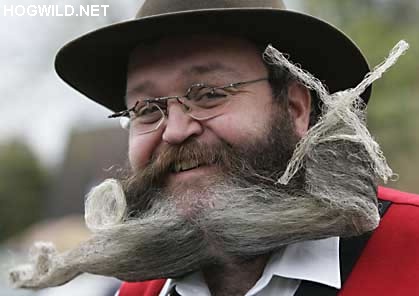 This dude, Elmar Weiss, is awesome. His beard is art. He has a beard with a message. We need to find alternative sources of energy. Like windmills.
I was hoping to find this kind of creativity at the New York Beard and Moustache Championships, but much like cheating in the female weightlifting event at the Olympics, America is way behind the Germans in this category.
Where was the guy with the NYC skyline beard? I want to see the Statue of Liberty on one end and the Empire State Building on the other. Or at least a thick beard holding a Big Apple.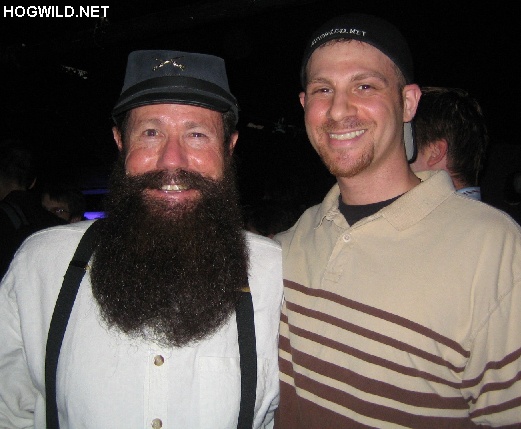 ABOVE: Me with judge Phil Olsen. How I envied his long luscious locks. He's the Rapunzel of beards.
The Championships started late. The place was hot and sweaty with blaring techno music. It was like an old school Rave. A Rave in need of shave.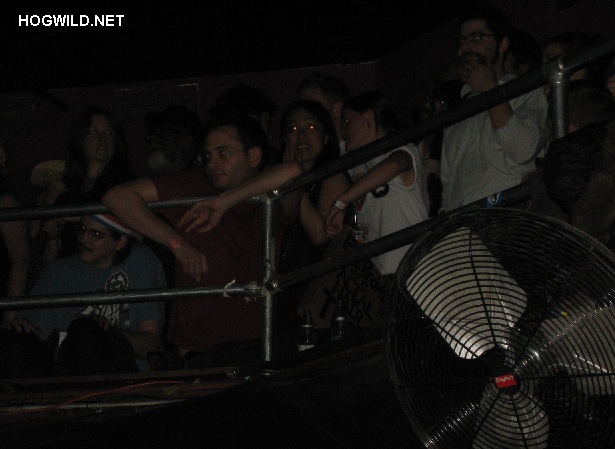 My mind began to wander... What if I take one of these beard guys hostage with an electric razor?
How much ransom can I demand from his family?
I'll chop off this guy's long twisty moustache that he's been growing for 6 years unless you send me 1 hundred dollars NOW!
Yes... I accept Paypal.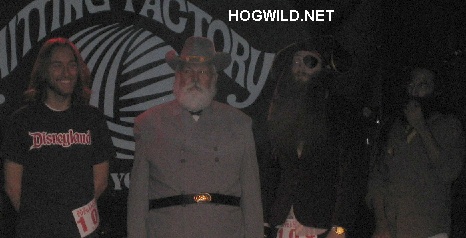 ABOVE: Some of the contestants in the beard category. Personally, I wanted Uncle Jesse to win. But the pirate won.
Watch the guys come on stage! What's awesome is that one dude actually got booed.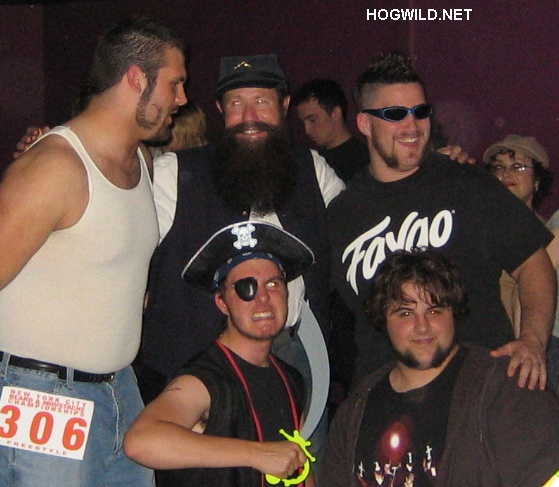 ABOVE: Guy on left sports the "Seahorse Sideburns." The other guys are just some random geeks found while playing Warcraft.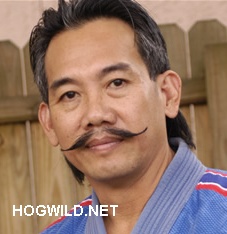 ABOVE: Winner in the Moustache category, Tomasino Hooks says he waxes and blow dries his moustache. I'm trying get my girlfriend to do something similar somewhere else.
*** CONTROVERSY ***
Now there were some pretty amazing displays of facial hair. But sadly, every major sport has been affected by cheaters. Were these men all-natural?
I had to ask the tough questions:
HOG: You've got some very impressive facial follicles! Have you ever been tempted to use beard extensions?
BEARDED GUY: No. Don't need to.
HOG: Rogaine on the face?
BEARDED GUY: Nope.
HOG: Little Chia-chin?
BEARDED GUY: Who are you?
HOG: Do you think Katie Holmes is a beard?
BEARDED GUY: Okay, we're done here.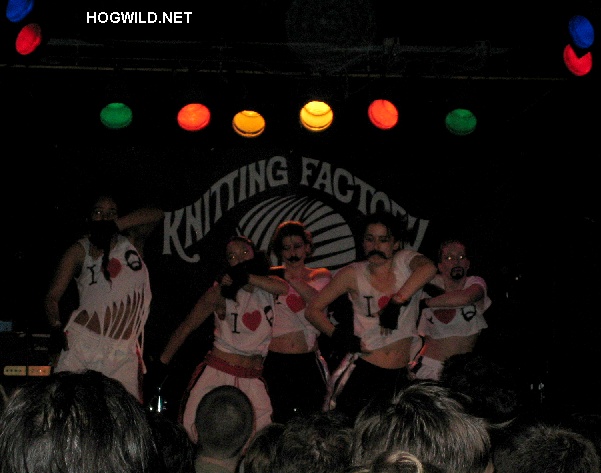 Hot chicks with facial hair! Watch them do dat dance:
*** PROPOSED NEW EVENT FOR NEXT YEAR ***
They really made the NYC Beard and Moustache Championships into a show! It was great. Dancers. Singers. Jokes. Next year, I'd like to see a Beard Strip Tease.
Guy wearing a veil enters the stage. He teases us by pulling it back and forth over his face. Man oh man, we can tell he's got a huge beard under there! Thunderous applause.
Stripper music blares. We see it! A huge bird's nest on his face!
Now comes the stripping part. He slowly shaves his chin. Then the neck. Then the cheeks.
Oh, and where is he getting the shaving cream from? Well there are 2 hot bims by his side dressed in nothing but bikinis made of shaving cream. So as we see more of his skin, we see more the girls' skin. Finally the dude's face is totally naked except for his sideburns.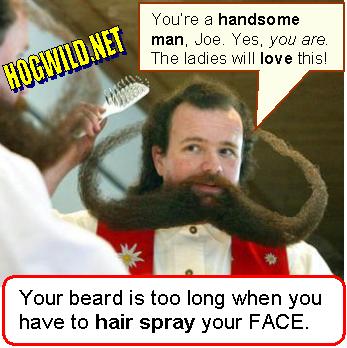 HOG: That's a nice beard you got going on. So you're here to watch the competition?
BEARDED GUY: Yeah.
HOG: Normally you've got the biggest beard in the room. But not today. Suffering from a little beard envy?
BEARDED GUY: What? Who are you?
*** ANOTHER MINI-INTERVIEW ***
HOG: You've got a massive beard! Are other areas of your body just as hairy?
BEARDED GUY: That would be something.
HOG: That would be cool! I've often been tempted to braid it!
BEARDED GUY: That's sick.
HOG: So do you think Katie Holmes is a beard?
BEARDED GUY: Who are you?
The Lifetime Achievement Award went to Tom Selleck.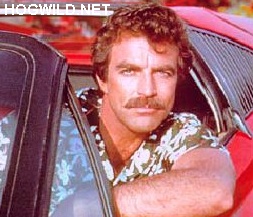 That's cool. But I want a Sports category: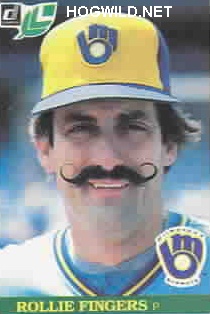 *** ANOTHER NEW EVENT FOR NEXT YEAR ***
Okay, I admit it. The other idea was stupid. But this one is cool! Bring out the beards and have a competition to see how much stuff they can hold in their beard!
I mean, the beards are mostly judged on style and creativity. But how about something quantifiable? Like the number of pencils it can hold! Or the number of empty beer cans? Or Abe Lincoln pennies.
*** THANK YOU ***
There was only 1 Hitler joke the entire night. You knew there was going to be one. Nothing wrong with it. It's just that this is a happy event. And Adolf is kind of a downer. Besides, in the battle of Ruthless Dictatorial Facial Hair, I think Stalin had him beat.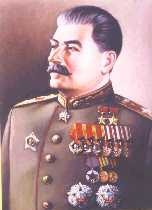 "I vill crush zee Krauts. Zee Rooshan moustache iz zuperior to dat itty bitty thing on Heetler. My babooshka has more of a moustache!"
If I was in this competition, I would do some crazy sh!t. Like really grow out my nose hair until it reaches my rapidly sprouting ear hair. Then tie them together.
The Beard and Moustache Championships should reward that kind of dedication to sexual abstinence.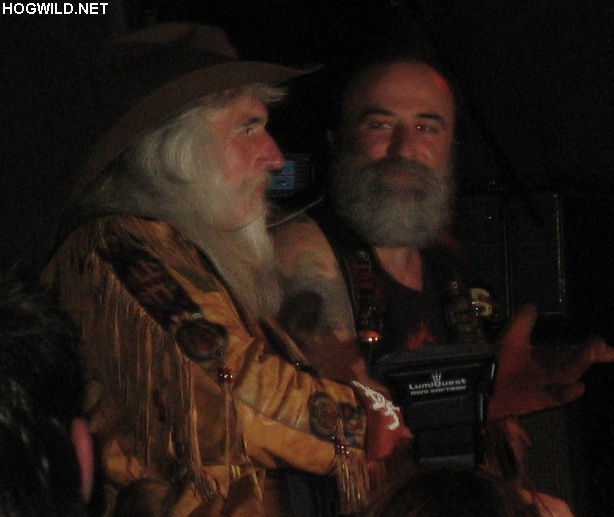 This picture makes me feel like we're all at a campfire toasting marshmallows. Then he leans to close to the flames and his beard catches fire.
*** OKAY, OKAY, ONE MORE NEW EVENT ***
All right, those ideas before were incredibly dumb. But THIS one... Beard Tug of War!
GUY WITH LONG BEARD stands across from another GUY WITH LONG BEARD.
GUY WITH LONG BEARD give a quick, short tug of the other guy's beard.
GUY WITH LONG BEARD 1: Ouch!
GUY WITH LONG BEARD 2: Ouch!
GUY WITH LONG BEARD 1: Ouch!
GUY WITH LONG BEARD 2: Ouch!
This would go on for like, 15 minutes. And I would still be giggling an hour later.
*** SINGLE DUDES ***
I noticed these 2 guys with serious beards running some good game on the many groups of women at the event.
They would ask the girls to take their picture. This would lead into a conversation. I guess these 2 dudes figured these chicks are their target audience. Good logic. If ya got a beard, where can you find girls who dig beards? Aha! The New York City Beard and Moustache Championships!
Where are those 2 dudes going next? Amish country? Hassidic neighborhoods in Brooklyn? An Al Qaeda meeting?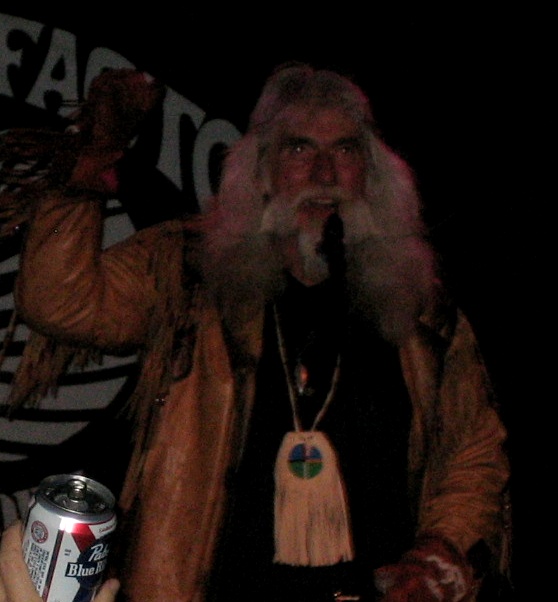 "Fight the power! We don't need no shower!"
Pabst Blue Ribbon and a Beard Competition seem to just go together. Like Beef Jerky and Auto Racing.
HOG: So you like guys with facial hair?
CUTE GIRL: Yeah. It's hot.
HOG: Does size matter?
CUTE GIRL: What?
HOG: The size of his beard.
CUTE GIRL: It can't be too big because then it hurts when we kiss.
HOG: So you like a medium size?
CUTE GIRL: Uh, I guess.
HOG: So is thickness more important than its length?
CUTE GIRL: Who are you?
HOG: So do you think Katie Holmes is a beard?
CUTE GIRL: Oh, definitely!