JUSTIN: Well it's Football time again and I couldn't be MORE excited! Don't get me wrong, I love basketball and baseball but NOTHING compares to football, baby! And since professional football doesn't start until next weekend, this week we're focusing on the annual college football kick off!

HOG: And College Football means… college cheerleaders!!!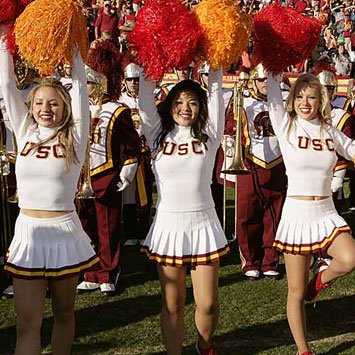 HOG: I never got into College Football because I'm from New York City and there isn't really a big college team here. We've got NYU. But I don't think they're geared for football because their team name is the Violets. No one is going to be intimidated by a team called the Violets from a school located in the West Village.

And my nerdy school, CWRU, has a proud tradition of its college football players being beat up by the college chess team.

JUSTIN: We wait all year for college football and every year we're treated to what I like to call the Labor Day Massacre where the nations top teams knock the dust off by blowing out a Division II team that no one has ever heard of. It's like if the New York Jets decided to take on USC for their first game of the season…wait that's not a good example because I actually think USC could take the Jets.

HOG: Hey! My Jets are gonna kick @ss this year! J! E! T! S! JETS! JETS! JETS!

NOTE: JETS! JETS! JETS!

JUSTIN: So here's a break down of this weekend's biggest mismatches!

USC vs. Idaho- Speaking of USC, the Trojans are the preseason #1 ranked team so of course they want to test their mettle against Idaho. If the starters are playing past the third quarter I'd be shocked in this mismatch of mismatches. The only hope for Idaho is that one of them gets lucky and nails a USC cheerleader because a moral victory is all they're going home with.

HOG: A moral victory? Since when is there anything moral about sha-boinking a cheerleader?! The whole fun of it is that it's naughty! Naughty cheerleader!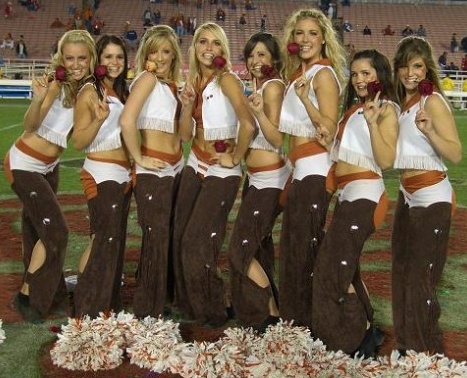 JUSTIN: Michigan vs. Appalachian State - Wow. The first thing I want to know is where the hell is the state of Appalachian? Is it in the Midwest because I always get those states mixed up? This year Michigan will be pushing for the National Title while Appalachian State will be looking to conquer Division 1AA. Actually this game might be close and by close I mean Michigan might only win by 2 or 3 touchdowns!

HOG: I don't know anything about Appalachian State except that if one of their entrance requirements is knowing how to spell their name from memory, then I would get a big fat rejection letter.

But I do like their mascot Yosef!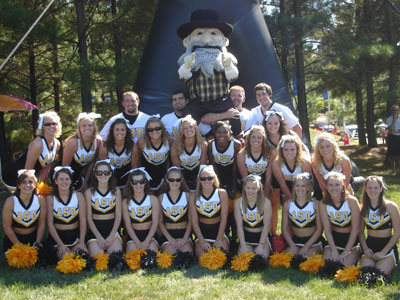 HOG: I think he is a retired Lumberjack who tells the cheerleaders to sit on his lap and call him "Uncle Yosef."

JUSTIN: Ohio State vs. Youngstown State- Last year the Buckeyes were destroyed in the Championship Game by the University of Florida. This year they're back for revenge and they're starting out with another Division 1AA school whose mascot is a penguin with a scarf around its neck. Seriously a Penguin? What were the Bunny and Squirrel mascots already taken?



HOG: He's not just a penguin. He's an ANGRY penguin! Why are you so angry, little guy?

Why can't you be happy like your cousin?:



JUSTIN: Texas vs. Arkansas State- Evidently Westlake High school already had a full schedule or the Longhorns would've opened up against them. Luckily though Arkansas State stepped up and volunteered to take an ass whuppin' for a big ass check. Look for this one to be over early and for me to be home by halftime!

HOG: What?! That's an outrage! You've gotta stay for the entire game!

I NEVER leave a game early. You gotta support your team! Even if they're kicking @ss. What if people did that at your stand-up comedy shows? "Ah, this Justin Sanders guy is hilarious. I'm having a great time. I'm sure he's gonna end strong. No need to see anymore. Let's all get up and leave to beat the traffic."

JUSTIN: California vs. Tennessee- Finally a real game and let me take off my hat to both schools for actually scheduling a Top 25 team to open up against! In a 12 vs.15 ranking match-up whoever wins this game will shoot up the rankings faster than Beyonce's concert boob flash.

HOG: What? Beyonce Boobs? Where?! Where?!

20 minutes of searching later…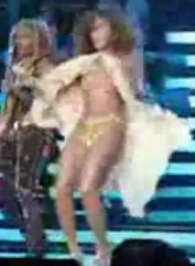 HOG: Man, you can't even see anything! This is like me in bed… a major disappointment.

JUSTIN: All in all, it's great to have College Football back but personally I'll be waiting for next week when the REAL match-ups begin and teams start playing for keeps!

HOG: So you're saying that in College Football, the first week is like a warm-up where the good teams boost their confidence by playing against a bunch of scrubs. Okay, that's fine. But if they're gonna do that, let's go HogWild with it!

First week match-ups I want to see:

LSU Tigers vs. Victoria's Secret Lingerie Team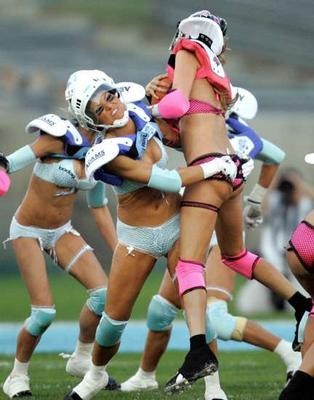 Notre Dame Fighting Irish vs. Peoria Pee-Wee Panthers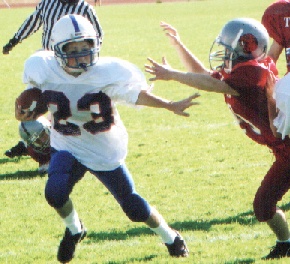 and finally the contest we all want to see:

Penn State Nittany Lions vs. A bunch of elderly people sitting around feeding birds in the park
The old people won't even know they are playing a game. They will just get tackled out of nowhere by 230 pound 20-year-olds. Dentures, walkers and bread crumbs will be flying everywhere!