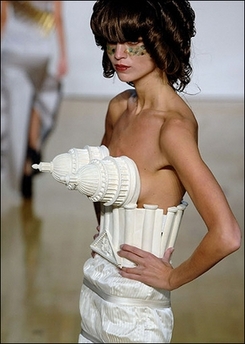 From region to region fashion styles are widely different. You definitely wouldn't find a style like this in Punta Cana but you may want to make your way to a place where this sort of fashion where buildings are a design inspiration. If you decide to travel to Washington DC, the capital building will take care of everything you need for you. I wouldn't recommend a full on frontal hug though.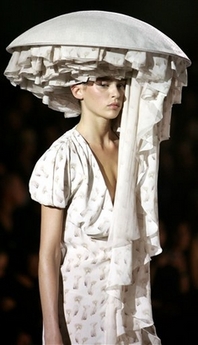 You will be the envy of everyone at the beach while on your Jamaica vacation as your outfit shields you from the sun and also ensures that children will not bother you as they run away from you at top speed screaming, "Aaaaah! Jellyfish!!!!!"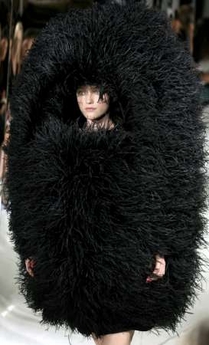 This outfit is called, "70's Bush." Ladies, this is what happens to you if you don't shave down there.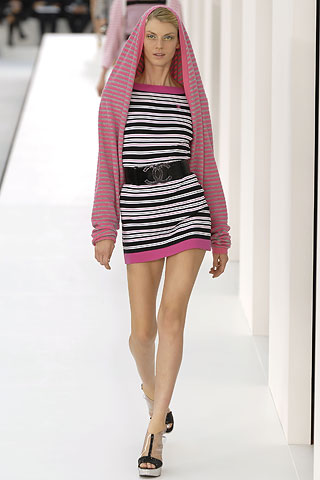 Clearly this fashion is inspired by the great innovator pictured here: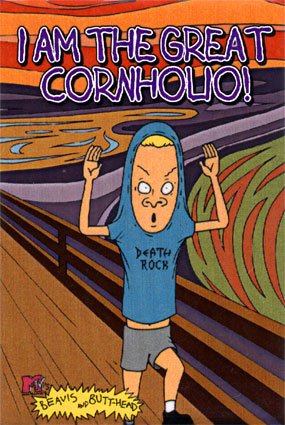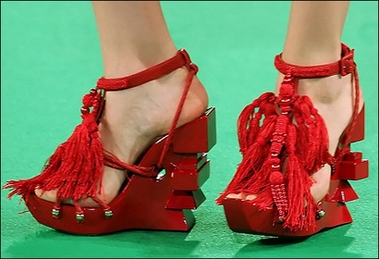 Cool shoes! And they look super comfortable! And if they don't draw enough attention to you, they also have little bells on them!
But you know which shoes are cooler? Shoes that you wear on your head:
Luckily for this girl, her shoe size matches her hat size.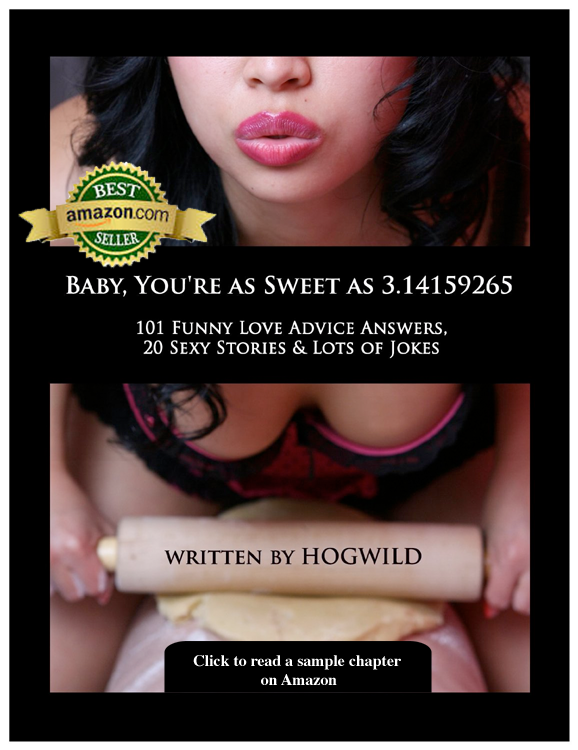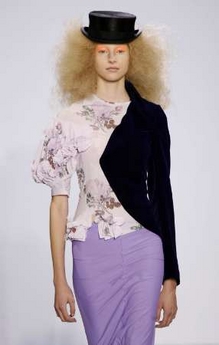 I think she looks great! If she's supposed to be Marcel Marceau...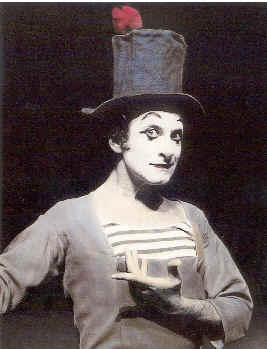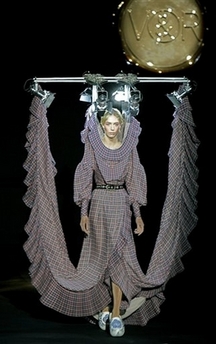 I'm sure every girl has had this thought: "You know what would spice up this drab old dress? Connecting it to track lighting!"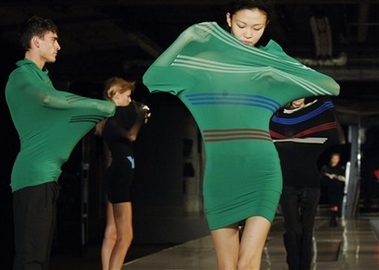 Aw! Cute! This is the perfect fashion for people who want to look like a tadpole turning into a frog.
YOUR BOSS: I need that report typed before you leave.
YOU IN THIS OUTFIT: Um, I can't get it done. I forgot to wear sleeves today.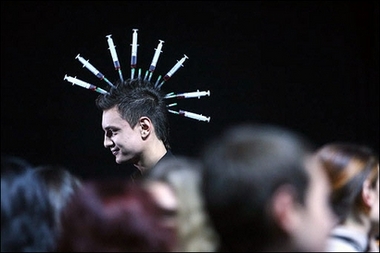 This is what happens when you go swimming in the New Jersey shore.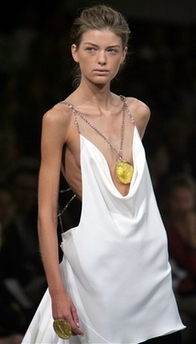 Don't you just hate being a size triple-zero! Because all your clothes slip off your body! Why can't they make clothes for today's modern 100 ounce woman? Now finally, they created a fancy tablecloth that you can hang over your n!pples. Thank you!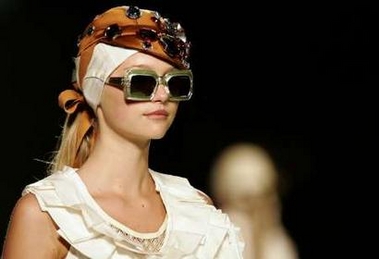 This almost looks like something one of those moron celebrities like Paris Hilton or the Olsen Twins would wear. I hope they do wear this. Because, as you can see, this fashion covers up the eyes and ears. So maybe they'll attempt to cross the street their condo and be totally oblivious to that oncoming 18-wheeler that's transporting jet fuel and plutonium.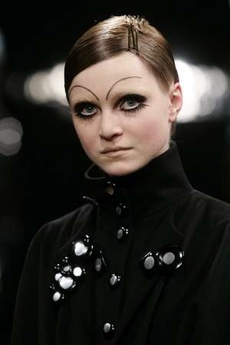 Lots of you girls like to go plucking-crazy and pluck out all your eyebrows and re-draw them on. But why be subtle, when you can look like belong in the Museum of Modern Art? Or the Barnum & Bailey Circus.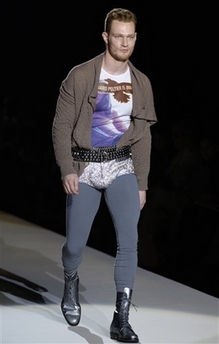 Ding-dong! "Package delivery! No, this package is not for you ma'am. It's for him."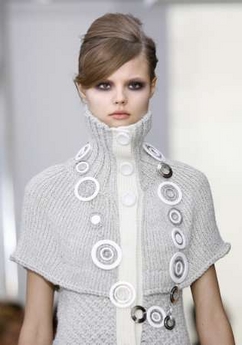 Just as they've created fashion-forward styles for pregnant women... now there are cool fashions available to women wearing neck braces and suffering from whiplash.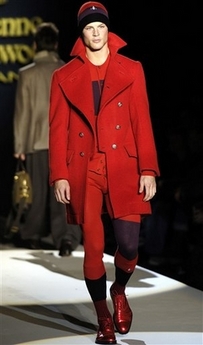 Are you a homomomomothexual who would like to look like a bad a$$? Then try on this outfit we call "The G@y Satan."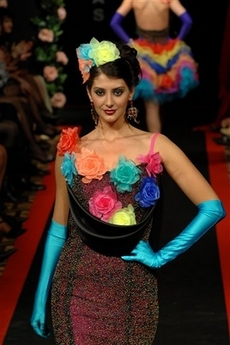 This one has a simple explanation. See, the designer's 6 year old daughter was throwing a tantrum and would not stop crying until she got to design an outfit for the show.
NOT SHOWN: The back of this dress features a crayon drawing of a house with 1 window under a big yellow sun that appears to be shooting yellow arrows from all directions.
And from the Brokeback collection: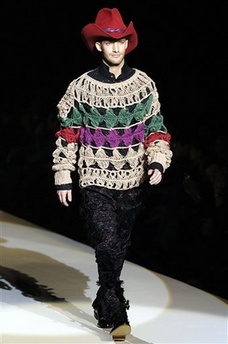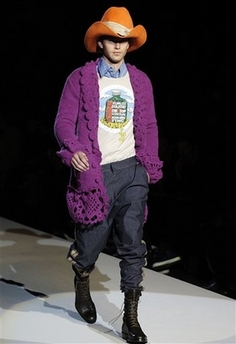 And finally...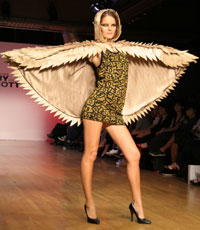 Yeah. When I go to the bar, the 1st girl I approach is the one who is showing off her healthy wingspan.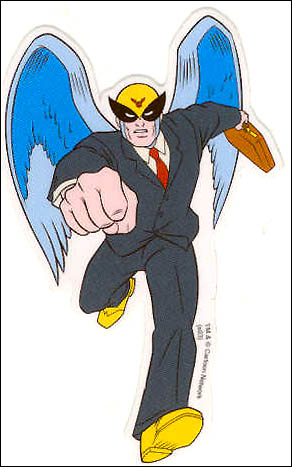 "Dude! What are you talking about? She is totally hot!"