J in "Cleveland" writes...
Hi Hog,
I have always been a one-night deal and I really want a relationship. How do I show guys that I'm not just a sex toy?
- J in "Cleveland"
SIGNALS A GIRL GIVES TO SHOW SHE IS MERELY A SEX TOY
- repeating the phrase, "Oh, you're soooo big"
- having a tattoo on her lower-back... of a barcode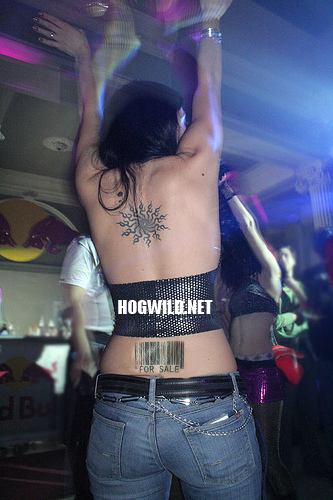 Just as many women put MEN into the categories of "relationship material" or "Just for fun" guys do the same with women.
The difference is THIS...
Many times if a woman puts a man into the "just for fun" category because she thinks he sleeps around a lot, she will allow him to prove himself to have changed. It gives her an ego-boner to believe that SHE has inspired him to change. And sometimes this is indeed the case.
But a man RARELY will take a girl he knows sleeps around and then believe she has changed to be a one-man kind of girl.
Women want a loyal partner. Men DEMAND, REQUIRE, AND HOLD LOYALTY ABOVE ALL ELSE FROM A WOMAN.
If a man has any reason to believe you won't be loyal in a relationship, there won't BE a relationship.
So how does a man determine your loyalty likelihood?
From your...
This is taken from my Premium Members section where I post my new videos.
Here are some more tips, but only Premium Members get the entire video + access to over 125 full dating and relationship videos in the Video Vault!
- To look like relationship material... send off the Good Girl vibe. You can still look hot, but try to look more beautiful than sexual. Beauty HINTS at sex. Slutty HITS you over the head with a frying pan, made of v@ginas.
- Do NOT have sex on the first meeting
And what you might not realize, is that you definitely must NOT...
Only Premium Members have access to this Video!
1 - Learn more about the Premium Membership
or
2 - You realize Life is Short, get the relationship you deserve and Join Now!
Comment below! Guys, was there a time when you lost interest in a girl because she seemed to be "too easy"? Girls, what signal make YOU place guys in the "just for fun" category instead of the relationship category?